Estimated Reading Time: 6 Minutes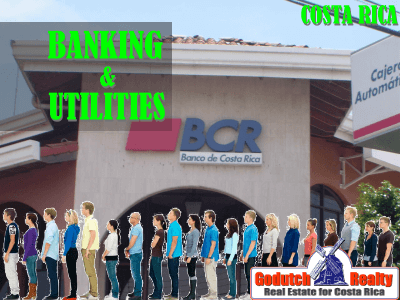 Setting up Banking and Utilities after our real estate closing was a treat!
During the two weeks we visited the country during our Costa Rica real estate closing, we enjoyed some downtime. Also, we did some touring and exploring and learning more about our newly-adopted second home. While meeting more of the locals and expats, we found all of whom were extremely friendly and helpful.
We set up a local bank account with the invaluable assistance of folks who had lived there for some time. They helped us to arrange our banking and utilities like TV cable subscription, internet, etc.
This would all have been incredibly time-consuming and difficult without their knowledge and assistance, especially since we don't speak Spanish.
Suggestion: see if you can connect personally with either a local or a helpful, knowledgeable expat. That person can give you a hand through these tasks. It will be invaluable to you.
Bank account
Arranging our bank account in Costa Rica was a particular education in how differently some processes are handled in other cultures. I found dealing with the bank very formal and not as focused on customer service as at home. Every visit to the bank took an hour, most of it spent waiting in a sitting area reminiscent of a doctor's waiting room back home.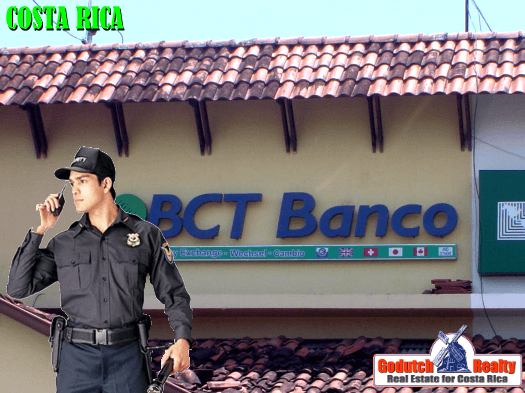 All the time we were waiting, we could see the official we had an appointment with sitting behind his desk. He was sorting and stamping documents in a very leisurely manner, while studiously not acknowledging our presence. Although we were sitting only a few feet away. He was quite friendly when he finally beckoned us forward. There was obviously no feeling that his customers come first, or that he should re-order his priorities to deal with customers quickly.
Here is also some info if you are looking to open a savings account in Euros.
Formality
There is a formality to services like banking and utilities that take some getting used to. It's like I recall in my hometown back in the 50's – where one dressed up a bit for that "special" trip to the bank or other authority. And one was there at the convenience of the institution you were giving your business to. Not the other way around, which is what we are accustomed to today.
While waiting in the bank, we noted that other locals took the time to enjoy conversations with each other, and catch up on local news. There was a relaxed flavor to it all. Although, for those of us who are more accustomed to snappy service, it will take some getting used to. When paying our utilities, we need to re-set our expectations. We really need to slow down that expectation of everything being done at warp speed.
Security
Another rather humorous observation is the use of security personnel in situations where we don't see them so much at home. At both the bank and the ICE office (one of the largest utility companies in Costa Rica – pronounced "ee-say") where we arranged our utilities there were armed security guards. The locals in the small town obviously knew most of the patrons arriving to use the services. They likely went to school together and had known each other for most of their lives.
Nonetheless, everyone arriving at the bank had to go through an airport-like security screening. This is a small entrance booth with whooshing plexiglass doors. And while you stand in the booth, there is some sort of screening with a set of small lights, red and green, like traffic lights, telling you whether you are approved for entry or not.
My wife, who sometimes wears a hat on days when she feels her hair is not up to par, was asked by the guard to remove her hat. And even when we had passed through the screen, when she replaced her hat, he came over and asked her to leave it off while in the bank. Much to her consternation.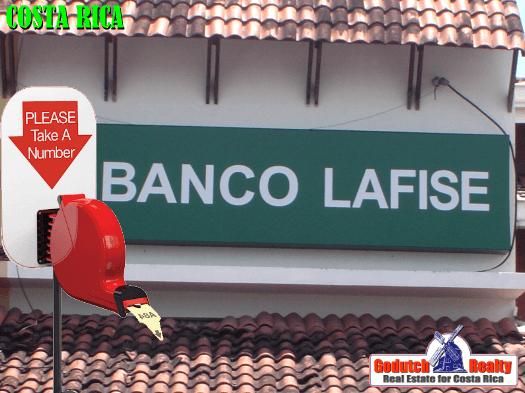 Number dispenser
At the ICE office, everyone is expected to take a numbered ticket from the dispenser for a service priority on arrival. The day we were there, the office was empty (except for the armed security guard). So we simply sat down to wait. They were too polite to say anything to us. But we noticed that the next customer dutifully went to the dispenser, and took his number.
The next time we went to the office, even though no one was there again, we went to the dispenser and took our number. This was rewarded with an approving nod from the security guard. The two staff members kept up their tasks until they were complete some minutes later. They then called for us to come up to the desk.
Internet
On this particular visit, we were there to get assistance with an internet connection device I had purchased. The device was not working. The staff worked on it for a while. They were not succeeding in fixing the problem so the security guard came over suggested something. This was in Spanish, so we didn't understand. The guard then sat down at the desk to help out, and actually solved the problem after a few more minutes.
There is a point to my telling these little anecdotes about setting up Banking and Utilities. During our conversations with other expats, I noted a tendency to complain. Expats complain about how things didn't work the way they did "back home".
I hear the stories:
The roads aren't as smooth,
the service is slow,
products I can get back home aren't available,
isn't this awful, etc, etc
in other words, and to put it bluntly, "life doesn't revolve around me as I have come to expect".
Author's Bio
John Doe is a wannabe retiree who decided to buy a vacation home/future retirement home in Costa Rica. This article is one of his suggestions on how to do it – or not.
---
If you like this blog, subscribe to my newsletter by clicking the banner below.

I DO want to remind our readers that we appreciate any referrals you can send us. Also, please remember the GoDutch Realty agents when you talk about your home in Costa Rica, we appreciate it.