Estimated Reading Time: 5 Minutes
My mom and dad had Costa Rica retirement dreams over 30 years ago. They made them happen. At the time, retiring in Costa Rica was an incredible adventure. Although it still is, times have changed.
My mom and dad didn't buy their home in Costa Rica from a GoDutch Realty agent, because GoDutch Realty didn't exist at the time.
Big mistake!
So, they lived in Costa Rica only for like 6 years and weren't totally happy. They couldn't make their retirement dreams come true. So, they moved to the Canary Islands.  They were not happy there either. Guess why?
Just joking but trying to make it clear why I wrote this blog. It's all about happiness.
Like an audience
I had a final meeting with buyers and sellers, before closing on a house in Escazu.  And that's when they applauded me. They really did, this was the first time I was applauded by buyers and sellers. Although I was called Super Agent Ivo once.
The most incredible thing is that this is not a fairy tale. It's a real story about a real deal. Those deals where everything is just very difficult and sometimes even almost impossible.
We have not closed yet, I expect we will do so next week. And all of us, as a team, did everything possible to make it happen.
Everyone is Motivated
Allow me to outline the story to you: We have motivated buyers with retirement dreams, who totally love the property in Escazu. The buyers made an offer, but need bank financing. We have done the absolute impossible in record time to make the bank move and approve.
We have a totally motivated seller who is a nervous wreck by now. He was never a Wall Street stockbroker or a 5 star general in the US army organizing thousands of soldiers going to war.
I am a motivated listing agent, who is trying to make all this happen. Oh, and we have a buyer's agent who decided all this was too much work. He agreed to accept a referral fee. He wasn't motivated enough to put in the time and effort.
Bank Financing
Some of the work done with buyers and sellers involved:
The process of bank financing,
Patience,
Phone calls,
Emails,
Taking a home inspector,
Electricians,
Plumbers,
Appraisers,
Pest control specialists.
If you plan to buy a home in Costa Rica with bank financing, you need
To be a resident
A realtor who is not scared to get his/her hands dirty and quite busy.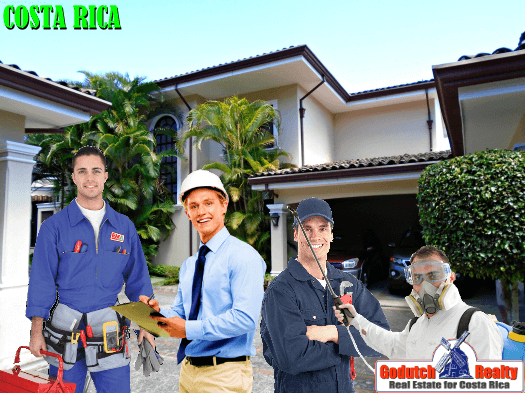 My heroes
I don't really want to bother you with all the details. But in this particular case, because of many circumstances, we all went through hell and back.
I have written blogs about the angry seller, the perfect seller, and the abusive buyer before. This time the story is about heroes.
They're all heroes because they did everything they could to make it work. Everyone worked together, as a team, to make it happen. Maybe it is not the most perfect deal of the century. But this is going to be one of those deals that I know that I will not only walk out of with a commission check.
The Buyers
Most importantly, I have happy buyers, who were not even my clients to start with. They have become friends during the process. And they could start their retirement dream. The buyers will enjoy their beautiful property and enjoy the dreams of living in a beautiful country, surrounded by happy people.
The Sellers
After closing, the sellers will also be able to make their retirement dreams real. They will walk away with money in their pocket. Now they will be able to do what they have been dreaming about.
Costa Rica retirement dreams? Get real….. just make sure you get the professional help of a GoDutch Realty agent.
I believe that doing a good job brings plenty of business. Even in times of world crisis, people buy and sell Costa Rica real estate. It's just a matter of making it happen. The job of a good Costa Rica real estate agent is hard work, and not all are willing to do so, Ivo is one who is.
Feel free to contact us now if you are looking for all the above.
---
If you like this blog, subscribe to my newsletter by clicking the banner below.

I DO want to remind our readers that we appreciate any referrals you can send us. Also, please remember the GoDutch Realty agents when you talk about your home in Costa Rica, we appreciate it.