Estimated Reading Time: 7 Minutes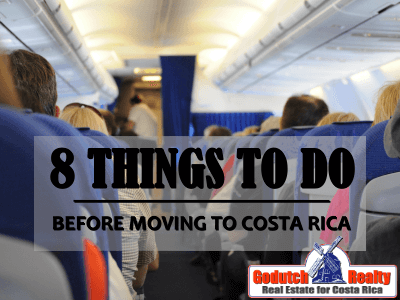 The closing date is coming up and there is so much to do before moving into your new home. Getting nervous already? Don't!
Use this checklist to make it easier on yourself. We do this all the time and you don't.
There are so many things you need to do before moving and you might forget some. So let's get right on it now
1.       Your stuff
You need to find out first what stuff you want to bring and what not. Guest blogger TicoNuevo wrote a great blog for us on what to bring as an expat.  The article can of great assistance before moving into your new home.
Selling your stuff
Some decide to not bring their furniture to Costa Rica and start over with newly bought here. Selling your stuff means having a garage sale, and this will take time. Should you sell your furniture before moving into your new home or after? Tough decision, right?
Bringing your stuff
If you decide not to bring your furniture, you need to start shopping before moving into your new home. The local stores might not have in inventory what you need. Or maybe you don't like the quality of the furniture sold in Costa Rica. Start in time; don't leave this for the last moment!
Maybe you want to import your furniture before moving into your new home. In that case, ask your real estate agent to recommend a moving company in Costa Rica. That's because they can recommend a mover in your hometown, so they can work together.
Your mover should also be able to inform you about all the steps to take of bringing a container with household goods. Find a FREE household container manifest on our tips for moving to the Costa Rica blog.
2.       Pets
Before you just book a ticket for your pets, you want to read our blog about how to bring them. It's not as simple as just hopping on a flight with your dog or cat. Do your homework well and your pet will be a happy camper in Costa Rica.
3.       Banking
To have full access to a fully functioning bank account in Costa Rica, you need to be a resident. BUT some banks have an option to open an account for non-resident expats. This account will allow you to pay for your utilities in Costa Rica and your basic needs.
Wiring money is personal, so set your banking up in time. Talk to both banks before moving into your new home, so you can be able to make your payments in Costa Rica.
Guest blogger TicoNuevo also has written a great blog about opening a bank account that you would want to read.
4.       Utilities
You don't want to move into your new house in Costa Rica and find out there is no water and power. You could probably live without cable TV but can you do without Internet? You will need to figure all of this out before moving into your new home. Let me help:
Water and power
Your real estate agent should ask the seller to bring the last 3 paid power and water receipts to the closing. There will be another receipt pending when you close. So take an average of the open-standing utility bills and arrange for payment with the seller.
It is customary to leave the water and power meters in the former owner's name. My own meters are in the name of someone who passed away many years ago. If you do want to have the water and power meters in your own name, you need to wait until the property appears in your name. Keep in mind that if you purchase the property in a corporation's name, the utility bills will have to appear as such.
IF you request the utility meters in your name, the utility companies will have to cut the service. Then, install a new meter and they will charge you a security deposit for your new meter.
Cable TV and Internet
You can ask the cable company to change the seller's contract into your name. I do recommend you research prices and packages from existing service providers.
Phone
Many sellers have gotten rid of their home phones as everyone now uses cell phones. You do want to make sure you have a good cell phone reception in your new home. Check with your Internet provider about their phone offers before moving into your new home. Depending on your decision, you can tell the seller to return the home phone to the phone company or not.
5.       Locks
I recommend you change the locks right after closing and before moving into your new home. Protect yourself against mad ex-wives, crooked caretakers, gardeners, and maids who were not correctly fired.
6.       Exterminator
You will find out that the former owner left behind all kinds of bugs. Unless you love bugs, get an exterminator before moving in.
7.       Clean
Your new home will be transferred broom-clean. Count on it that it's not going to be the way you'd like it to be. That means that you will have to thoroughly clean the house before moving in. You want to do so before the movers come!
8.       Other issues
Our MLS affiliate Xinia Salazar wrote an incredibly useful homebuyer checklist for emergencies with other details that you should take care of before moving into your new home.
Are you ready to purchase a home in Costa Rica now? Contact us and we'll assist you professionally with pleasure.
Feel free to leave your comments on this blog and share this article on your social media.
---
If you like this blog, subscribe to my newsletter by clicking the banner below.

I DO want to remind our readers that we appreciate any referrals you can send us. Also, remember GoDutch Realty when talking about your home in Costa Rica to friends and family. We appreciate it.