Estimated Reading Time: 4 Minutes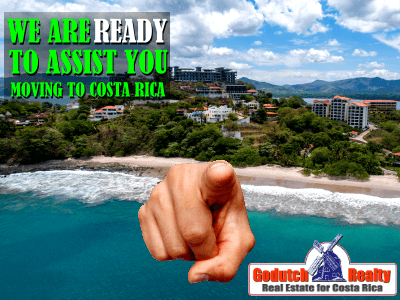 Press Release – GoDutch Realty, a real estate company in Costa Rica, with a large market segment in the U.S. retirement market, is gearing up for retirees moving to Costa Rica in 2021.
Customarily, the year after election year in the United States is a great year for Costa Rica. Starting January 4th, 2021, all GoDutch Realty's agents will be in the starting blocks to receive you with lip-smacking deals.
Furthermore, the company has formed an alliance with other professionals for a smooth move, such as real estate attorneys, residency lawyers, moving companies, customs agents, insurance agents, and many others.
In 2021
In 2021, we expect thousands of retirees to decide to make the big step and move to this small Central American Country. Brooke Bishop, GoDutch Realty's agent in the city of Grecia, states that she anticipates even more retirees looking to make the move because of the Covid-19 pandemic. Costa Rica, with a centralized social security system, has done amazingly well during the pandemic. The country was even amongst the first Latin American countries starting to receive the vaccines weekly, on December 23rd. Elizabeth Castillo, 91, and Jorge De Ford, 72, became the first two people to receive the coronavirus vaccine on the day before Christmas.
Become a Legal Resident
It is quite easy for U.S. citizens to become legal residents. There are options for residency, as a retiree, as someone on a fixed income, or as an investor, when you purchase a home for at least $200,000. A retired legal resident doesn't have to pay income tax in Costa Rica. But it's essential for US citizens and green card holders who live in Costa Rica, to file their FBAR. Bright Tax offers an extremely easy-to-follow Guide for Expats on how to file online, but we had to delete the link for bad business practices by that company.
The Weather
Costa Rica, a small Central American country with only 5 million inhabitants, has had no army since 1949. The funds normally spent on an army by other Latin American countries have since been invested in education and healthcare. The second most important reason for attracting retirees to move to warmer countries is the spring-like weather that Costa Rica offers. There are only two seasons: the dry season and the green season but offers 12 different microclimates. There is more rainfall during the green season. This is what makes it one of the most biodiverse countries in the world. GoDutch Realty offers hundreds of blogs about the country and the inhabitant's traditions and culture.
Happy People
The Happy Planet has ranked this small democratic and army-free nation #1 on its Index for several years. Nonetheless, it is important to understand that Costa Rica cannot be compared to the United States or Canada for its lifestyle. That is like comparing apples and oranges.
GoDutch Realty
GoDutch Realty is the most experienced real estate company on the west side of the Central Valley. The company has over 30 years of assisting the US and Canadian expats and retirees to rent or purchase a property. The company is also a member of the largest real estate network in the country – The American-European Real Estate Network. This unique network covers the country from border to border.  Retirees moving to Costa Rica should first visit the country and decide if they want to live on the beach or in the Central Valley. For that, the Costa Rican MLS offers a useful guide.
Diverse Country
The country is also called "the Switzerland of the Americas". It offers nearly 800 miles of coastline – over 300 beaches – on both the Pacific and the Caribbean side of the country. The country is so diverse, it invites you first to decide about the microclimate you like, specific amenities, art and culture, and other important details. Therefore, agent Didier Vergez, in charge of rental properties in Atenas, suggests you rent first and then buy. Nonetheless, many retirees moving to Costa Rica know perfectly well what lifestyle they're looking for and want to purchase a property right away.
Are you ready to start learning more about retirees moving to Costa Rica? Then I invite you to pay us a visit during your next vacation and also check these 5 helpful moving tips. Contact us now and do not take anything for granted when you move here.
---
If you like this blog, subscribe to my newsletter by clicking the banner below.

I DO want to remind our readers that we appreciate any referrals you can send us. Also, remember GoDutch Realty when talking about your home in Costa Rica to friends and family. We appreciate it.