Estimated Reading Time: 6 Minutes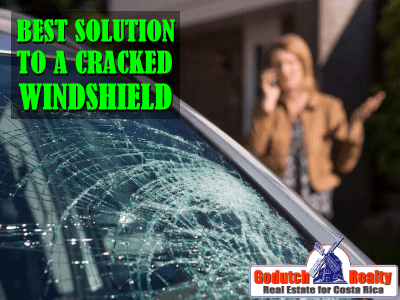 I had a cracked windshield and what started as a good story, ended in a disaster.
Having a cracked windshield in Costa Rica is quite common. Lots of roads in and outside the Central Valley are unpaved. Especially if you are adventurous, you can find yourself driving on some pretty bad roads.
Also, you will see dump trucks driving without or with a loose cover. No matter how much distance you stay away from one of those dump trucks on the freeway, you'll see gravel jumping all over the road in front of you. Before you know, you have a cracked windshield.
My Ford Escape was hit last year by one of those small rocks and chipped the windshield. Nothing else happened then and I drove around with it for over a year as no more harm was done. Then, of course, bad things happen usually at the wrong time. I saw a small crack in the windshield on Monday morning.
I asked everyone who uses my car, to find out if it happened recently or not.  Nobody had a clue about the new crack, it just cracked.
A huge crack
I hit the road anyway, not really worried in the short term. 20 minutes later, when I arrived at my appointment, the 2-inch crack was now 15 inches long. Not something that can be fixed so easily anymore.
I have had a cracked windshield before and when the crack is small, you can get it repaired for very little money. Now, the crack was so large, I would have to replace the windshield. So, the next task at hand was to call around to find someone open during the holidays.
In case you would like to learn the words in Spanish, a cracked windshield is "parabrisa rota" or "parabrisa quebrada".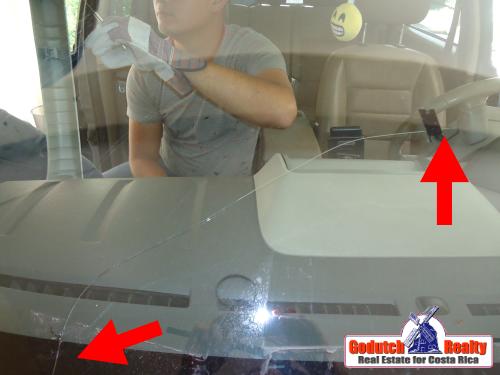 The price
To my surprise, the Ford Distributorship was open and they quoted ¢498,000, for an original Ford windshield replacement. This price included the molding and weather stripping as well as the installation. They didn't say how many days I would have to leave the car there. Distributors usually take a week to get anything done. It seems to give them the right to charge a huge amount of money for any original spare part.
Andres found a repair shop in Guadalupe de Cartago, not really around the corner if you live in Escazu. No problem they said, we will install it in your house. Amazing… The cost of replacement of the windshield was even more amazing: ¢65,000 (on 12/26/2016).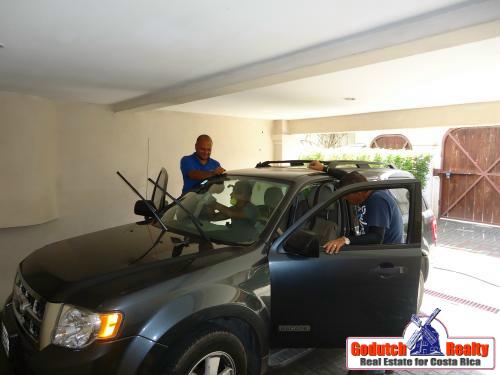 On the dot
To be honest, I was a bit skeptical, not to say scared, that it would turn into a disaster. The owner's wife said they would come on Wednesday at 10:00. She speaks English, in case you wonder. Alex Mendez, Repuestos y Parabrisas, was hired for the job.
Rarely have I seen anybody being so well on time, Alex and his two assistants were right on the dot, 10:00 sharp. No Tico Time for these guys.
Installation
The whole installation took less than 1 hour. First, they removed the molding of the windshield with incredible care. The removal took them about 15 minutes. They would use the same molding and weatherstrip again as it was in perfect condition when they were finished.
Between the three of them, they functioned like a well-oiled machine. In no time, the new windshield was installed. They asked me to wait for a couple of hours before sticking the rearview mirror back on and preferably not using the car for the rest of the day. That made sense.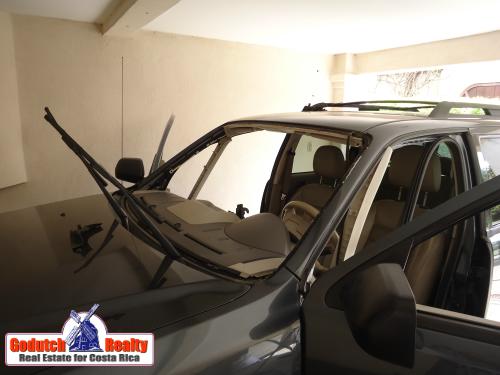 Warranty
They told me that I had a warranty against leaks or any other issue except for cracking or chipping, with the receipt they gave me. I will have to wait for the next rainy season to see if the weatherstrip will hold and there will be no leaking and if the warranty is for real or not.
They also took the old windshield with the crack, so I didn't have to worry about the garbage truck not picking it up. They probably re-cycle part of it.
Marchamo
The marchamo and other important stickers were all in place on the new windshield when they were done. It is important you check before they leave, you don't want to get stopped by the police later and find out your RITEVE or Marchamo is missing.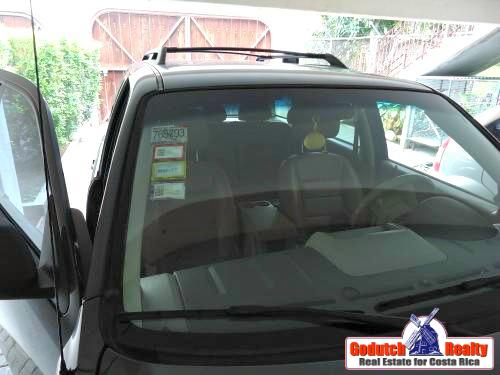 Leaking
Of course, I celebrated too fast. When at first Alex and his crew were diligent and apparently did a good job, the reason I wrote this blog.
Well, it turned out they had not! At the first raindrops, the thing started leaking. Then, when it started pouring outside, those sitting in the front should use swimwear.
About 50 follow-up phone calls were not enough to get Alex Mendez and his crew to come back and re-seal the windshield. Unfortunately, I ended up getting the molding and weather strip replaced at the dealership for a lot of money.
Who NOT to call
Now you know where NOT to go when you have a cracked windshield in Costa Rica. Don NOT Call Alex Mendez at 2552-6060 / 8870-5614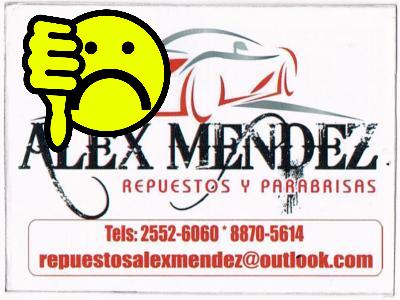 If you are in the market to purchase property in the Central Valley, contact us.
---
If you like this blog, subscribe to my newsletter by clicking the banner below.

I DO want to remind our readers that we appreciate any referrals you can send us. Also, remember GoDutch Realty when talking about your home in Costa Rica to friends and family. We appreciate it.