Estimated Reading Time: 3 minutes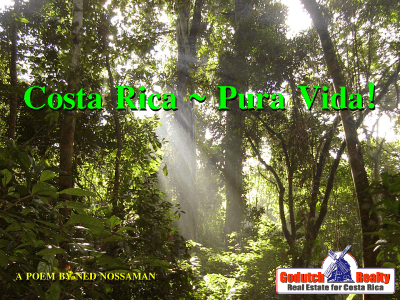 Pura Vida is everywhere here, but this is the first Costa Rica Pura Vida Poem written. I always enjoy it when the expats who moved to Costa Rica have a good time, especially when they tell others about it. There is already enough negativity in this world. Costa Rica ~ Pura Vida!
Those, who are able to adjust to their new home country and learn the language, have a better chance to have such a good time.
Ned Nossaman is one of those who did and who does. Because Ned adjusted to Costa Rica and never expected Costa Rica to adjust to him.
Of course, there are things that are not perfect and you can learn how to accept them and live with them. Ned describes in his poem, what his feelings for Costa Rica are.
Thank you, Ned, for taking the time to write this beautiful Costa Rica Pura Vida poem and sharing your thoughts with us. Thank you for your beautiful gift.
"Costa Rica ~ Pura Vida!"
If you're dreaming of a paradise that's comfortable and cool,
where folks say "pura vida" and "tranquilo" as a rule;
where land is still affordable, past your accustomed ways,
consider Costa Rica for your peaceful rest of days.
There are mountains and volcanoes, oceans, rivers, lakes, and streams,
parasailing, hikes, hang-gliding, waves to shake a surfer's dreams.
River-rafting and zip-lining through the jungle canopy.
(Finding phrasing is amazing ~ there's so much to do and see!)
Here, spelunking, snorkeling, dunking; saving turtles, birding, learning, AA
await for you, if in your heart adventure's stirred and burning.
Sheer mountain walls with waterfalls, cliffs, caves, and caverns too.
Monteverde ~ see both Oceans at the same time from its view.
It's not just a comfy country [here they have no standing army;
something rarely found upon the Earth these days].
Yet inscribed in all its beauty, as the people's right and duty,
it's confirmed in what her constitution says.
Medical care's sufficient, up-to-date ~ what can we say?
Most doctors speak good English, trained in Med School, USA.
Yes, the Costa Ricans, "Ticos", are a rural, rustic sort.
They have their Saprissa, fútbol, and they love their favorite sport.
The heart of Costa Rica? It's a pure and awesome heart!
Her liberty and friendship, she will generously impart.
Encouragement begins, and with tranquilo, never ends.
If you live life "pura vida" ~ you've a country full of friends.
Ned Nossaman,
~ Costa Rica Pura Vida poem for Ivo Henfling, 2016