Estimated Reading Time: 7 Minutes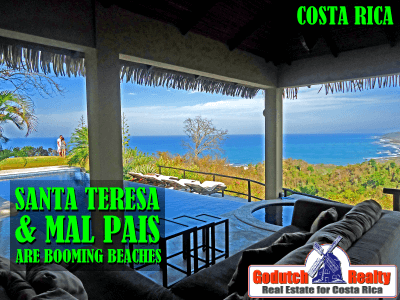 Have you ever been to Mal Pais and Santa Teresa?
I went surfing. In my case, that means looking at how kids grab their surfboards, run into the ocean and jump on a surfboard to ride the waves for hours. It's amazing what they do. I just watch.
The last time I went to Mal Pais and Santa Teresa was about 22 years ago. I have never been a surfer. So the northern part of the Peninsula de Nicoya is not a place I have visited very often. Twice in 35 years is really not enough, and I was pleasantly surprised with what I saw. The place is booming.
I'm not sure how to write Mal Pais as I have seen also Malpais or MalPais. Google seems to be fine with all three versions, in case you want to start looking.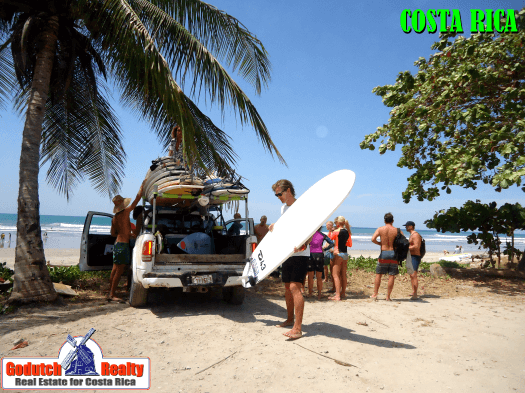 We were invited by our newest affiliate on the American European real estate group, Andrew Rhee of Peninsula Realty, to come over for a couple of days. I wanted to get some first-hand marketing material and find out myself about some of the most beautiful beaches in Costa Rica. Andrew owns the Star Mountain Jungle Lodge, where we stayed for two nights, on his invitation.
The last time I was there, was 22 years ago. At the time, Barry Ashworth had a small surfer hotel for sale there, and I had a client. Then, MalPais was in the middle of nowhere.
The drive from Escazu
The drive from Escazu to Puntarenas, on Route 27,  is an easy one. As long as you are at least 30 minutes ahead of the ferry's departure time, you're good to go. The one-way cost of the ferry for one vehicle and two people is $24 (in 2016). And the boat ride takes about an hour. Even with a rough sea, it's a pretty easy ride. Bring your pets, it's not a problem. The ferry has special areas where you can stay with your pets. Bring something soft to sit on and coffee or a drink, depending on the hour, if you stay in the pet-friendly area. The waiting area is quite comfortable and they sell beverages and food.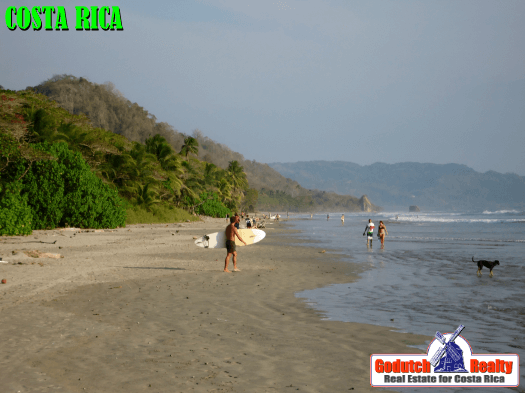 Once you arrive in Paquera, drive on to Cobano. Then you have two options to drive to Santa Teresa. You can either take the scenic route, make a left turn so you can drive through Montezuma and Cabuya.
Or you can drive from Cobano straight to El Carmen and from there to Mal Pais. The scenic route takes like 10 minutes more, but it is well worth it to get a great view of the nicest beaches in Costa Rica.
Our affiliates
For two days, Tino Gnauck, the "on the ground agent" and 13-year resident of MalPais, and Andrew Rhee, "the virtual agent" showed us the area. Pia, the 3rd partner, had a sprained ankle; unfortunately, she had to stay at the lodge.
Andrew and Tino both live right across the street from Mel Gibson. If you stay at Andrew's hotel, you can tell your grandkids you've stayed next door to Mel Gibson's.

Transport
The road that runs from Mal Pais to Playa Carmen – Santa Teresa – Playa Hermosa (from south to north) totally sucks. This is pretty customary for most roads in beach areas. But everything else at those beaches in Costa Rica is great and incredibly beautiful.  Locals drive on those dusty roads full of potholes either on a quad or in a beat-up 4-wheel drive until it falls apart on them.
The quad or ATV (All-Terrain vehicles) is really the most used vehicle as its use will give you access to the most remote areas. You can rent them everywhere. If you don't want to beat up your own car, rent one. During dry season I recommend you drive a high car and during the green season make sure you have a 4-wheel.
The beaches
The beaches are really beautiful on the northern side of the Nicoya Peninsula and probably one of the nicest beaches in Costa Rica. Starting at Cabo Blanco Nature Reserve and Mal Pais, the beaches are quite rocky, there as you can see in the photos.
Playa Carmen, Playa Santa Teresa, and Playa Hermosa are beautiful and long stretched sandy beaches where the waves are much smaller and it's good to swim. For those who surf, there are many surf breaks in the area.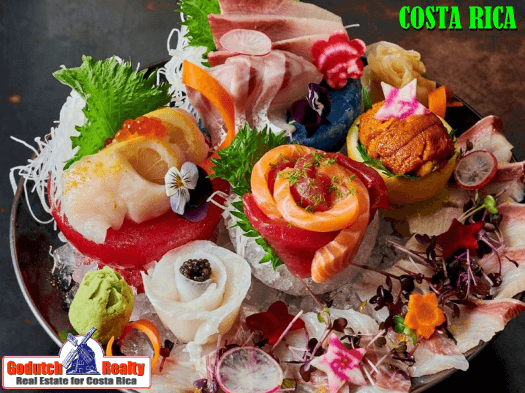 Shopping
For shopping, there are several grocery stores in the area, there is a small cozy mall in Playa Carmen and better shopping is available in Cóbano. If you wonder where to stay, you'll have an impressive choice of hotels, ranging from surfer shacks to jungle lodges to fancy hotels at over $500/night.
Restaurants
Pia, our affiliate in Mal Pais has counted 98 restaurants in the area between the Cabo Blanco Reserve and Playa Hermosa. We have tried a few, they were all great. Some of those might not exist anymore when you read this, so check before you go.
In Playa Carmen Mall.  Try their fish sandwich, it's absolutely delicious. Cozy location too. They also sell craft beer, try it.
In Mal Pais. Great seafood right on the Beach at very acceptable prices. Plastic patio chairs but worth the try.
In Santa Teresa. If you like sushi, sashimi, wraps, and other Japanese food, this is the place to go. Not cheap but very good and great service by waitresses from all over the world.
In Playa Carmen. Belgian-owned, which why I wanted to try the pastries. I had two, both a sin. For breakfast, lunch, or dinner, great coffee and outrageous desserts, just for those, I'd stay a week in Mal Pais. We bought bread to take home, incredibly good too.
Parilla Argentine restaurant. Great beef, ribs & chicken, grilled to taste, good drinks, great service, and decent prices.
Upe, Café and Bar.
Surprised to see my wife's ex-partner in decoration Arianne and her boyfriend run this coffee shop/bar/restaurant. Great coffee, we didn't have a chance to try the food but it looked great and smelled even better. Of course, the decoration in this small restaurant is top of the line!
Honestly, I was surprised at how good the food and the service were in the restaurants we visited. Every place was packed, quite the opposite from many restaurants in Escazu that have way less clientele.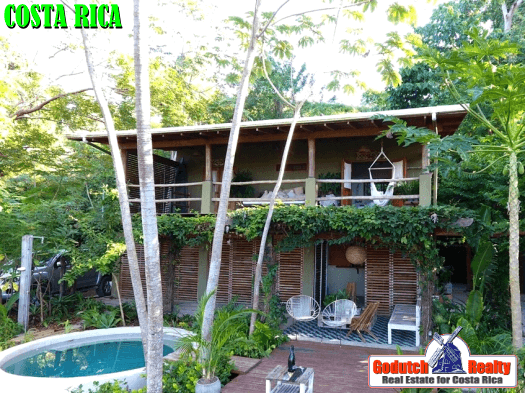 We did not see Gisele Bundchen and Tom Brady, Mel Gibson, or anyone famous, not this time. Maybe you'll have the opportunity when you visit the great beaches in Costa Rica – Mal Pais and Santa Teresa. Give it a try, you'll like it.
Declaration: We have three beaches in Costa Rica with the name Playa Hermosa (which means beautiful beach). One is south of Jaco Beach in the Central Pacific. Another is north of Playas del Coco in the North Pacific. And the one in this article is on the Nicoya Peninsula.
---
If you like this blog, subscribe to my newsletter by clicking the banner below.

I DO want to remind our readers that we appreciate any referrals you can send us. Also, please remember the GoDutch Realty agents when you talk about your home in Costa Rica, we appreciate it.