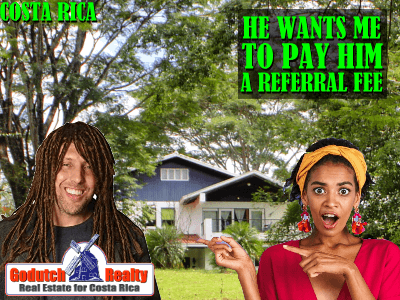 Of course, we love paying a referral fee. It's an important ingredient in our real estate business.
In my 30+ years of being a real estate broker, I've had people referring for a fee coming out of my ears sometimes. Everybody wants a share of the real estate commission in exchange for a name and an email address.  Well, don't we all wish it were so easy?
If you're reading this, maybe you are looking for such a share in the real estate commission. In our business, we get sales leads from many places, businesses, and people.
To some, we pay a referral fee. To others, we pay a finder's fee. Quite often,  referred buyers come through an appreciative and happy past client. They get lots and lots of post-sale attention from us. Learn more about some of their reasons.
Are you a professional real estate agent or broker? Of course, we love paying referral fees for any qualified buyer you can send our way.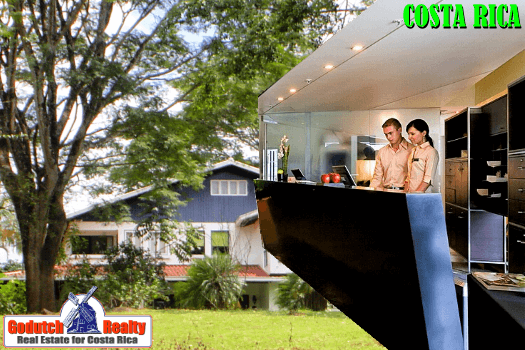 Why?
The reason for this blog is that a Costa Rica website owner was trying to get a referral fee for an unqualified buyer, who was just starting to do her due diligence. This client had already connected with us through other lead generation systems.  Just sending a name and an email address of someone (assuming this person doesn't contact anyone else) who doesn't even know if, where, and when it will happen is NOT a qualified buyer. I would love to get is referrals and will pay with pleasure, but for a real and qualified buyer.
Real estate in Costa Rica works differently than it does in some other countries. In this blog, I'd like to show you our rules for earning a real estate referral fee. So next time, I can just send you the link to this blog instead of 20 emails back and forth.
Referral Fees
Typical real estate commissions in Costa Rica run between 5% and 10% + 13% sales tax, depending on the location of the property. Dual agency is legal in Costa Rica and is pretty common.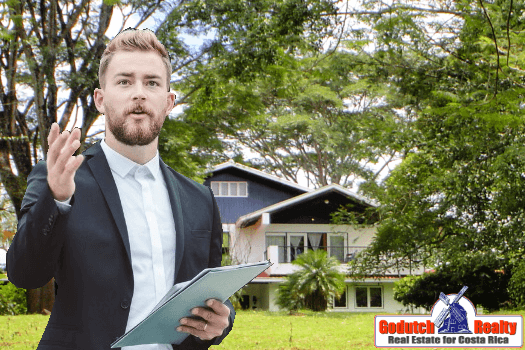 Acting as buyer's agent
If the buyer's agent accompanies the seller's agent in the showings and negotiations, the buyer's agent receives 50% of the commission. This is not negotiable, no matter how many agents are involved on the seller's side.
Referring agent
But, if the buyer's agent just refers the buyer to the listing agent, the agent will receive a referral fee of 25% of the total commission earned by the buyer's agent. Sometimes the buyer's agent has to involve another listing agent. In that case, the listing agent takes 50% of the commission. So the referral fee is only 25% of 50% of the total commission.
Listing referrals
Very few agencies sign exclusive listings in Costa Rica. Due to the lack of well-organized MLS systems, listings are mostly open listings.
If you are trying to refer a seller to an agent in Costa Rica, you will find very few agents/agencies willing to pay a referral fee for a listing. At GoDutch, we only pay a referral fee for a listing if it is an outstanding property at an incredibly interesting sales price. But before you send us the listing, first check on our website. We already might have it listed.
Costa Rican Real Estate Agents
Are you a real estate agent in Costa Rica? Then, for sure, you know that it's not mandatory for an agent to be licensed? I was licensed by the CCCBR about 20 years ago and I turned in my license. I had license #984, but on repeated occasions, I learned they were not doing anything for me or our clients.
For that simple reason, to receive a referral fee from us, it's not necessary to be a licensed agent. But you do have to prove you're a real estate agent.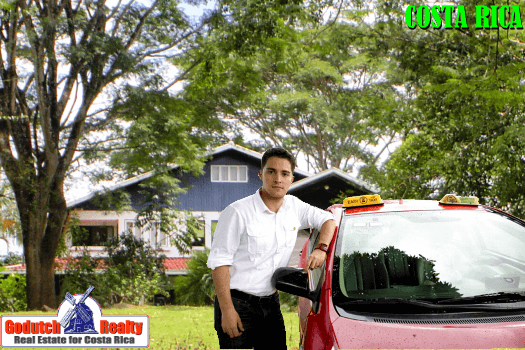 International Real Estate Agents
Are you a real estate agent in another country? Then we definitely LOVE to pay you a referral fee for any qualified buyer you send us.
GoDutch Realty is the leading real estate agency on the west side of the Central Valley. That includes locations such as Grecia, Atenas, Cariari, Escazu, and Santa Ana. If your client is interested in other areas of the country, you can still contact us. We will connect you with an expert real estate agency within our referral network at AE.
BUT, if you want to refer a seller to us, we do not pay referral fees for listings.
Finder's Fee
Yes, we do pay a finder's fee. But only to those who send us a qualified buyer. We pay finder fees to those who work in a hotel, a car rental agency, or in tourism. BUT, those looking to earn a finder's fee, need to understand that the buyer has to be qualified. Our agents do NOT work as a free tour guide. Therefore, it's the agent's decision to accept your client and agree to pay a finder's fee.
Feel free to contact us, we'll make sure you will receive your referral fee.
The grammar of the Spanish version of this blog was checked and corrected by Wagner Freer of Spanish School for Residents and Expats. We strongly recommend this language school as your best choice to learn Spanish, click here to contact them. 

---
If you like this blog, subscribe to my newsletter by clicking the banner below.

I DO want to remind our readers that we appreciate any referrals you can send us. Also, please remember the GoDutch Realty agents when you talk about your home in Costa Rica, we appreciate it.