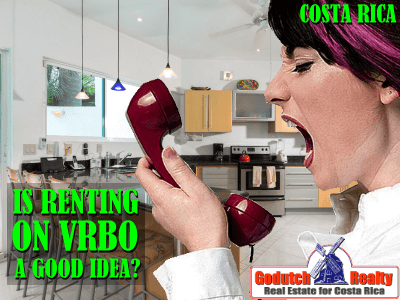 Looking to rent on VRBO? Are you sure? Really? Then read this:
Late on a Saturday afternoon, my office phone is ringing while I'm on my cell phone with a lawyer discussing some details on a real estate closing. I'm alone in the office and the office phone is ringing off the hook.
I first let it ring for a while, but after 5 minutes I felt I had to cut off my call with the lawyer and answer the office phone. Maybe it was a client in trouble!
It's a local call. You never know how you can miss out on a buyer, so I told the lawyer I'd call him back as soon as I could and picked up the office phone.
"Buenos días, GoDutch Realty, en qué le puedo servir?" is my usual introduction. The lady at the other end says in English "do you speak English?".
This is pretty customary in our office because when I answer the phone in English, the Ticos who don't speak any English generally hang up on me, not knowing what to say.
A Water Leak
The lady on the other end started telling me that she knows it's a very unusual request. She says she rented a house in Sarchi and it has a solar heating system on the roof. The solar system is leaking and she needs a plumber to get it fixed.
I answered, "I assume you're calling because you rented the house from Brooke Bishop? I can give you Brooke's phone number and I'm sure Brooke can help you".
The lady answered, "no, Brooke had it also listed. But we did rent on VRBO, directly from the owner."
I felt like I'm hit by a freight train, and I'm thinking "WTF…"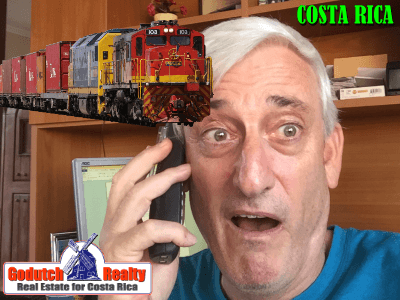 The Owner
She apparently thought it was silent too long on the other end of the line, so she volunteered "the water is running all over the roof and I need help".
Now I recovered from the shock and asked: "what about the owner"? She answered: "The owner doesn't live in Costa Rica"… silence…
Flabbergasted
I'm flabbergasted and I felt like I was hit by a train. Nonetheless, I was still trying to be nice "you can find a plumber on Google, you should try fontanero in Sarchi. But if you would have rented this Sarchi house from Brooke Bishop, we would have done everything possible to help you out.
But what is the reason I should spend time and effort on trying to find a plumber for you? You didn't give us your business when you could have"?
Her simple but unhappy answer was "what's the matter with you real estate companies! Why does everything always turn around money"?
A Help Desk
I told her that we are not 911, social services, free phone assistance, or help desk for ex-pats in trouble. Our company is a real estate business, and therefore we assist our clients. Well, she hung up on me. I guess I said something I shouldn't have.
Hopefully, the lady (she never gave me her name) reads this article. I apologize to her for not jumping in the car, find a plumber, and drive all the way to Sarchi to fix her solar heating system on the roof. I should have been more thoughtful about being able to help a fellow ex-pat who is in serious trouble.
There's one thing I'm pretty sure of: next time around, she will NOT use the services of a real estate agency. ANY! She will again rent on FSBO and never learn.
We try to help our clients, whenever we can. Just check out this testimonial Brooke got from Michael and Ed titled "We say Brooke is the Role Model for post-sale services!" that she received just a few weeks ago.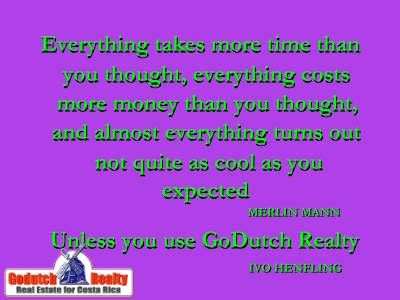 Don't do VRBO
I hope this blog shows that if you expect people to help you, you should take them into account for your business. It's a reciprocal thing. We're not an ONG, last time I looked. Next time when you're in the market to rent a house in Sarchi, call a real estate agent, ANY, and don't rent on VRBO in Costa Rica.
Do you think I should have tried to help the lady or not? Then please leave your comments below.
If you do understand this, feel free to contact us at any time.
If you don't, feel free to rent on VRBO in Costa Rica but now you know who not to call when in trouble.