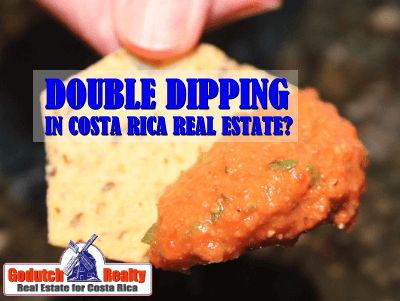 Double dipping is not only common in Costa Rica real estate, it is perfectly legal.
Why is that? How can a seller or a buyer make sure there is no double dipping going on?
Costa Rica real estate is quite different from how it functions in other countries. You can agree or not with the fact that double dipping is customary, it's not going to change anytime soon. Unless…
What is double dipping in real estate exactly?
When a real estate agent represents the buyer and seller at the same time, the agent gets the full commission. This commission is really designed to be split between buyers and listing agent. Often, the agent earns the commission from both sides. I say both sides because in that case, the agent does the work of both sides.
The main reason double dipping happens is quite customary in the Costa Rica real estate market is because there is no formal MLS.
Most buyers will not look for a buyer's agent. Buyers shop around until they find the right property and will then work with the listing agent.
Real Estate Licensing
You probably already know that real estate licensing is not mandatory in Costa Rica. Anyone can sell real estate. A seller or buyer can be represented by a taxi driver or a pole dancer.  It's hard to know which one is more knowledgeable about Costa Rica real estate. Unless you do your homework and find out which real estate agent is professional and knowledgeable enough to assist you.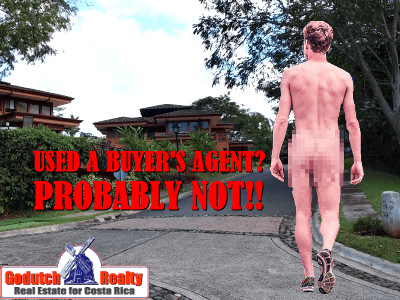 Real estate board
There are two real estate boards in Costa Rica. Neither one has a functional MLS. The CCCBR has no rule about double dipping. They probably don't even know what it is. Their MLS platform was recently hijacked by the software company for outstanding debt. The old CCCBR property listing platform seems to be trying to function with the same agents that have 1466 properties listed. Many listed properties on this MLS are duplicated and even triplicated with different property information. That happens because they have so many independent agents and even some real estate developers working in the same areas.
The CRGAR, which is the Guanacaste real estate board is NAR affiliated. They do give real estate courses to their members. Their MLS carries at this moment 1,810 properties listed by 62 members.
Our own little 31-agent American- European MLS carries today 2,367 properties listed.
Right or wrong?
Is double dipping right or wrong?
I'm not so crazy about the double dipping issue either.  As a real estate broker, I obviously prefer the buyer is presented by one agent and the seller by another. It obliges to clean negotiations.
Some see double dipping as unethical. It mostly happens because buyers and sellers are not aware of this situation. I suspect they think they have no other choice, which is untrue.
Multiple offer situations
Double dipping is a huge problem when there are multiple offers on a property. Unfortunately, in my 30-year real estate career, I still have not been in this situation once.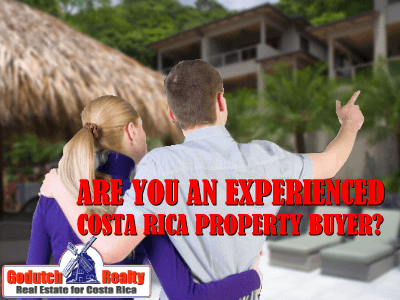 The solution
If Costa Rica would be located in a perfect world and the buyer understands the issue of double dipping, there is a very simple solution: find a buyer's agent.
You can ask the real estate agent of your preference to represent you as a buyer's agent.  Your buyer's agent can then contact all listing agents to show property they have listed that might interest you. Insist on signing a buyer's agreement, this will oblige to loyalty from both sides.
If your buyer's agent also has listings of your interest, you can ask another agent from the same office to represent the seller.
Any decisions of having someone act as your buyer's agent has to be taken BEFORE you look at ANY property with ANY agent. Don't contact a buyer's agent AFTER you have found the right property, for obvious reasons.
Benefits of a buyer's agent
Disclosure and confidentiality are on your side.  All information is "on the table". There are no more secrets.
An honest perspective on the sales price, invaluable insight on comparable property, and the properties being shown
Focused and efficient showings
Cuts through the red tape and recommendations of legal assistance
Assistance in property survey, home inspection, and mortgage
Experienced negotiations
Recommendations on repairs and remodel
Involvement until after the closing
Eliminate stress during the who purchase process
Commission
How does the real estate commission work? Usually, the listing agent splits 50/50 with the buyer's agent. In case of FSBO's, the buyer will have to commit to paying a 2.5% commission or negotiate.
Interested in having your own real estate agent represent you? Contact us now, talk to us. We can assist you in such way that there is no double dipping.
Feel free to leave your comments on this blog and share this article on your social media.
---
If you like this blog, connect with me on Google+ or subscribe to my newsletter by clicking the banner below.

I DO want to remind our readers that we appreciate any referrals you can send us. Please remember the GoDutch Realty agents when you talk about your home in Costa Rica, we appreciate it.