Estimated Reading Time: 7 Minutes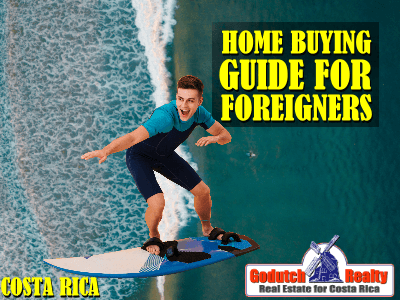 I decided to create a home buying guide so you can get the max out of Costa Rica's laid-back feel and lifestyle.
Quite a few foreigners end up wanting to call Costa Rica home. Property in Costa Rica is still very affordable, and property isn't hard to buy. There are still some complicated parts when dealing with a property purchase, but that'll be covered when hiring the experts to assist you.
To help make it simpler, we have put together a Costa Rica home buying guide for foreigners, and we hope you find it helpful.
One first but vital tip before starting your adventure: Experts from Transparent International warn that you should be careful when looking for movers in Costa Rica as not all are the experts they say they are.
What do you need
Can you purchase a property without being a resident or a citizen? The answer is that anyone, regardless if you're from the US, Canada, Europe, or anywhere else, can buy property in Costa Rica. When purchasing a home, foreigners and locals in Costa Rica have the same ownership rights. In addition, foreigners can buy a property on a tourist visa without needing citizenship or residency.
Of course, you still have to worry about how to finance a home, but it's much easier than in the US. Homes here are affordable, and finding one that suits you is extremely easy. Overall, Costa Rica has been a trendy choice for foreigners as more and more move there.
MLS (Multiple Listing Service)
One thing which foreigners find strange about real estate in Costa Rica is that there is no functional MLS system and that real estate agents don't have to be licensed. Unlike Canada or the US, the real estate industry in Costa Rica isn't regulated at all. Therefore, looking for a home generally isn't very easy, as you can't simply look up the MLS and see every property currently on sale.
Additionally, it is harder to compare home prices, so you don't have any comps. Finally, this also leaves an opportunity for real estate agents to advertise themselves as experts without being one. Therefore, doing your research carefully is vital when buying in Costa Rica.
Transporting furniture to Costa Rica can get complicated, but you won't have to worry about the right movers. Leave the quick delivery of your items to the experts, and you won't have to worry.
Property tax
One of the main reasons people tend to move to Costa Rica from the US is the massive difference in property taxes. The property tax rate in Costa Rica is only 0.25% of the home's total value. A home worth $200,000 would be taxed $500 annually.
Luxury homes, which are worth over $234,000 (as of 2020), are subjected to a sliding scale luxury tax. However, this tax can be a maximum of 0.55% of a home's value, which is still less than property tax in the US.
Additionally, consider that the condo fee will apply if you buy a condo. HOA fees can range anywhere from $75 – $800 monthly, depending on the size of the condominium and the amenities offered. These HOA fees cover the maintenance of common areas and security. Knowing all about Costa Rica property tax is generally an excellent idea before you commit to buying a home there.
Titled property
Most properties in Costa Rica are titled and registered in the National Register. While real estate laws in Costa Rica are generally quite generous with foreigners, there is still one reasonably significant limitation. Any property located inside the first 50 meters of the high tide line is considered public land. This means that the property is protected and can't be titled.
The following 150 meters are called the Maritime Zone (alternatively Concession Land). Foreigners can buy land in the Maritime Zone, but non-citizens can only own up to 49% of Maritime Zone land. So, for foreigners, direct oceanfront property is typically off the table.
Finding a real estate agent
Next on the Costa Rica home buying guide is finding an excellent real estate agent to represent you. Because the real estate market in Costa Rica isn't regulated, it can be tough to find an actual professional for this task. There are a lot of properties with legal issues, which is why a title search is critical when buying in Costa Rica. Looking for recommendations for a reliable, honest, and an experienced realtor is the only way to do it.
Look for testimonials, ask around on Facebook, and look for agents who offer valuable information on their blogs. It would help if you looking for an experienced agent in the exact area you want to buy in, and make sure they have the references to prove it. Once you track down an agent you can trust, you can consider whether you should bring furniture to Costa Rica.
Wrap up
Let's put the steps to take in the proper order so that you won't be making any mistakes.
First, find out where to live in Costa Rica and if you like the country enough to live here.
Once you've found the area, search for a real estate agent to represent you.
Give the agent the property details you want and a budget to work with.
Pick the best properties and schedule showings with your agent.
Then pick the three best properties and decide which one you like best.
Make a detailed offer, including the price, closing date, earnest money deposit, closing cost, home inspection, and anything else necessary.
Hire a notary public to write up the option to purchase or a letter of intent.
Wire the earnest money deposit to the escrow company.
Allow for a due diligence period so the seller can deliver all the necessary documents for clear title, paid utilities, and much more.
Wire the balance to the escrow company.
Organize a walkthrough on closing day and go to the closing from there
Sign the deed, pay the seller, and receive the keys to the property
Congratulations on the ownership of your new property. Hopefully, one of our agents was able to assist you with this happy process.
We hope this Costa Rica home buying guide for foreigners has assisted you in making all the right decisions during the process.
Photos used
https://www.pexels.com/photo/aerial-photography-of-sea-1751127/
https://www.pexels.com/photo/black-handled-key-on-key-hole-101808/
https://www.pexels.com/photo/tax-documents-on-the-table-6863183/
https://www.pexels.com/photo/person-pointing-on-the-screen-of-a-laptop-313691/