Can they steal your property in Costa Rica? Yes, they can! Sadly enough, it happens.
Charles emailed me this question a week ago: Can someone steal your property in Costa Rica? A great question, which needs an even better answer!
It's sad this happens, and it's bad for our business. We assist buyers and sellers in their real estate transactions. Buyers don't feel comfortable with the fact that someone can steal your property after you bought it.
The question
Charles' email was as follows:
How can I buy real estate in Costa Rica, and then someone steals it out from under your ownership? I read that there are lawyers that swear the owner signed over the deed and the lawyer and sellers were fake.
Heard there were over 4,000 cases that can take 7 years to go to trial, and still not get your property back. What's the cure? It's holding me back from buying, and a lot of my friends too.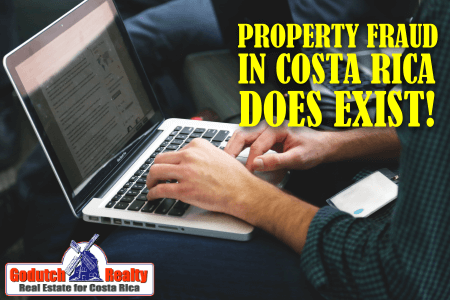 My answer
I'm sure I'm not the only one who can probably write 20,000 words as an answer. But let's keep it short and concise this time. This was my answer:
You're right, as a 35-year old real estate veteran, I've seen most of it. There's an amazing amount of cases like what you describe. Often, it's the buyer's own fault they get scammed out of their money. I can put you in touch with at least 100 and they will all agree it was their own fault.
Mostly because they used the seller's attorney for the closing. Just had one who ended up paying years of property tax because the seller didn't pay it up to date before closing and the attorney didn't do his job. They didn't tell the buyer he had to pay corporation tax either.
Long story short, pick the right agent, the right attorney and do your homework before you sign a check.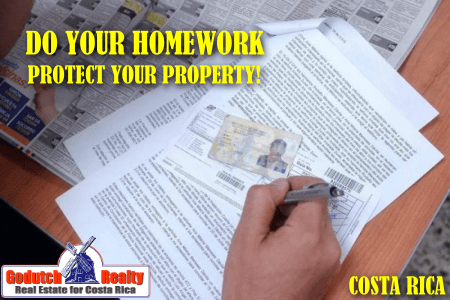 How to protect?
You can check your property in the National Register yourself, every day if you'd like to. Unfortunately, that won't stop anyone from stealing the property. Recovery of your lost property is a long and expensive road.
There are several ways of protection, so nobody will steal your property. One of them is the use of a cédula hipotecaria.
Talk to your lawyer for explanation and offer you options to protect your property.
Are you still afraid to purchase and then have someone steal your property? Ask a GoDutch real estate agent to assist you in your property purchase in Costa Rica. Contact us now.
The grammar of the Spanish version of this blog was checked and corrected by Wagner Freer of Spanish School for Residents and Expats. We strongly recommend this language school as your best choice to learn Spanish, click here to contact them. Now also in Green Project Language School, Ojochal.

---
If you like this blog, connect with me on Google+ or subscribe to my newsletter by clicking the banner below.

I DO want to remind our readers that we appreciate any referrals you can send us. Also, please remember the GoDutch Realty agents when you talk about your home in Costa Rica, we appreciate it.