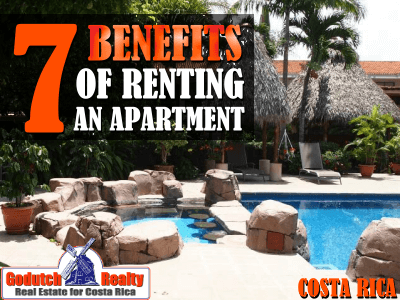 Some of you are not even thinking of renting an apartment in the Central Valley when moving to Costa Rica. And others do. Why is that? Are there any benefits to renting first?
Most our clients from up north and Europe are retirees, looking for a much different lifestyle than they were used to. No more work, all leisure. You probably think that there is no way you should be renting an apartment once you move to Costa Rica. You'll be moving here to enjoy nature, and a better lifestyle, won't you?
Besides considering "the people location" you should also have a good look at these 12 bugging reasons for not moving.
Is it possible you have a wrong impression about how to enjoy your new lifestyle better? Allow me to give you 7 benefits of renting an apartment in Costa Rica, so you can make a much better decision.
7 Benefits of renting an apartment
Amenities
I put the amenities in the first place because they're usually the biggest benefit to renting an apartment. When you rent a home, you won't have totally free access to any community amenities such as a pool, gym, a gazebo for your barbecues and often even a tennis court.
Travel
Once you've moved to Costa Rica, you'll finally have time to enjoy travel. You want to get to know the country and be on the road quite a bit. You'll also be visiting new countries you've never been to before. Maybe even a cruise once in a while? When renting an apartment, you will be able to just lock up and leave.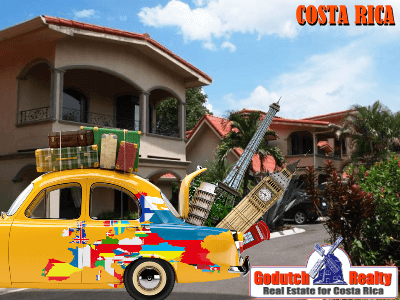 Elevator
Having bad knees? You can't walk stairs anymore or afraid soon you won't be able to? Your best choice is renting an apartment. Most apartment buildings have elevators and you won't have to walk any stairs at all.
Safety
Safety is still an issue in many areas of Costa Rica. Multi-unit dwellings are usually much safer for single women and elderly than a single family home. Security measurements are much tighter with security guards and security systems installed on the property.
Size
Some expats plan to downsize when they move to Costa Rica. Are you single or just a couple? Who needs all that space that you don't use and still have to clean? Our agents always have 1-, 2-, and 3-bedroom apartments on inventory.
Community
Living in a community is often a much-welcomed idea. When you arrive in a new country with a different language and culture, it is sometimes hard to meet new people. By renting an apartment in a community, you'll connect much faster with locals and expats alike.
Accessibility
Real estate developers always look for the best locations. That means you'll be close to shopping, medical assistance, wining and dining etc. You might not even need a car and will be able to survive on bus transport or Uber.
Rental term
In most locations, it's almost impossible to find any short term rentals (less than 1 year). You will find those only in Atenas and Grecia, which cater more to the vacation and snowbird market.
Disadvantages
Of course, there are also disadvantages to renting an apartment, but we'll talk about that in another article.
Location
Renting an apartment in Atenas or Grecia is not so easy, as they're hard to find. Oh, they're there, very few of them. To be able to enjoy the benefits of renting an apartment in Costa Rica you will need to change location. I definitely recommend you have a good look at Escazu and Santa Ana. These two locations have lots of condo communities that offer the most incredible benefits. If you love to play golf, you should also have a hard look at Cariari.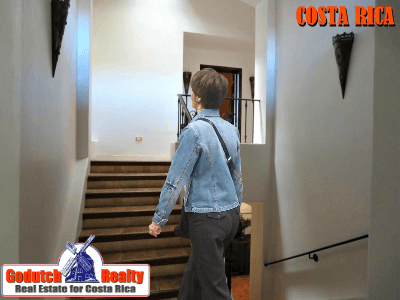 Find out more about living in the areas I mentioned in this article:
Contact us now to learn more about renting an apartment in Costa Rica.
Feel free to leave your comments on this blog.
---
If you like this blog, connect with me on Google+ or subscribe to my newsletter by clicking the banner below.

I DO want to remind our readers that we appreciate any referrals you can send us. Please remember the GoDutch Realty agents when you talk about your home in Costa Rica, we appreciate it.