Estimated Reading Time: 7 Minutes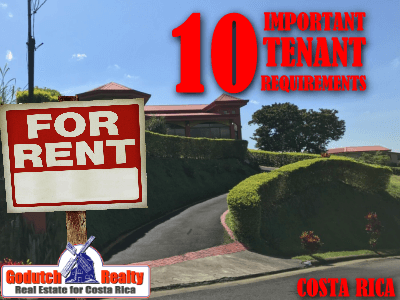 I always try to keep track of important tenant requirements, so we can include them in the listings.
For years, we didn't pay attention to the fact that people who moved to Costa Rica wanted to bring their pets. Now we included "pets allowed" in our listings. We learn as we go.
Some people start an email saying "I know this is a stupid question…". Well, I don't care if a question is stupid or an intelligent one. If you have any questions, feel free to ask. At GoDutch Realty, we will try to answer your questions as best as we can.
The due diligence process is the most important part of moving to a new country, even if you're going to rent and not buy a property.
Fortunately, we are all different and have different tenant requirements.  There are also several frequently asked questions that I'd like to cover here.
1. Online listings
Please let us know if your listings are current.
Real estate agents in Costa Rica do not have an exclusive on rental homes. Landlords list their rental homes with several agents. Sometimes a landlord forgets to tell an agent that their property was rented, so it will still appear on our websites as being available.
Nonetheless, rental listings on our websites are usually pretty much up to date.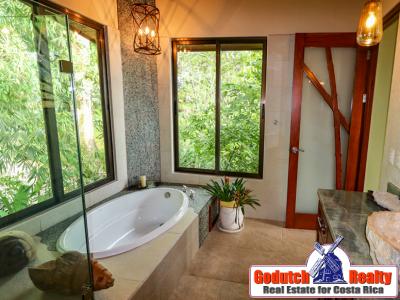 2. Bathtub
Does this house have a bathtub?
Very few homes in Costa Rica have a bathtub, a shower is standard. Some, mostly the more luxury homes (with a rent of over $1,500/month), have a Jacuzzi tub. Often, bathtubs are not easy to get into and out of.
Rentals of under $700/month rarely have a bathtub. If a house has a bathtub, the agent will show this tub in the photos.
If having a bathtub in your rental home is a tenant requirement for you, installing a tub isn't a whole lot of money. But, you need to request permission from the landlord. Do so before you install one, so you can negotiate part of the cost of the bathtub with the landlord.
If you don't, you have to return the home as it was delivered to you, which will create an extra cost when you're leaving.
3. Bus stop
I want to be near a bus stop.
Short-term rental tenants will never purchase a car. Many long-time tenants don't want to drive anymore. Therefore, a bus stop is often one of the most important tenant requirements.
We have included this amenity in the neighborhood amenities, together with many other amenities that the rental property has to offer.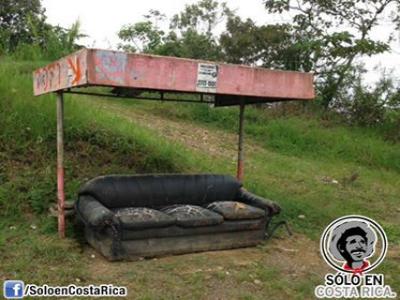 4. Noise
I need peace and quiet.
I'm looking for mountains in cooler temperatures, security is a must. I want off the main road, no buses, traffic per se, no rooster, chickens.
Our agents can show you mountain homes for rent, in warmer and cooler temperatures. We can also rent your home off the main road with no busses and no traffic.
Unfortunately, we cannot promise peace and quiet. You'll have neighbors. Neighbors have dogs and they have motorbikes, that make noise. We've had complaints about mangoes falling on the roof.
If peace and quiet are one of your tenant requirements, we cannot assist you in your rent.
5. Septic
Does this property have a modern septic system?
90% Of the homes in Costa Rica are on an individual septic tank. There is no city sewer system.
Rental homes in Costa Rica do not have any outhouses anymore, not even in the most remote areas. So there is no danger you will have to empty buckets.
If a modern septic system is one of your important tenant requirements, I recommend you rent in a condominium. Condominiums have by law the obligation to have a modern septic system.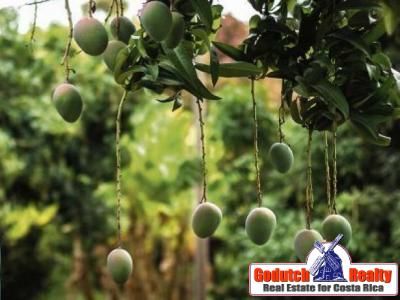 6. A/C
Is there any air conditioning?
People from Florida always think you need A/C in a house in Costa Rica. Costa Ricans think quite the opposite. I personally don't like A/C, not even in my office. That's because A/C gives me sinus problems.
Is having A/C in your future rental home in Costa Rica a top priority of your tenant requirements? Then you're in deep trouble. Some top dollar condos in beach areas will offer central A/C. Like those that you pay $4K a week.
Planning on moving to the Central Valley? Don't count on A/C. Wait till the electric fans are in promotion and buy a few.
7. Residency
Do you assist expats in the residency process?
Oh, we assist in more things than you can imagine. One of them is writing hundreds of blogs about it, so you have all the information for FREE.
But, no, we do not assist in your residency process. We suggest you contact a residency attorney. Check out Awesome Attorneys of Costa Rica.
8. Showing rentals
We'll be in town next week and planning on moving to Costa Rica in 3 years. Could you show us some rental property?
We'd love to show you rental homes when you're ready to move now. Unfortunately, our agents cannot afford to spend time, effort, and gas driving you around town. That's why we show at least 15 photos and give the best possible description on each listing online.
When you're here, spend your time getting to know the areas that attract you most. That will help you narrow down any tenant requirements you might have when you're ready to move.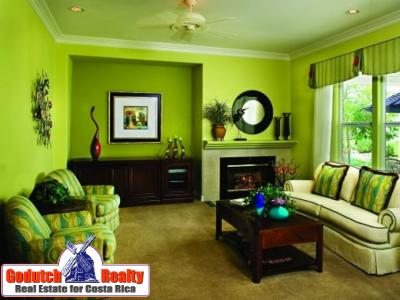 9. Painting
Can I change the paint on the living room walls?
You can paint all you want. Your lease agreement will indicate that you have to return the home rental in the same condition as you received it. Therefore, communicate with your landlord before you start painting.
10. Reservation
How can I reserve a rental home that I like?
You can reserve a rental home by making a one-month rent deposit to the landlord's bank account or by paying cash. You might not be able to wire money to a Costa Rican bank account while you're here.
If you don't carry enough cash on you, look for an ATM machine. ATMs usually allow you only $300/day withdrawals. Make sure you get a receipt from the landlord.
I hope these 10 Important tenant requirements and frequently asked questions are of any assistance when planning to rent in Costa Rica. Looking to rent in Cariari, Grecia or Atenas? Then contact us now, we have a great inventory for you to choose from.
The grammar of the Spanish version of this blog was checked and corrected by Wagner Freer of Spanish School for Residents and Expats. We strongly recommend this language school as your best choice to learn Spanish, click here to contact them. Now also in Green Project Language School, Ojochal.

---
If you like this blog, subscribe to my newsletter by clicking the banner below.

I DO want to remind our readers that we appreciate any referrals you can send us. Also, please remember the GoDutch Realty agents when you talk about your home in Costa Rica, we appreciate it.