Estimated Reading Time: 5 Minutes
Did you know that rivers in Costa Rica have a legal setback? There is a very important reason for that.
Last Wednesday morning was my time for official openings in Escazu. First was the official opening of Verdeza, Costa Rica's Premier Continuing Care Facility.
After this official inauguration, Daniel Langlois and I followed the presidential vehicle to the official opening of another project.
This time President Chinchilla was laying the first block of a housing project for the victims of Hurricane Tomas in October 2010 on Calle Lajas in San Antonio de Escazu.
Why am I telling you about this? Because a lot of people who move to Costa Rica have no idea how much it can rain in Costa Rica. It doesn't rain cats and dogs in Costa Rica; it rains water and lots of it.
A Mudslide
On November 3rd, 2010, a large mudslide occurred on Calle Lajas, on the side of the Pico Blanco Mountain. This mudslide killed 24 people and left 51 families homeless. The avalanche of mud and rocks descended at 60 kilometers per hour, destroying everything in its path. Most people killed were living in homes that they had built illegally in the riverbanks of the Rio Lajas.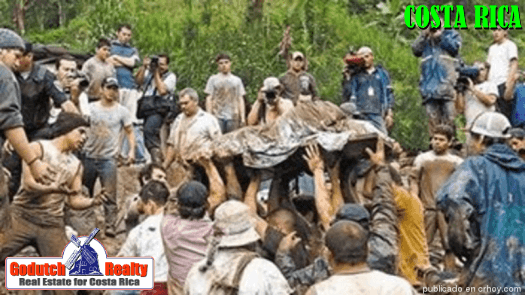 Before you buy
When you purchase a property in Costa Rica and a river runs through the property, you need to pay attention to this river.
First, you have to look at the terminology and see if it is a river, a creek, or just a rainwater drain. Unfortunately, there is no automatic rule to this. Your closing attorney won't even notice any problems with a river that borders or runs through the property. Most real estate agents don't know anything about river setbacks either.
Well, you're not allowed to build in the river setback. But maybe the seller built it illegally? Some rivers have a 10-meter setback and others a 50-meter setback. This usually depends on the topography of the property.
How do you find out how many meters it is and if there is any existing construction inside the setback?
River Setback Certification
You can easily find out, or the seller actually should do this:
Take 5 copies and an original survey map to INVU (INSTITUTO NACIONAL DE VIVIENDA Y URBANISMO) in San Jose. Request the setback on the river that borders or flows through the property you are buying. You can download the protocol for the river setbacks here: Protocolo para el otorgamiento de alineamientos de las áreas de protección según Ley Forestal N7575
It will take them two weeks, so they can stamp the setbacks on it. This will indicate how far you need to stay from the riverbanks to build. Setbacks are called "retiros" in Spanish. These setbacks are not only meant to protect the nature around the rivers (regulated by the forest law), but also to protect those who live around the rivers.
Social Assistance
The official opening of this project of 51 houses in Escazu was very emotional. That's because many of those present had lost family member(s) or friend(s) in the tragedy and most of their belongings.
It took the organization a long time to cut through the red tape so President Laura Chinchilla could put the first block of this project. It will still take another 16 months to build the homes, each originally of 471 square feet. But in a later phase, the owners can build a lightweight 2nd floor on it.
The Investment
The project is financed by Banco Hipotecario de la Vivienda (BANHVI) with an investment of $3.5M for the purchase of the land and the construction of the homes. The most important part of this project is that it is being built in a nearby location of where the victims have lived most of their lives. Now they can stay close to family and friends.
Licensed Realtor?
I know licensed realtors in Costa Rica who don't know what a river setback is. Now you also know why I have such an extreme feeling about real estate training and why we train our agents ourselves at GoDutch Realty.
---
If you like this blog, subscribe to my newsletter by clicking the banner below.

I DO want to remind our readers that we appreciate any referrals you can send us. Also, remember GoDutch Realty when talking about your home in Costa Rica to friends and family. We appreciate it.