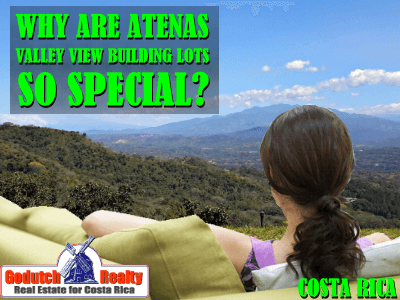 Did you know that Atenas valley view building lots are incredibly special? Let me tell you all about it, so you'll fall in love, just like so many others before you.
Atenas real estate is pretty well known to expats. That's because they say Atenas has the best climate in the world. If you're looking for warm weather in your life, you'll enjoy living in Atenas.
I DO recommend you first rent in Atenas first before you start looking at Atenas valley view building lots. Maybe you don't even like living in Atenas. Of course, we at GoDutch Realty, love to assist you in this.
Why so special
Atenas valley view building lots cannot be matched anywhere in the Central Valley. Why?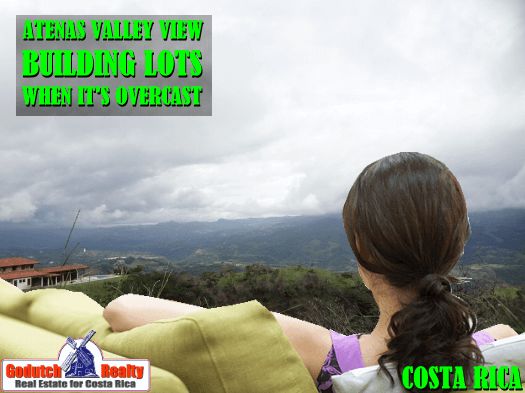 Here are the reasons:
1. Outstanding valley views
2. Impossible to be blocked by neighbors
3. No soil replacement is necessary, unlike many other locations in the valley
4. Great potable water and no water shortage, in the gated communities
5. Great infrastructure, roads, power, and water up to each lot
6. Close to shopping, medical assistance, and many other basic amenities
7. A great expat community where it's easy to make friends
8. You can buy a building lot in Atenas for less than $50K
Make a decision?
So did you make the decision and you want to live in Atenas? Good choice.
Now, what's the next step? Well if you're ready to purchase property, you should first have a look at houses for sale. Why? Because building a house is not so easy as you might think. AND you might come up with some new ideas. Talk to the agent about this.
Explain your requirements
I'm sure you've been renting a home in Atenas for a while first, so you now know your way around well. This will give you a great overview of how close you want to be to the various amenities and what you need to be happy.
Once you have your list of requirements ready, ask for a meeting with Marian Veltman, our agent in charge of Atenas homes and building lot sales. Marian should be able to fit your requirements to the right location and pinpoint down several options of Atenas valley view building lots.
Atenas gated communities
The best Atenas valley view building lots are in the gated communities. Unless you are looking for a large farm and want a lot of usable land. Please tell the agent, so you won't waste any time looking at the wrong lots.
The Atenas gated communities offer 1 ¼ acre up to 2 acres of hillside building lots. The advantage of buying a building lot in a gated community is that you'll have neighbors, good water, good internal roads, and probably a WOW view. AND the Atenas communities' HOA fees are low.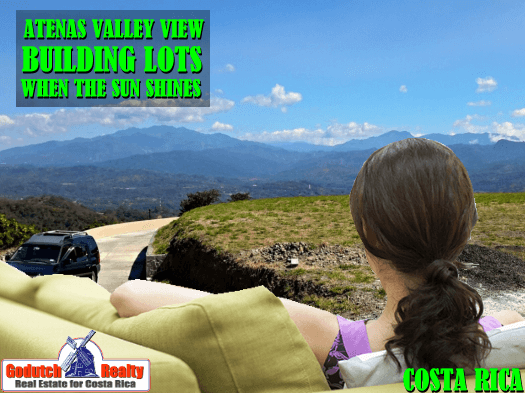 Topography
When looking at Atenas valley view building lots, there are a few other issues you need to look at. Not only the views are important. Most lots have a hillside topography, and only a relatively small construction pad to build a house.
This construction pad, in Atenas jargon, called a "plantel" can be made bigger by bulldozing the soil down a few feet.
It might be necessary to build a retainer wall and take care of the rainwater runoffs.
Building a house
Be aware that not every builder in Atenas is qualified and honest enough to build your house. Read the story about a disaster builder here.
Besides asking your agent, I suggest you get recommendations for builders on the Atenas Facebook page. There are plenty of members who have built a house in Atenas.
One a ridge
Most Atenas communities are on the ridges around the town, mainly on the south side. That's the reason Atenas valley view building lots have impressive valley views.
Some have views to the north, others to the south. The north view will give you either a view of the town of Atenas or the eastern part of the Central Valley. The south view is toward the Rio Grande and Puriscal.
But, there are other locations that will give you different views, although those will put you further out of town:
Alto del Monte
San Isidro
San José Norte
Alto López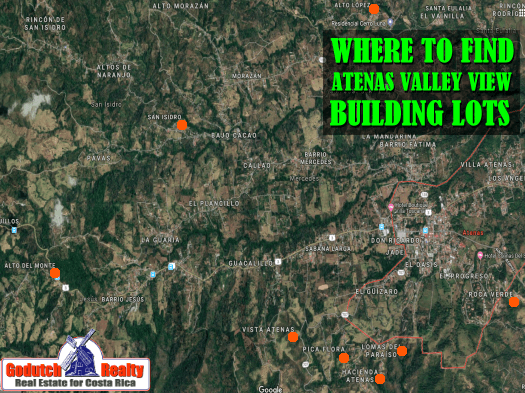 Ready?
Are you ready for a serious look at Atenas valley view building lots now? Have a good look at our inventory, then contact us.
The grammar of the Spanish version of this blog was checked and corrected by Wagner Freer of Spanish School for Residents and Expats. We strongly recommend this language school as your best choice to learn Spanish, click here to contact them. 

---
If you like this blog, subscribe to my newsletter by clicking the banner below.

I DO want to remind our readers that we appreciate any referrals you can send us. Also, when talking about your home in Costa Rica, please remember the GoDutch Realty agents. We appreciate it.