Estimated Reading Time: 6 Minutes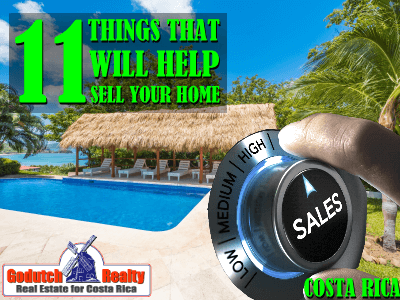 You can help sell your home quicker by following the recommendations in this blog. I want to request all sellers of Costa Rica real estate:
Clean up your mess before you put your property on the market. Then maintain it well. That will help to sell.
These words don't sound very friendly, but some sellers only understand them this way. Quite a few homes for sale in Costa Rica are in terrible shape or look like they are. The sellers often think the house didn't sell quickly enough due to the lousy salesmanship of the real estate agent. But, I got news for you.
The homes that sell quickly are, first of all, always priced right. But besides that critical fact, they also have
A nice looking garden
All the curtains open
Uncluttered rooms
Look well painted,
A nicely painted front door
No dog poop in the hallway
Made up beds
Amongst other facts.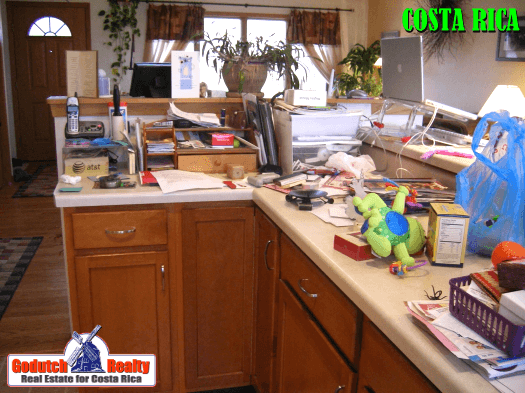 What needs to be done
Most of the time, it seems that nobody is in a hurry to sell. So when I list a property for sale in Escazu or Santa Ana, I go through the property with the camera in hand, trying to find the right angles for a nice slideshow and look at how well the property looks. Then I'll tell the sellers that everything they have lying around will make the difference between selling and wasting everyone's time and efforts. Cleaning up will help to sell.
Besides painting, cleaning, and other logical things you need to get done before putting your house on the market, I'd like you to do something else. So here is a list of 11 things to remove before we show your property to a prospective buyer.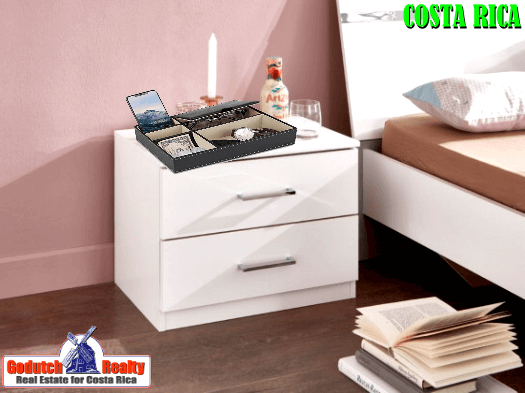 Please Remove
Make sure you go over this list half an hour before the showing, every time.
1. Personal involvement
Sellers seem to need social contact with the buyers during showings. Please say hi at the door, and then disappear. Or stay away. Allow the agent to do their job.
2. Personal photos
Buyers DO get distracted by them, especially if you have walls full of them. Get rid of most and leave the ones that are important to you.
3. Bills and personal papers
Do you have power bills and other "to be paid" invoices out on the counter or kitchen table? That is like an invitation for the buyers to "peek" at them. As a seller, you don't want to give buyers the temptation. Could you get rid of them?
4. Money
Most people (and real estate agents) going through your home are honest. But I don't want to test those waters. If you have cash, cash boxes, or coin jars sitting out in the open… put them away. It's just safer for everyone if it's out of sight.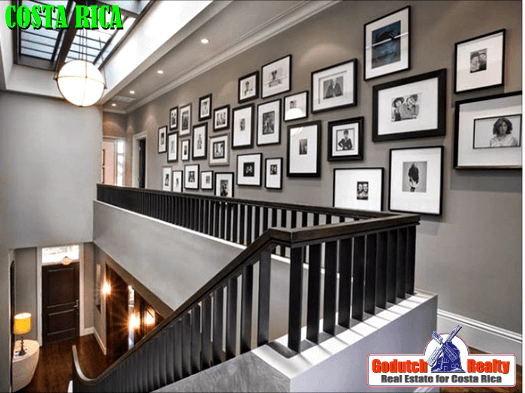 5. Valuables
Jewelry, valuable antiques, watches… anything that might have a value that you wouldn't want to lose. If buyers don't see it lying around, they won't think about it. I can't tell you how many homes I've been in where the jewelry is left behind on the dresser… somehow, it feels uncomfortable. Would you mind putting it away?
6. Guns and ammo
Lots of homeowners in Costa Rica have firearms. If you're one, put them away in a safe place, well away from where visitors can get to it quickly. Don't forget that many buyers open closets and drawers to see how much closet space there is.
7. Shoes!
If you have a pile of shoes at the door… ask yourself why. A pile of shoes gives a buyer the impression that the house for sale does not have enough closet space. So please put them away, it will help to sell.
8. Medicine
Don't store it on the counter, cabinet, or bathroom. Could you remove it? Potential buyers' have stolen medicine out of the cabinets, although it has never happened on my showings yet. But to avoid any trouble it's best to remove it.
9. Everything on the kitchen counter
Everything? Really? Yup. The cleaner you can leave the counter, the more buyers dream of being in there. Could you clean it up? The counters look so much more prominent if there is nothing on them.
10. No more junk drawers
I'm serious. Clean them out. There is nothing worse than a potential buyer opening the cupboards and drawers and having things sticking out everywhere. Box up all the notes, pens, tacks, and odds and ends and put them away. You probably don't dig in the drawer often anyways.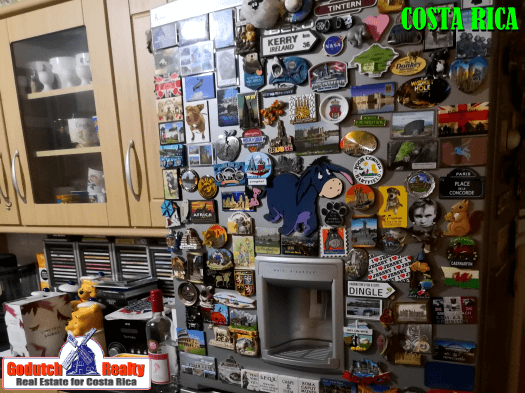 11. The magnet collection
Nothing but magnets… and not only those. Take a photo of your fridge, take everything off, wash the front (and side), and take another picture.
It is refreshing to walk into a home that has a clean fridge. A fridge is not decorative.  Nonetheless, they are more of a distraction to the room than help to sell. Consider it.
There are many more ways to make a home for sale look good. So keep following my blogs, and let's do this together.
Don't complain. If you want to sell your house and don't want to cooperate, please ask another real estate agent to list your home.
You don't know how bad it feels to show a home falling apart (or looks like it) and then get a lowball offer because the house simply looks terrible.
Are you motivated to sell? Then contact us now for more information on selling your home.
---
If you like this blog, subscribe to my newsletter by clicking the banner below.

I want to remind our readers that we appreciate any referrals you can send us. Also, remember GoDutch Realty when talking about your home in Costa Rica to friends and family. We appreciate it.