Estimated Reading Time: 8 Minutes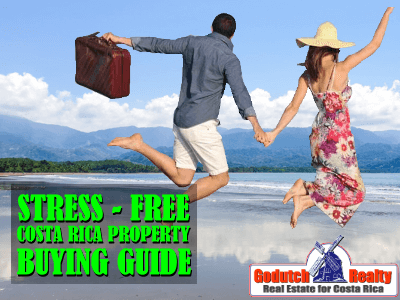 Buying property stress-free is like being a mom raising your first kid. It's almost impossible to keep it stress-free unless you know what you're doing.
Just like parenthood, becoming a homeowner is wonderful, but challenging at first. But most of all, it's exciting. If you know what you're doing.
It's amazing how many emails I receive every week, from homeowners in trouble. Often, they have bought on a whim, while on vacation. Without any proper investigation. Or they have used the seller's attorney. Duh…
I'm sorry to see smart people make stupid mistakes, all the time. Because they try to save money. Or because they think they know what they're doing. Don't we all go on our faces when making investments? I did too, you're not alone. But I have learned from my and others' mistakes.
So, I wrote a guide for buying property stress-free. Let me cover some doubts that you might have in this guide. I'm sure that when you're done reading, you're going to be convinced you need the assistance of an expert real estate agency, who knows the area very well.
1. Foreign buyers
Yes, foreigners can own titled real estate. You don't need to be a Costa Rican citizen or resident to purchase property here. You just need a passport and money in a bank account anywhere in the world.
2. Exception
There are only two types of property that are an exception:
A foreigner cannot own property in Maritime zoning or INDER registered property. If you're looking into buying property stress-free, don't get involved in these two property types.
3. In the middle of nowhere
Getting a great deal on this property in the middle of nowhere? Don't! Think about re-sale. Is there a real estate agency that covers the area? No? Then don't buy unless you're ready to hang yourself. Read this now, then move on to #4.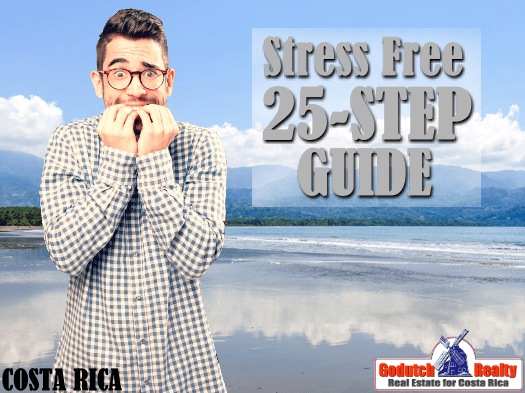 4. Titled Property
All titled property in Costa Rica is registered in El Registro Nacional or the National Registry. A title study will show
Title number
 If it's a condominium or not
All neighbors
Size of the property
Registered value of the property
Who the owner is
Any existing liens on the property
5. Survey map
Every property has to have a survey map, where you can see
Survey number and year of registration
Who the neighbors are
Where the roads are located
Exact coordinates of the property
Rivers, creeks, and other restrictions
Size of the property
6. Restrictions
Costa Rica has many national parks, protected areas. The National Register will show any restrictions the property might have. If you're buying raw land, learn about setbacks and building restrictions first.
7. Zoning
Not every municipality has zoning or "plan regulador" in place. Before making an offer on a property, first, learn what the zoning situation of the property is by requesting an "uso de suelo". Not checking on zoning before you buy can buying property stress-free
8. Water
Check on water availability. If the property is purchased as a home site for your custom construction, the seller should show a water letter from the water company in charge.
9. Other utilities
You'll probably want to make sure the power is right in front of the property. If not, it's quite expensive to bring it from a long way.
Internet is now available almost everywhere in Costa Rica. Nonetheless, check with your real estate agent who the internet provider is so you can check their packages.
10. Real Estate Company
Hire a real estate company/agent who works in the area where you would like to purchase. Check the agent's client testimonials. Use an agent who will go way past the closing. One who is available for you for other recommendations and referrals, so buying property stress-free is a token.
11. Real Estate Commission
The seller pays the real estate commission. So the agent's services are FREE for the buyer. Check here to learn more about the real estate commission in Costa Rica.
12. Hire a lawyer
ALWAYS use your own lawyer/notary public for closing. NEVER use the seller's lawyer, even is the charges are less. Don't cry when you have legal trouble later, you saved money remember!
Discuss the advantages and disadvantages of incorporating or owning property in your name.
13. Surveyor
ALWAYS hire a surveyor when buying raw land or a property that's not a condominium. A surveyor should check all boundaries before you purchase. Your realtor or attorney can for sure recommend a surveyor who knows the area well.
14. Real Estate Developers
Watch out now, don't believe promises. Read my blogs about buying from a real estate developer first and pre-construction purchases. Do your homework, if you're interested in buying property stress-free. Don't call me when you're in trouble, please.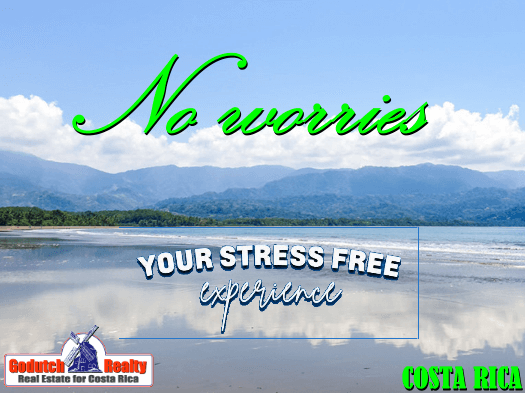 15. Emergency checklist
Power goes out? Is your septic tank full? Need the connect the alarm? You won't think of it until it's too late. Try this emergency checklist.
16. Absent ownership
Not planning to live in Costa Rica yet, and buying now? Discuss with your lawyer and agent your options for paying taxes.
17. Offer
Discuss the offer you'd like to make with your agent. Often it's not only about the price, other details, like the closing date, might be as important as the agreed-on price.
18. Due diligence
Before you formalize the offer on a property, do the due diligence. Ask your lawyer, after the offer was accepted by the seller, to check everything that needs checking. Involve both your real estate agent and your lawyer in this
19. Closing cost
Customarily, the closing cost is shared 50/50 by both parties, unless negotiated differently. Discuss the options with your attorney before finalizing an offer.
20. Bank account
You will want to have a bank account. As a non-resident, you'll only be able to open a "cuenta simplificada" until you receive your residency. This account can hold a max of $1,000/month, so it cannot be used to wire the money for your property purchase.
21. Home inspection
No matter how perfect the home seems to be, spend the money to get a thorough home inspection done before finalizing your offer.
22. Escrow
Costa Ricans do not use escrow, which can be a fatal mistake. Insist on putting all the funds in escrow, to be released at closing.
23. Get to know your customer form
Money laundering laws oblige banks and escrow companies to fill out a "get to know your customer" form before doing any business with you. So you can expect to fill out a simple form and show where the funds are coming from.
24. Property value declaration
It is mandatory to declare the value of the property in the municipality every 5 years. Check this declaration is up to date before the closing, or make sure your realtor does. Also, do not accept only the last property tax payment, but ask the municipality to certify that it's up to date. If the property pays luxury tax, check that too. If these tax issues are not taken care of correctly, you will not be buying property stress-free at all.
25. Utilities
It is recommended to leave the utilities in the former owner's name until the property is registered in your name (or corporation). Once the property appears in your name, it's easy to change the name on the utility bills.
26. Walkthrough
Make sure everything is in order with the property BEFORE closing by doing a walkthrough. Once you have closed, it is too late for any claims.
Yes, this is indeed a loooooong list of details needed for buying property stress-free. But that's why you should hire an expert real estate company like us. Contact us now.
The grammar of the Spanish version of this blog was checked and corrected by Wagner Freer of Spanish School for Residents and Expats. We strongly recommend this language school as your best choice to learn Spanish, click here to contact them. 

---
If you like this blog, subscribe to my newsletter by clicking the banner below.

I DO want to remind our readers that we appreciate any referrals you can send us. Also, when talking about your home in Costa Rica, please remember the GoDutch Realty agents. We appreciate it.