Estimated Reading Time: 5 Minutes
Wondering how important a clean house on closing day is? Often, everyone involved in a real estate closing overlooks this because everyone is too busy.
Many sellers move out on the closing day, so they don't have to stay in a hotel the night before the closing. So everything is a rush, rush. They know that the real estate agent will do the walk-through before closing. Of course, if the agent is a GoDutch Realty agent.
I have seen agents not do a walk-through on closing day. Those usually don't even go to closing but pick up their commission check afterward. I assure you those agents won't worry about a clean house on the closing day either.
Sellers who have moved out a long time ago, and fly in from another country just before closing probably don't bother with leaving a clean house on the closing day either.
How clean?
We all have a different opinion on what clean means. In some countries, the law regulates how clean a house must be on closing. In Costa Rica, even if you describe how clean the house must be in the option to purchase – sale agreement, it will be difficult to make it hard.
As a buyer, what are you going to do on a walk-through when the house is like a pigsty? Not close? Will you be willing to walk away from your earnest money if you don't receive a clean house on closing day? I bet you're not.
Imagine holding your housewarming party in a dirty house!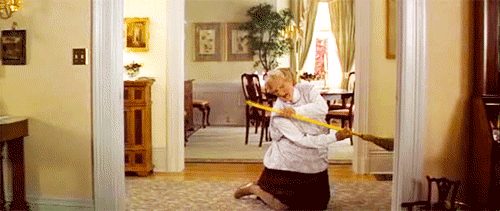 Broom clean condition
Even though the cleanliness of a home is not described in the law, it is a matter of decency. Even if the seller is not happy with the sales price, the seller should be decent enough to deliver the house in a broom clean condition.
What is broom clean?
There's no legal definition of what constitutes a "broom-clean" condition. But the general understanding is that the seller needs to remove all personal property (not included in the sale), debris and trash prior to the closing; and vacuum the carpets, and/or sweep the floors.
The agent
The agent is in my opinion, the one responsible for making sure of a clean house on closing day. That doesn't mean the agent should clean the house though!
Having the house cleaned a day before closing or ON closing date, is a must. It should be on the agent's checkpoint list, together with many other issues.
Get rid of the stuff
It's definitely very helpful to get rid of the stuff way before you move out. I usually tell sellers to start getting rid of everything they don't need when they put their house on the market.
And guess what! Nobody does!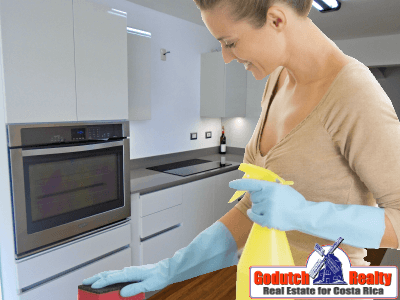 Be kind
Wouldn't you be happy to find a clean house if you were buying? If you are selling your home, and you have it deep cleaned before closing, I'm sure the buyers will be very appreciative. I would be! Nonetheless, without exaggerating, you can make sure of a clean house on closing day by following these 14 bullet points.
14 Steps for broom cleaning
Kitchen and laundry appliances (if included in the sale)
Ceiling fans and built-ins (if included in the sale)
Wipe down kitchen and bathroom countertops
Scour sinks and tubs.
Wipe down interior cabinets and shelves
Wash all tile and vinyl or linoleum flooring
Vacuum clean wall to wall carpeting
Get rid of everything left in the garage, such as paint cans, oil recipients, old tires etc.
Throw out all empty boxes, debris, and trash
Broom clean the whole house
If there is a pool, leave it behind clean and in functioning order
Hire a gardener to clean up the garden and cut the grass
Try to leave behind a couple of rolls of toilet paper, hand soap, and some tissues for emergencies
Any buyer would very much appreciate a home buyer checklist such as Xinia Salazar made.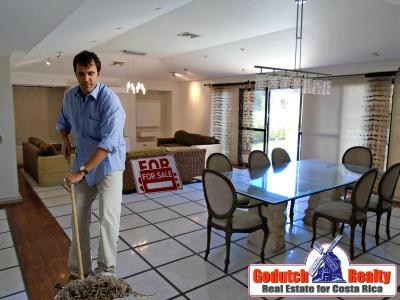 Buying or selling a house in the Central Valley of Costa Rica? For professional assistance, contact us now.
The grammar of the Spanish version of this blog was checked and corrected by Wagner Freer of Spanish School for Residents and Expats. We strongly recommend this language school as your best choice to learn Spanish, click here to contact them. Now also in Green Project Language School, Ojochal.