Estimated Reading Time: 5 Minutes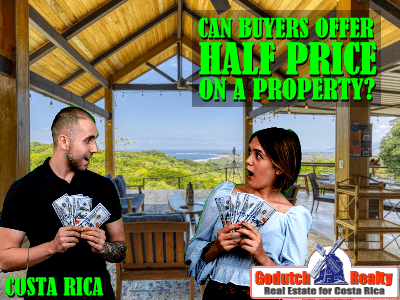 Information floating on the internet seems to give property buyers the impression that property sellers in Costa Rica accept half the asking price. Is this true?
Some buyers express that they find the prices all over the place. Well, yes, prices are sometimes all over the place. And that can be for many reasons. Sometimes buyers think the prices are all over the map, but usually, they're trying to compare apples and oranges. Because what they see is a listing with photos of the property online, but they don't see the whole picture.
Therefore, my first advice is to visit the properties you're trying to compare in person before you try to compare them price-wise.
In my opinion, after selling real estate for over 30 years in Costa Rica, it's almost impossible to get a seller to agree on half the asking price offer for a property. Sometimes properties take 7 years or more to sell, here are some reasons for that.
Why are prices often all over the place?
A property in one province of Costa Rica cannot be compared with another property in another province. For example, cropland and pastureland, have different values. Imagine 5 different properties in different areas, all with different zoning restrictions.

One house cannot be compared to another unless it's completely identical.  So, let's first go through a list of reasons why property prices are all over the place.
1. having a real estate license is not mandatory for real estate agents,
2. there are lots of agents who don't know what they're doing and are untrained,
3. many agents accept any price that the seller suggests,
4. historical values of properties don't exist, so there are no comps,
5. just like in any other country, land values are different depending on where it is, their size, topography, zoning, and many other variables,
6. some land needs soil replacement, retainer walls,
7. homes are mostly custom-built, so houses of different sizes and finishes are not comparable to each other,
8. even in condos or homes in gated communities where most of the units are the same or similar, you'll find different prices. This often depends more on how much the seller owes the lender than anything else,
9. communities have varied amenities,
Where?
Just like in other countries, and even though Costa Rica is a small country compared to others, some locations might be in a buyer's market while others are in a seller's market. Be aware that this is always changing. In general, you can notice a huge difference between the markets in the coastal areas and the Central Valley. But even in the Central Valley, there are pockets where inventory goes much faster (and at higher prices) than in others.
Beach
In beach areas, prices are rarely negotiable as they sell very quickly. For properties under $500K in the beach areas, the sales price is usually negotiated very little and higher-end properties might negotiate easier, depending on how motivated the seller is.
Central Valley
In the central valley, everything often depends more on how much is owed to the lender. Some owners have financed at 100% and have not amortized enough to sell at a lower price.
Besides, property taxes are only 0.25% of the registered property value, so this is not a reason to lower the sales price much.

Buying at half the asking price
The Bottom Line
I have almost never seen a property sell at half the asking price in my 35-year real estate career. BUT the seller might take 10 years to reduce the price little by little and finally ends up with 50% of the original asking price. But someone who is asking $500K will not sell at $250K. If you'd make an offer like that, you'll be wasting everyone's time and effort.
Properties usually sell in the Central Valley 5-10% below the asking price, but that depends on how much mortgage is still owed on the property.
There are pockets in the Central Valley, such as Atenas, that does very well and is as much of a hot market as the beach areas are. There is no inventory at all in Atenas. Prices are hardly negotiated any by the sellers as property usually goes very quickly
So, if you have any trouble comparing properties, contact one of our agents, they are all experts in the area that they manage.
Surprised person photo created by stockking – www.freepik.com