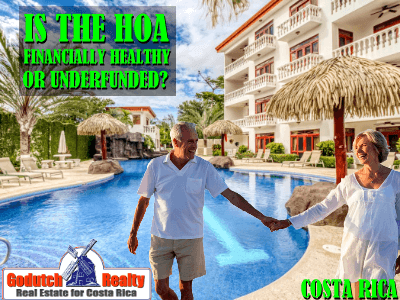 When buying a condo, you might not realize it, but the condominium might have an underfunded HOA, or it's almost broke.
The problem is that you won't find out until the HOA sends out a notice about an upcoming extraordinary assessment.
With 30 years of selling properties in Costa Rica under my belt, I've hardly ever seen a buyer protected against this phenomenon.
Who should protect you against an underfunded HOA? Let's first see what's going on.
The condominium law in Costa Rica was created in 1999, but not until 2005 we started seeing larger condominiums. In today's Costa Rica real estate market, over 80% of the properties on the market are condominiums. In another blog, I have explained the definition of a condominium.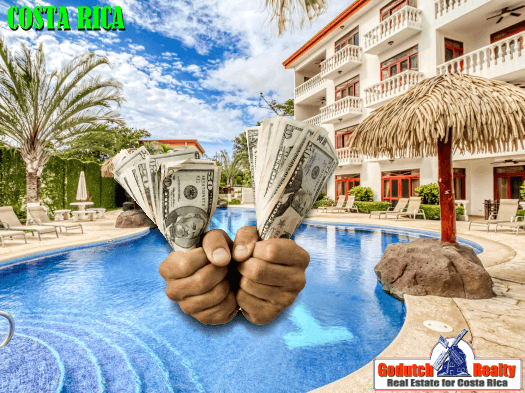 Purchasing a Costa Rica condo may have a lot of advantages but that is not what today's blog is all about. Many buyers do not realize that they purchase along with the condominium unit, apartment, house, or lot, a percentage in the common areas. BUT, condo ownership also includes an obligation in the maintenance of those common areas. This maintenance cost is included in the condo fees or HOA fees.
When do you get to the point of learning if you're dealing with an underfunded HOA?
The Offer
A good and expert realtor will always write up the offer a buyer makes on a condo purchase. That is really the best time to learn more about the financials of the HOA. Because once you have made your earnest money deposit, it might be too difficult to walk away.
HOA Financials
In case your real estate agent doesn't do this, the next step is the purchase-sale agreement. An expert attorney/notary public will always request the financials of the Condominium. The balance sheet and the next year's budget will show how healthy the HOA is. You should revise the financials during the due diligence period.
As a buyer's agent, I want to make very sure that we are dealing with a healthy Home Owner Association. I'd like to have it done BEFORE the earnest money hits the escrow account. Then, if we are dealing with an underfunded HOA, the buyer can walk away from the offer.
Underfunded?
Many Home Owner Associations in Costa Rica are underfunded. Divorces or financial problems can be good reasons for condo owners to run late in their monthly HOA payments. Smaller condominiums are affected much easier than large communities.
Most HOA's in Costa Rica do not create any reserve funds. Those reserve funds are needed for large projects like painting the buildings or adding an amenity. If not, these projects are paid for by special assessments. You probably don't want to purchase a condo that will request a special assessment the day after you buy?
If there is a special assessment coming up, you might want to negotiate this fee with the seller.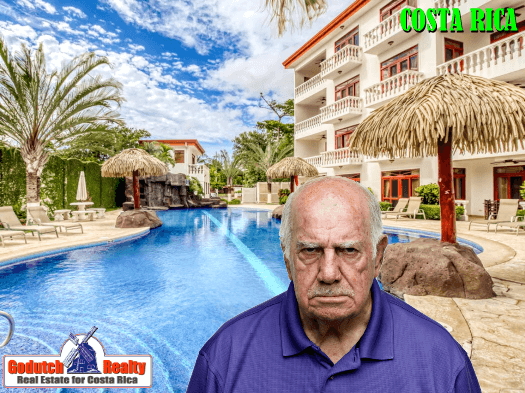 Horrible Scenario
No matter who am I representing in a purchase of a condominium in Costa Rica, I don't want any buyer of a property to end up in a horrible scenario. Imagine you get stuck with thousands of dollars in special assessments!  So include a due diligence period in your offer. Use the due diligence period to collect all the necessary documents that show that the condominium has a perfectly healthy administration.
Learn from Others
The California Department of Real Estate (DRE) is one to have issued a consumer warning as a result of the growing number of homeowners associations (HOA). This shows that the problem not only appears in Costa Rica.
Before you purchase Costa Rica real estate in a condominium, check the financials to make sure you're not dealing with a broke or underfunded HOA. Contact us now if you are in the market to purchase a Costa Rica condo and deal with the experts.
---
If you like this blog, subscribe to my newsletter by clicking the banner below.

I DO want to remind our readers that we appreciate any referrals you can send us. Also, please remember the GoDutch Realty agents when you talk about your home in Costa Rica, we appreciate it.