Estimated Reading Time: 6 Minutes
It's crucial to not be an unhappy seller during your efforts of getting your property in Costa Rica sold.
When writing this article about the angry seller, I noticed more than only 5 points than published then.
Of course, anybody has the right to become an unhappy seller. Life in Costa Rica though is all mostly being happy.
I guess that someone who is selling a property in Costa Rica has reasons to do so. If that reason is unhappiness, it's not a good idea to take it out on those who are trying to assist in that sale.
Let me repeat point 1 again, so you don't have to go back to the other article all the time:
Yes, the seller always pays the real estate commission. But… You have to understand that no matter how hard the real estate agent works, he/she doesn't get paid if someone else sells the property. That's because we don't take exclusive listings.
a. We get paid to sell the property, and not to get shouted at.
b. The seller pays…at closing.
c. The realtor never gets paid for advertising, gasoline, tires, phone bills lunches with clients, and all efforts made unless he/she sells the property.
Just the fact that the sellers pay the real estate commission doesn't give you the right to abuse the realtor.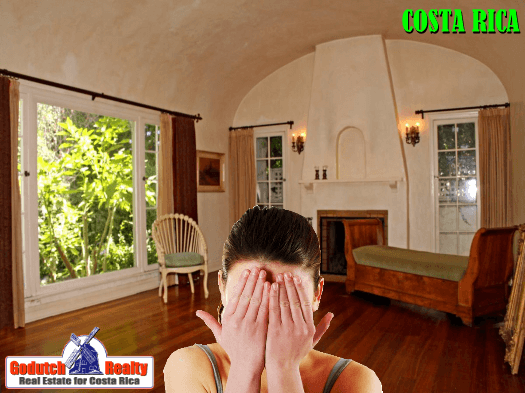 9 More Crucial Points for an Unhappy Seller
Now that you've read point 1 again, feel free to read on to learn about 9 more crucial points.
6. Dual Agency
While a dual agency is illegal in some other countries/states, it's very usual in Costa Rica. A dual agency means that your listing agent also acts as the buyer's agent. Therefore, our agents at GoDutch Realty, have certain rules to follow.
The real estate commission, at closing, is deducted from the sales price, so you'll receive less. But that doesn't mean it is the seller paying the commission. The final goal is to sell your property and make it a happy event! Don't become an unhappy seller if you have to pay the normal 5% real estate commission + 13% VAT on top of this commission at closing.
7. Home Inspection
It might make you an unhappy seller, but a buyer has the right to request a home inspection. Therefore, a smart seller makes sure everything in the home if functional. Do you have a serious problem? Then discuss how to attack this problem when putting it on the market. If a roof replacement is needed, for example, disclose it when advertising the property with a price reduction included.
Do NOT try to cover up the property's problems, a home inspection report will definitely turn you into an unhappy seller.
8. Furniture
Are you promoting the property turnkey? Then be clear about what you're offering! Turnkey means EVERYTHING except personal items and belongings.
Don't come back on your word later. Taking stuff that was promised will make the real estate agent look like a liar. Don't just leave leftovers. That's childish!!
9. Walk-through
At GoDutch Realty, a walk-through of the property before closing is mandatory.  That's because it is the realtor's responsibility the house is in good shape at closing. A buyer is not legally protected if the seller leaves the country after closing and the property is not as promised in the option to purchase – sale agreement.
More often than you think, an unhappy seller tries to step this walk-through. This always is for a reason.
10. Broom Clean
An unhappy seller tends to deliver the house dirty at closing. This is a reason for the walk-through so the buyers can see the house is "broom clean" and feel comfortable to close.
It is not nice and very incorrect to leave garbage the movers left behind to the people who just bought your house.

11. Utility Bills
I always have a hard time getting the utility bills out of the sellers. Especially from an unhappy seller who is angry for not receiving the asking price for the property. Sellers have to cooperate with the realtor to show for the last 3 invoices of each utility.
12. Bank Check or Wire
At closing, the seller will either receive a cashier's check (national or international) or the money can be wired to the seller's account anywhere in the world. Often, that's a good reason to use escrow for closing. Therefore, why should only the seller pay for the use of escrow?
Sellers have to understand that the property is sold in Costa Rica, so it's paid in Costa Rica. Therefore, the deed will be activated once the wire is sent. And NOT when the wire is received at the other end. The buyer is not involved in any mistakes or requirements by or from bank employees.
13. Septic and Other Details
Before closing, even an unhappy seller should assist with important details of the property. With things like:
Septic tank location
Breaker box location
Labeled keys of every door on the property
Phone list of handymen and other specialists used by the seller
14. Keys
The buyer HAS to receive the keys and remote controls to the house AT closing. NOT on the day after.
The seller is NOT allowed to stay a night after the closing in the house as it is now owned by the buyer. Unless the buyer agrees of course. I recommend the buyer talk to his attorney before allowing the seller to stay in a house that's not his.
Why be unhappy?
Life is too short to be unhappy. You'll find that lots of realtors just put up with complaining and impossible sellers. Because they are afraid of losing a client.
I have taught my agents that real estate is difficult enough as it is. No extra hardship is necessary.
Therefore, if you're an unhappy seller, it's time for you to move on. It's time for you to find another listing agent. Please!
There is no reason our agents should accept to be used as a doormat. As much as you don't have to put up with a pushy realtor.
---
If you like this blog, subscribe to my newsletter by clicking the banner below.

I DO want to remind our readers that we appreciate any referrals you can send us. Also, please remember the GoDutch Realty agents when you talk about your home in Costa Rica, we appreciate it.