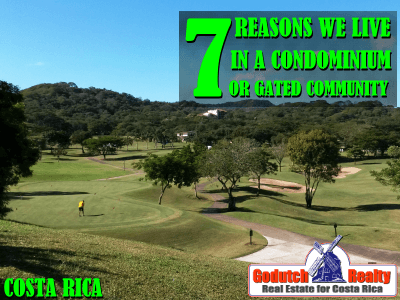 Often, clients ask why it is necessary to live in a gated community or a condominium in Costa Rica. In other countries, residents are used to living in a neighborhood.
Of course, we also have neighborhoods in Costa Rica, just like you do. And just like you, we have safe and dangerous neighborhoods.
In most countries, the rich all live together in one neighborhood. You will seldom find a poor person living in a poor neighborhood. Most homes in one neighborhood have more or less the same value.
You will not find a $1.5M house in a neighborhood of $100,000 houses.
In Costa Rica, you will!
In Costa Rica, it is also very common to find houses with bars in every window and door. And even razor wire, broken glass or electrical wire on walls and roofs. This is a shocking sight for those who are not used to it. Anyone visiting for the first time would figure that it's NOT safe there to live.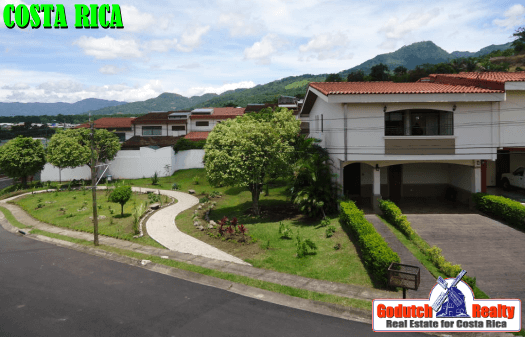 Well, the good news is that Costa Rica is generally a pretty safe country. Nonetheless, there is a reason for all the razor wire, the broken glass, and the electrical fences.
We can discuss this until we drop. Is it or is it not safe to live in a neighborhood in Costa Rica? I have lived in Costa Rica since 1980, and I have never been robbed. BUT, I make sure my family and I are safe. And that's why so many people live in a gated community or a condominium in Costa Rica. Of course, if Costa Rica is not for you because safety is more important than the weather, you can also buy a condo in this area.
7 Reasons
Allow me to give you 7 reasons for living in a gated community or a condominium. Based on that, you should be able to take a decision if this lifestyle is for you or not:
1. Social Class
All residents are more or less of the same social class. The middle class with the middle class and the rich with the rich. Houses are either built already or the community has bylaws that restrict certain construction, styles, and colors.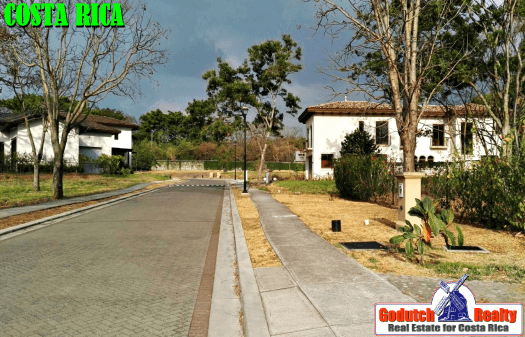 2. Lower Construction Cost
The developer built houses in larger quantities are a lot cheaper than custom built houses. Only in a condominium will you find this type of houses.
3. Secure
Some expats prefer living in a condominium or gated community over a regular neighborhood for more safety. It's perfect if you want to travel a lot. That's because there is 24/7 security at the entrance gate and throughout the community and many have walls surrounding the community. This security is paid for by all residents. The obligation of payment can only be made easy by legally constituted bylaws, which is not possible in a regular neighborhood.
4. Amenities
Most communities have many amenities that are expensive to have in a custom home. This can be a swimming pool(s), tennis court, gym, walking trails, guest parking, and many others.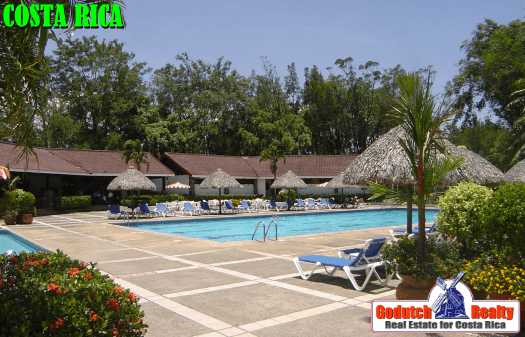 5. Worry-Free Exterior Maintenance
The HOA takes care of the maintenance of common spaces such as gardens without any worries. The cost is part of the HOA fees.
6. Lower Maintenance Cost
In some cases, the maintenance of exterior walls and roofs is taken care of by the HOA. It is cheaper than maintain just one house because the cost is diluted between all homeowners.
7. Noise Control
The bylaws restrict noise after certain hours, which assure homeowners of full enjoyment without neighbor's interference.
Living in a condominium or gated community is probably not for everyone. In some of these communities, homeowners do not have the privacy they are able to enjoy in a neighborhood. Also, bylaws can restrict your lifestyle.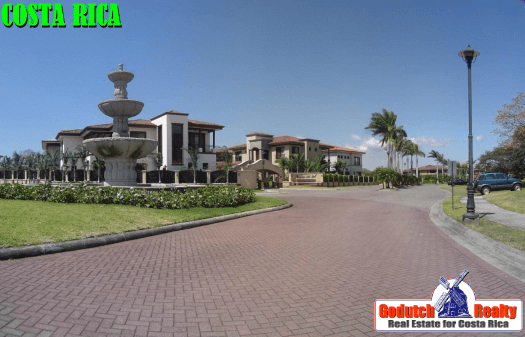 Are you interested in buying in a condominium or a gated community in Costa Rica? Then contact the experts now.
The grammar of the Spanish version of this blog was checked and corrected by Wagner Freer of Spanish School for Residents and Expats. We strongly recommend this language school as your best choice to learn Spanish, click here to contact them. 

---
If you like this blog, subscribe to my newsletter by clicking the banner below.

I DO want to remind our readers that we appreciate any referrals you can send us. Also, when talking about your home in Costa Rica, please remember the GoDutch Realty agents. We appreciate it.