Estimated Reading Time: 7 Minutes
Sometimes, a lovely person becomes an angry seller that realtors don't want to work with/for.
It is surprising what selling a house can do to very nice people. I've told you about this perfect seller before. I love working with motivated sellers.
I know; it's like looking for the perfect husband, wife, or real estate agent. In many cases, "ideal" is a fairy tale.
My team and I always look for the ideal closing, one with a happy ending, for every party involved.
Nonetheless, having an angry seller on the team almost never allows for this happy ending. Let me explain so you will allow us to bring your closing to a satisfactory ending.
Fortunately, we have worked with hundreds of sellers, some of whom were happy enough to write a testimonial about their experiences.
The pressure of the sale can turn a nice person into an angry seller. I see it happen all the time. Often that occurs when the seller is motivated but is trying to get a higher price than a buyer is willing to pay. So the selling process takes too long, and the pressure builds up.
There are many reasons a house can take a long time to sell. One of them, and probably the most important one, it's because the asking price is too high.
A Bad Offer
I had sold them the house five years before. The wife received notice from her boss that they needed to move back to the States. But, they decided to overprice the property to see if they would get lucky. Six months later, the sellers had been waiting for the right buyer to show up for a while. Finally, a motivated bargain hunter makes a lowball offer. And an angry seller was born…
The sellers, who were lovely people for five years, suddenly turned themselves into angry sellers from hell. They were so mad at me; I'm sure they thought it was all my fault. So why not shoot the messenger!
I love selling real estate. Everyone who knows me will confirm that. Almost all buyers are fun to work with, except for an abusive buyer now and then.
In any real estate transaction, sellers are usually more challenging to deal with than buyers, especially when they receive an offer they don't like.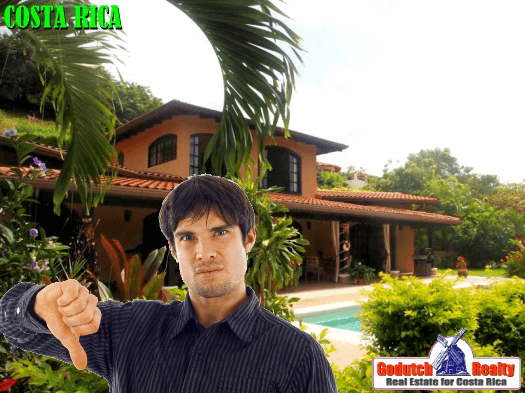 The Sale Price
From the moment of signing the option to purchase-sale agreement, this couple became a seriously angry seller.  They were never cooperative during the two months to get to closing. Even when the buyer requested a perfectly normal procedure to Costa Rican standards, they were not cooperating, which was not a fun experience. The worst part was that they also made the buyer suffer.
5 Crucial Keys
Are you planning to sell your house and list it with a real estate agent? Then consider the following 5 points of information that will stop you from becoming an angry seller.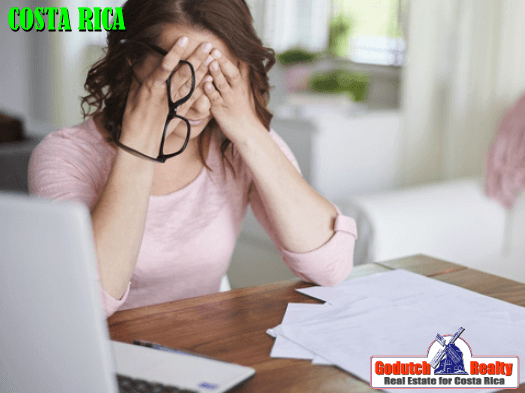 1. Exclusive Listing
Don't sign an exclusive listing agreement with any agency. At GoDutch Realty, we NEVER take an exclusive listing. We believe asking sellers to sign an exclusive listing agreement tells them to put all their eggs in one basket. The Costa Rican real estate market in the Central Valley works on open listings, where sellers can list their property with every agent they want. And they're free to sell it themselves simultaneously without paying an agent.
We do everything we can to sell your property, for free, until closing. That's when you pay us. We do all the work and marketing for free until we sell your property. Isn't that an incredible deal?
2. Back Home is Different
If you are selling a property in Costa Rica, you must accept that things work differently than what you are accustomed to. Don't expect you'll be able to do it YOUR way. Costa Rica has different rules and laws, so you must adjust to the country.
Don't say, "In the U.S., we do this or that" on everything you disagree on. If you want to do it as they do it "in the US," don't hire a real estate agent. Then you are much better off doing it all yourself. Then, you can advertise your property as "for sale by owner" and go your own way and not waste the agent's time and effort.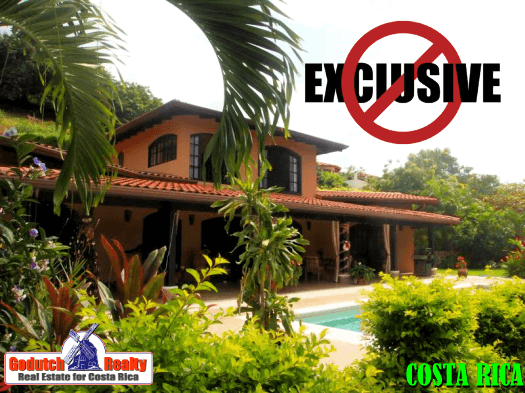 3. No MLS
Costa Rica does not have a real MLS like the United States. Therefore, signing an exclusive listing agreement with only one agency is suicide, and listing your property with several agencies is necessary. Some agencies might not agree with what I say because it doesn't fit their picture of doing business: they just sit on the listing and hope another agency brings a buyer. Then they don't have very much work to do.
As you probably know, most real estate buyers are attracted online. An excellent real estate agency has access to many different websites to promote your property. But it's not only about posting a listing; the rest goes automatically. There are many ways of advertising properties. We use Facebook and other social media, but also blogs (over 1,200 published), articles in magazines and newspapers, and our weekly newsletters.
4. Feedback
Most buyers do not work with a buyer's agent. Instead, they shop around and look at homes with many different agents.
Therefore, it isn't easy to get good feedback from most buyers. However, I know you want to hear how great your home is and want to see an offer. So if this happens, you'll be the first to hear about it, I promise.
At GoDutch Realty, we try hard to get feedback from buyers about what they like and do not like about your property. This feedback can help determine why you are not getting any home offers and fix the problem(s).
We always let you know if we receive positive or negative feedback. But, if there is nothing to tell, you won't get a  call from your GoDutch listing agent.
5. Getting Paid
Yes, the seller always pays the real estate commission. But… you have to understand that no matter how hard the real estate agent works, they don't get paid if someone else sells the property. That's because we at GoDutch Realty don't take exclusive listings; we don't think it's fair to the seller.
a. We get paid at closing when we sell the property.
b. The seller pays…at closing.
c. The realtor doesn't get paid for advertising, gasoline, tires, phone bills, lunches with clients, and all efforts made unless they sell the property.
d. We don't negotiate the 5% commission for a more straightforward reason: advertising and running a real estate organization is expensive. In addition, our company has to do everything: maintaining websites online, keeping them high in the search engines, writing ad publishing articles, running social media, administrative personnel, and paying taxes online. So please do not try to get a better deal than others.
More Later
I now realize that I have many more points about how to stop yourself from being an angry seller than I can reasonably fit in only one blog. So I decided to write a 2nd blog that will be published soon.