Amazingly, you'd be surprised how many "gringos" treat Ticos like shit. Because they're stupid, they're ignorant, they're uneducated, dumb, or idiots. First, Ticos are not like that; even if they were, you should be ashamed of yourself if you're one of the name-callers.
I know I shouldn't use bad language, and I apologize for the French. But with a title like "why treating Ticos like shit is not right," I knew I would get your attention.
I often see Ticos who treat the Nicas the same way. For those who don't know what Nicas are, they are the people who come from the country next door, Nicaragua. They come here to work hard, earn a living, and get a better life. So we should treat them well too, don't you think so?
On the other hand, we are different from them, aren't we? We know everything so much better. We are better educated, smarter, and have a lot more money. They, the Ticos, are uneducated, stupid, and poor.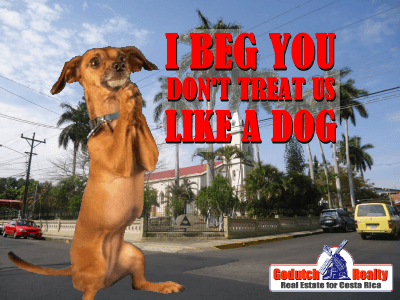 Let me wake you up
You and I are guests in this country, and we should behave as such. How would you feel to have a guest visiting your home and your guest commenting something like
You guys have a nice house, a pity it's so small.
God, how can you live in this neighborhood? This is a dump.
Your furniture needs replacement. Oh, and next time I would pick a different color.
Man, your curtains are ugly, why don't you buy blinds?
Your food sucks; next time, I'll buy you lunch.
You should be doing this way differently; you guys are so stupid.
You and I, in turn, are much better educated than that. Aren't we? We would not make any comments like that. Why would we treat our hosts terribly? Wouldn't it be much nicer to behave and stop treating Ticos like shit? Because it isn't right!

Comments
Instead of posting ugly comments, use something like the following ones. The Ticos will love you for it, and will definitely generate a fun discussion. That will also be a great way of practicing your Spanish:
I adore Tico Time. Who cares to wait for someone for an hour or so? As long as they show up, I'm fine with it. I've retired anyway, and I always bring a book.
Driving in Costa Rica? I love it! Traffic, especially around Escazu, is a lot of fun. I especially love those dirt bikes zigzagging between cars. It's like spending time in Six Flags Fiesta.
I really enjoy the food in the local restaurants. What they call casado is my favorite. And it is cheap.
Wait in line in the bank? I just love it. It gives me time to hear the latest gossip (practice Spanish again) and what's happening in town and meet new people.
Before I do it my way, I first consult how a Tico does it. Does what? Anything! It might work better than my way.
I beg you
So now you know what to do and feel great about it! I beg you all not to be treating Ticos like shit. It is not right. It will bite you in the ass eventually. Oh, sorry, I did it again…
Maybe this was a daring blog, and some didn't even get this into reading it. For those who did, thanks for all your support and for staying with me, blog after blog. By now, I say things the way they are, which is not always accepted by everyone. So be it.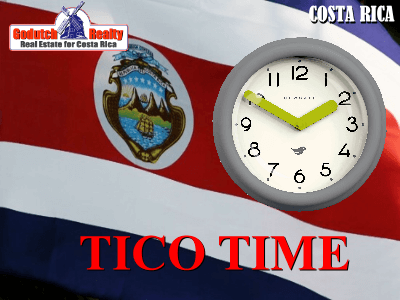 We also assist you professionally if you're in the market to purchase a property in the Central Valley of Costa Rica. Our agents know what they're doing and how to treat the Ticos. Some are born and raised Ticos (and Ticas) or are married to one.
Feel free to leave your comments on this blog and share this article on your social media.