Estimated Reading Time: 5 Minutes
Who is responsible for the security of your car while staying in a hotel or shopping at the mall?
Well, you of course!
That's not the legal truth, but the reason for this blog.
Last week, my clients were staying at the Best Western Irazu Hotel and while waiting for them I parked my car in the parking lot that belongs to the hotel.
My eye fell on this sign posted on the fence that said: "user assumes all risk" in Spanish and English. The sign was so small, it wasn't even very readable at a little distance. It is customary for most grocery stores, malls, hotels, and many other public places that offer parking for their clients, to post signs like this. Not only driving in Costa Rica is different, but parking is also too.
A Warning!
When you visit Costa Rica as a tourist or move to Costa Rica, don't leave your luggage in your car, not even at the hotel. If your car is parked in the parking lot of a grocery store, a restaurant, a bank, or a hotel while your luggage gets stolen, you're on your own. This is a warning!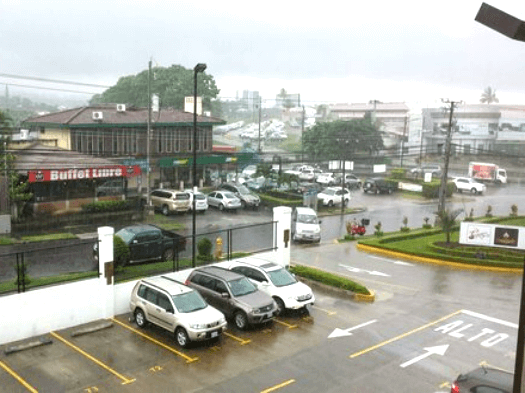 What's next
You might decide you are not moving here if your luggage gets stolen. Bummer if your passport and computer are amongst the stolen property. But if it happens, what's next?
Go to the police (O.I.J. downtown San Jose) or the O.I.J. in the town/city where you were robbed. File a complaint with all the details, so you can make the hotel or business where it happened responsible for the theft.
Civil Responsibility
There was a First Court decision on September 19, 2007 (EXP: 05-000143-0164-CI, RES: 000655-F-2007). Membership Supermarket Pricemart was sentenced to ¢1,260,000 and had civil responsibility of the custody of the vehicles on their parking while their clients are shopping. The suing party's car was stolen from the parking lot. This court decision decided that Pricemart had objective extra-contractual responsibility.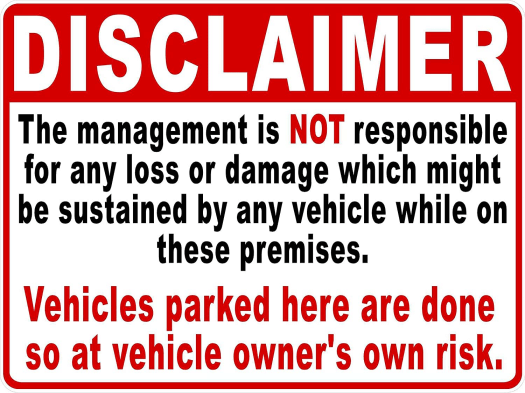 If you park at a restaurant, shop, office, office, mall, university, convenience store, or grocery store that has a parking space for customers. However small their local, note that they must answer for all damage or theft caused to vehicles parked there. According to this judgment, the customer will no longer be considered a customer. He/she now is a consumer. That means that the sole intention of that person to enter the parking site makes it possible to claim for the damage that occurs to your car on-site. Except for exceptional cases as accidents caused by earthquakes or events of that nature.
Warning Signs
You will find these signs of "user assumes all risk" everywhere, even if they have a guard on the parking lot. That doesn't mean you might have to fight to receive what you deserve. But commerce in Costa Rica is not always as responsible and client hungry as they are in many other countries around the world.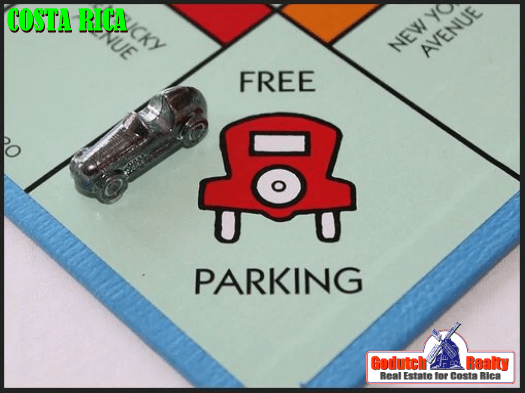 There are also quite a few businesses who warn their clients correctly, like a sign I found at Terramall in Curridabat that states "parking is a free service" and below that "don't leave any valuables in your vehicle, collaborate with the security. That doesn't of course always mean they will take responsibility.
There are exceptions. Some business people understand the need to be responsible for their client's wellbeing. So maybe they will be back in the future.
My message today is that you should never leave anything of value in your vehicle to keep your belongings safe, no matter where you park them. Or, how safe the parking seems to be.
---
If you like this blog, subscribe to my newsletter by clicking the banner below.

I DO want to remind our readers that we appreciate any referrals you can send us. Also, remember GoDutch Realty when talking about your home in Costa Rica to friends and family. We appreciate it.