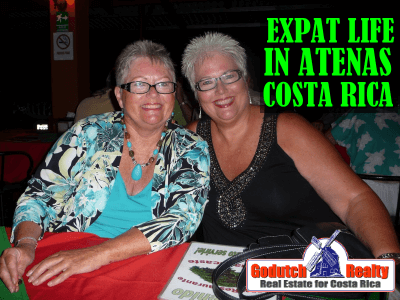 Learn more about the life of expats in Atenas. Two sisters – Judy and Roxi – are creating a whole new life in Costa Rica post-retirement from the United States. They were in touch with our Atenas real estate agent before they moved to Costa Rica and gave Isabelle Jones a raving testimonial. Learn about Judy and Roxi's adventures, travels and experiences via their blog. They are living their dream!
Are We Still Dreaming – Has Reality Set in? "You've Got To Have a Dream, If You Want To Have a Dream Come True" – Dennis Waitley
Hola from Atenas, Costa Rica!  The quote above states, if you don't have a dream or a desire to evoke change, it is unlikely that your dream will come true.  We have boasted on several occasions (we know, we know…shut up already) that we are living our DREAM.  You may ask, "but has reality set in yet?" This blog is all about the life of expats in Atenas.
Well, yes and no.  Although we have had some surprises, especially around the cost of things, we are still pinching ourselves every day on the wonder of what we have done.  Honeymoon stage or not, we will continue to keep you posted as our life unfolds. Dreams can come true if you dare to explore them!
So….we'll share a couple of points about the reality of our move to Costa Rica.  Nothing too earth-shattering, but people always want to know specifics, costs, feelings, etc.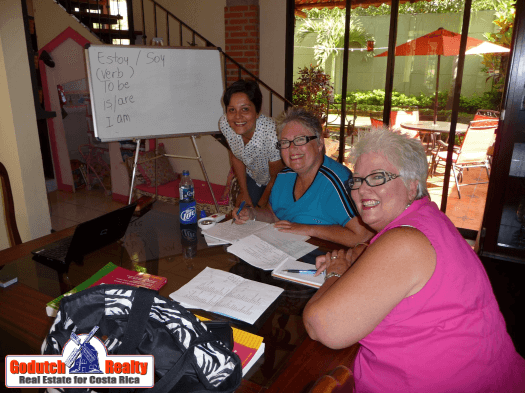 Reality Check #1
Learning Spanish Is Fun…But Not Easy!
Well, for me (Judy), my worst fear has come true – I am butchering the Spanish language – someone please stop me!  Sis Roxi is doing much better and together we are gradually learning words and sentence structure during our weekly two-hour class with Liz.  We also go to a Spanish conversation class once a week.  Can you survive without learning Spanish?  Probably, but think of all the experiences that one would miss out on because of the language barrier.
So struggle as we may, the reality is that we will be learning this language probably for the rest of our lives.  That's okay!  Learning is always good at any age!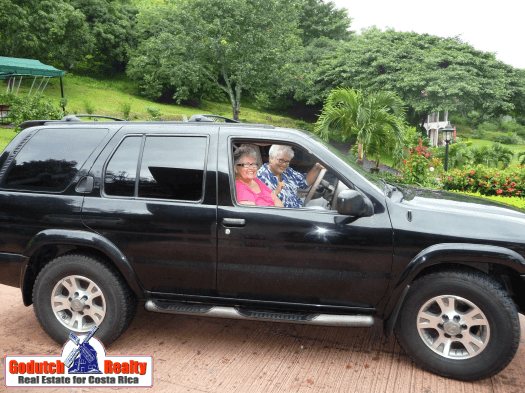 Reality Check #2
Freedom Comes at a Cost
After 8 weeks of taxi's and rides with friends, we are now the proud new owner of a 2001 Nissan Pathfinder – automatic, black, 4WD, and runs on gas at $5.00 a gallon (part of reality check).  Because of import duties and taxes, cars are very expensive here.  In the US, this vehicle would probably cost $6,000 – we paid $13,000 – ouch!  But we knew this beforehand, so we planned and budgeted for it.  Car insurance runs about $460 every six months for full coverage.  It drives smoothly and will be a safe vehicle for the roads of Costa Rica.  And I (Judy) just got my Costa Rican driver's license this past week.
Can you say road trip????  We've never named our cars, but hey, we're in Costa Rica, so there is a first for everything.  We opened it up to our Facebook friends to help name our Pathfinder.  So far over 40 names have been submitted.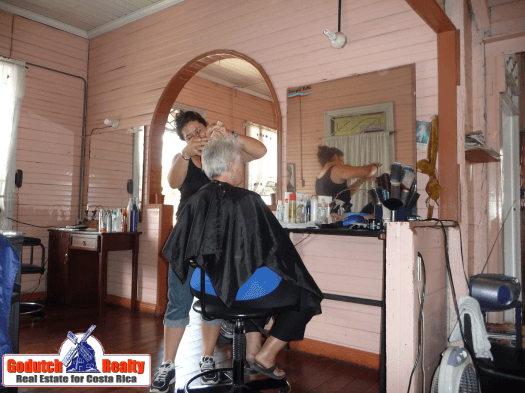 Reality Check #3
Personal Services – Yay or Nay
So, we won't kid you…we went thru lots of concerns and due diligence in making the move.  Finding a hairdresser that could cut our hair the way we were accustomed to was right up there on our list (can you ladies out there relate?).   Our friend Stef recommended her hairdresser, Roxanna (the name was a good indicator we were in good hands).  She cut it differently and much quicker and $16 later (for two haircuts) we exited as pleased customers – and it wasn't too painful!
We've also found other personal services to meet our needs for a special life of expats in Atenas (pharmacy, local doctor, banking services, mechanic, manicurist/pedicurist, attorney, and even someone to help us with interpretations).  We are in good hands here.
Soon, we'll have another real-life story from Judy about their the life of expats in Atenas. If any expats like Judy and Roxi have experiences to tell, feel free to let us know, we'd love to tell them. You can also enjoy the sisters In Transition blog and become one of the 55 members.
The Authors
Two sisters (Judy and Roxi) are creating a whole new life in Costa Rica post-retirement from the United States. Hear about their adventures, travels, and experiences via their blog. They are living their dream!
---
If you like this blog, subscribe to my newsletter by clicking the banner below.

I DO want to remind our readers that we appreciate any referrals you can send us. Also, when talking about your home in Costa Rica, please remember the GoDutch Realty agents. We appreciate it.