I am a landlord myself. Dany and I thought it was a good idea to purchase a small 2 bedroom condo in Sabana as income property some years ago. Hey, I'm a real estate broker, so we should own some rental property too, right!
First, we had several tenants from hell, one after another. Sadly, we don't have a rental history records or even eviction records to go with here. Checkin' out someone's credit report before signing a lease agreement? Good luck on that one.
After some real bad experiences, one after the other, we left the condo empty for over a year.
Extraordinary tenants
Then, we finally got lucky. We rented the condo out to nice Tico family with 2 kids and a nanny. These tenants really take care of it. AND they pay the rent several days ahead of time. All the time!
Our GoDutch Realty agents do a lot of rentals in Atenas as well as in Grecia. They do short term rentals and long term, furnished and unfurnished rentals. We get real especial tenants in Costa Rica and we get tenants from hell.
Assistance
Many tenants need more assistance than is customary for an agent to give. Sometimes a landlord in Costa Rica thinks it's a real estate agent's responsibility to always bring a great tenant. Not true, fortunately.
Are you looking forward to having a great time when living in Costa Rica? Then, do not behave like any of the tenants in the following list.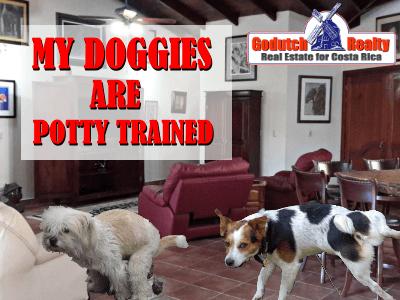 What I hate most about tenants in Costa Rica
1. Refusal of timely payments
I have had several tenants who pay the rent whenever they feel like. They don't care the landlord has to pay the condo fee. In mine, water is included. My bad, I'm not legally allowed to shut off the water if the tenant doesn't pay.
2. The dog
Tenants that say "my doggie is very well trained and doesn't do any harm" when they sign the lease agreement. Worse, the ones that bring in a dog illegally, without saying anything.. One of those well trained doggies had chewed on every door and every baseboard because the poor thing was locked up all day.
Those who say "my doggy is potty trained" and I find the wall to wall carpeting in all bedrooms all ruined.
3. The cat
Some tenants with a cat that say "my cat was declawed" and when the tenant move on all the curtains and furniture is totally ruined.
If you have a pet, or getting one, you will have to pay a pet deposit.
4. Maintenance issues
The tenants that do not tell you about leaks, not well functioning toilets, and other normal maintenance issues. They just let it all run to hell.
5. Pot smokers
Those were the worst: the pot smoking tenants in Costa Rica. I am a marijuana friendly realtor, but don't like anybody smoking pot in my condo. Don't bother the neighbors with that weed smell.
Smoke yourself to death in the park next door.
6. Phones
Thank God for cell phones. No more huge phone bills for international phone calls like we used to have with rentals and landlines. I've seen some real bad one's in my time.
7. A bad attitude
We have had some tenants with a bad attitude. They think the world turns around them and can do whatever they feel like. They don't care about condo rules and about the neighbors. These are the worst tenants to have and they are very difficult to get rid of.
8. Midnight calls
Tenants need to ask all the questions before the rent a place. They should not call their real estate agent or landlord in the middle of the night asking for cab directions to their home.
9. Patience
Some tenants have no patience. They want everyone to jump when they need something. They don't think landlords and real estate agents are not human but a genie.
Expats
Foreign tenants are usually great tenants, but …. Many expect a lot more from a Costa Rica real estate agent than they should. Their realtor gets the job done by finding the right place to live in Paradise. Period.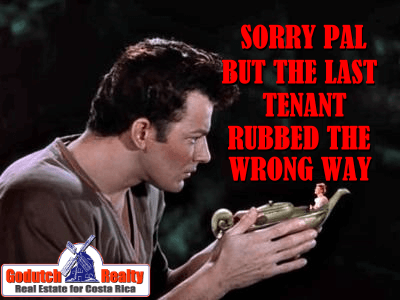 Be nice
Yes, if you're nice enough, the agent will do a lot more for you than that. But if you are that tenant from hell, please stay where you came from, we'd all appreciate that.
If you're a tenant from heaven, feel free to contact us, at your convenience. Agents Brooke Bishop and Karina Ugalde in Grecia, Shell Johanson in Belen & Cariari and Marian Veltman in Atenas will love to assist you in finding your rental.
Feel free to leave your comments on this blog.