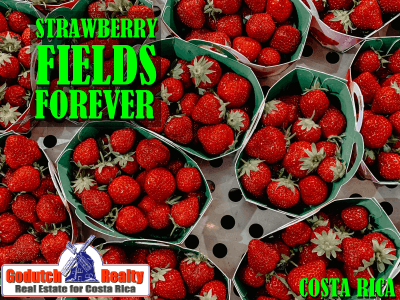 We have plenty of strawberry fields in Costa Rica, imagine that!
On New Year's Day 2012, it was such a beautiful day, Dany and I decided to take a day trip to Poas. As usual, because we never use a sweater in Costa Rica, we forgot to bring any and I was cold for the first time in years.
It is normal that instead of snow, we get a lot of wind in December and January and the weather was no different on this 1st of January.
I always find the trip to Poas one of the nicest day trips you can make in the Central Valley. Even after 30 years of living in Costa Rica, I still enjoy the beauty of the countryside.  I drive to the courthouse in Alajuela and from there, drive up to Fraijanes de Alajuela.
On the way, I always stop in Pilas de Alajuela, where you have views to die for of the Central Valley.
If you want to visit the national park on the volcano, you need to get up early and be at the entrance of the park at dawn. If you go too late, the clouds will move in and it will be a wasted trip.
Fraijanes
I have been there, done that. We prefer to enjoy the beautiful scenery through the strawberry fields and buy some cheese and local fruits like strawberries and plums.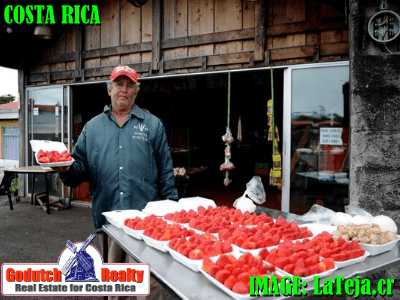 As you drive up to Fraijanes, you will find little restaurants left and right, where you can eat a casado or a nice steak very well for less than $15. A casado is a typical Costarican dish that always has rice, beans, some salad, plantain, and a choice of meat or fish.
The area of Fraijanes and Poasito is mostly dedicated to agriculture and you will find large strawberry fields and fern that export most of their crop, to the US and Europe. The average temperatures are around 40ºF but the day of our trip it was just under 10ºF. The road that takes you to Fraijanes and Poasito offers many little fruit stands where they sell these huge red strawberries that you see in the fields everywhere.
Palmito Cheese
You'll find this time of the year, besides strawberry fields, Agapanto (Flower of Love), and Santa Lucía flower fields.
You can also buy the famous "queso palmito" which is a cheese that is made in the area. They make this cheese in long strips and roll it up in a ball the size of a baseball. You can either eat it in pieces or put it on a tortilla, pasta, or salads or on a sandwich.
From Poasito, you can either go to the National Park and the volcano or turn to La Paz Waterfall Gardens. There are many smaller hotels, cabins, and B & B if you want to stay a couple of nights. There is plenty to do in the area like going to the volcano or go tilapia fishing.
You can come down back into the Central Valley through San Pedro Poas.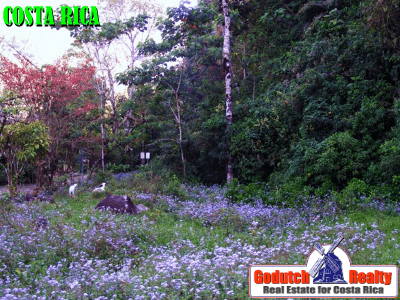 Cool Temperature
For those who can't stand the heat, the altitude of Fraijanes and San Pedro Poas is perfect. Just like some places you will find around Grecia. It rains a bit more than in the lower parts of the Central Valley but the temperatures are very mild.
If you just keep going downhill, you will end up in barrio San Jose in Alajuela. Don't forget to stop at the Bird Zoo "Zoo Ave" in La Garita. Or you can stop to buy some plants for your garden in any of the greenhouses there.
I invite you to take a tour on your own in the Poas area. If you really like it there, contact us and with pleasure, Karina or Brooke will show you the properties mentioned above.
---
If you like this blog, subscribe to my newsletter by clicking the banner below.

I DO want to remind our readers that we appreciate any referrals you can send us. Also, please remember the GoDutch Realty agents when you talk about your home in Costa Rica, we appreciate it.