Estimated Reading Time: 7 Minutes
Jopco Costa Rica does not feel responsible for accidents that happen to their clients in their store. Would you buy anything from them?
Haven't we all heard of the "McDonald's Hot Coffee Case"? Let me refresh your memory. In 1992, 79-year-old Stella Liebeck bought a cup of takeout coffee at a McDonald's drive-thru in Albuquerque and spilled it on her lap. She sued McDonald's and a jury awarded her nearly $3 million in punitive damages for the burns she suffered.
Now move forward to being in Costa Rica, on May 2, 2014, at 4:00 pm. I had just closed on a property and the buyer needed some special chinaware, so I took her to Jopco Costa Rica, located 800m Noroeste del Flash Car en Escazú, in warehouse complex Complejo Attica, Bodega #2.
How did it happen?
Jopco Costa Rica has 2 warehouses, one next to the other. In the first warehouse, they told us the showroom of the suministros para hotelería or hotel supplies, is in the 2nd warehouse, so we walked outside again to get to the next warehouse. A sidewalk connects the two warehouses. When walking down this sidewalk my feet hit the air and instead of falling on my face, I broke my fall with my right hand and broke a finger. There was just one step on that sidewalk, which I never saw. There was not even a white or yellow line warning for the step, to prevent accidents.
An expensive medical intervention
Better a finger than a face, that must be said, but a broken finger needs attention. To make a long story short, a week later Orthopedist Dr. Daniel Alcazar de la Torre operated for 2 ½ hours on connecting the bones in my finger with a tiny little screw in the CIMA hospital. The cost of the doctor, the hospital, assistance, materials, etc. was ¢1.956.600 ($3,622 @ exchange ¢540, of which my insurance company covered 80%).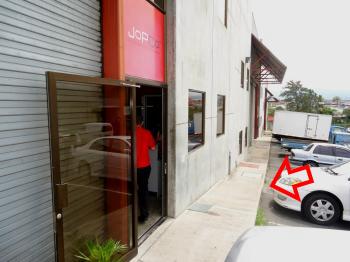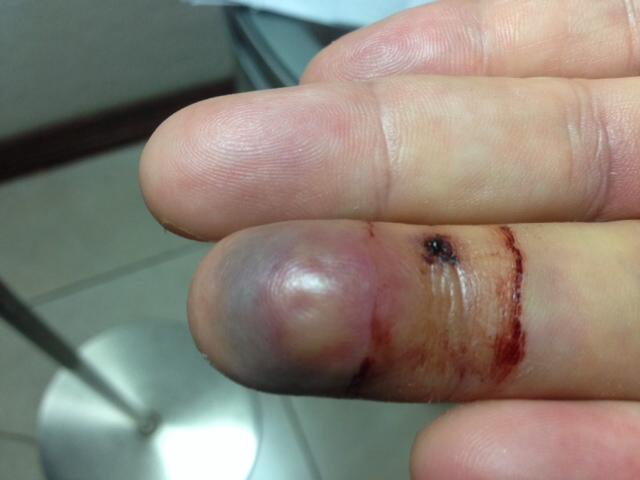 On the left, the front door of Jopco Costa Rica warehouse, where I turned to go a couple of warehouses down. The arrow shows the invisible step. Can You see it? I couldn't and still can't!
My claim
It is not easy to work with your right hand in a cast for two weeks, especially if you have to write 2 blogs a week and answer 300+ emails a day. I am right-handed and even brushing your teeth is difficult with your left if you're not trained to do so. The Costa Rica real estate business doesn't allow me to call in sick, except for the afternoon in the hospital for the operation. When my wife Dany and I looked at the financials of this little accident, I decided to write a nice letter to the owner of Jopco, claiming the $725 I had to go out of pocket.
I took the letter in person to Jopco Costa Rica about 2 weeks after the accident. The sidewalk was still in the same shape as before, no action was taken and apparently, nobody worried about another accident. Or maybe they think they are immune and won't be sued for damages anyway. One of the managers took my letter, without signing for receipt, not wanting to take any responsibility, I never got his name.
My hand in a cast and a messed up knee
Que pena
The owner of Jopco Costa Rica, Gustavo Jop called me a couple of days later, saying "que pena" that happened to you. Que pena means what a shame.
But his next words were: "my lawyer doesn't allow me to pay for the damages.  He says I have no legal obligation to pay". He insisted that he does not have any responsibility for the accident because it happened outside his building, even though I was walking from building 1 to building 2. The words "que pena" apparently weren't heartfelt.
Hilarious
The most hilarious part of our conversation was that he offered me a discount on any future purchases that I make at their establishment. Like I'd ever spend a dime in their business or bring them a client ever again, yeah right!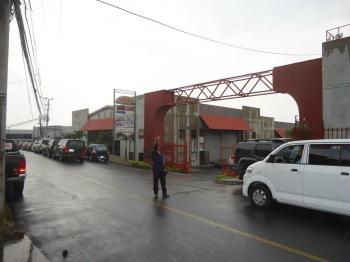 The Entrance to Complejo Attica, 800m Noroeste del Flash Car en Escazú
The HOA
Mr. Pablo Meneses is the condo administrator of warehouse condominium Attica. He didn't even know about the sidewalk accident. Nobody had cared to tell him to grab some white or yellow paint and a brush and make sure no more accidents could happen.
Mr. Meneses commented that Condominium has no liability insurance against accidents. Condominium Attica consists of several warehouses. Here, large trucks come and go and those trucks load and unload, day in day out. An accident can happen at any time.
Winmovers, the moving company we recommend to our clients is located in the same condominium right across from that sidewalk.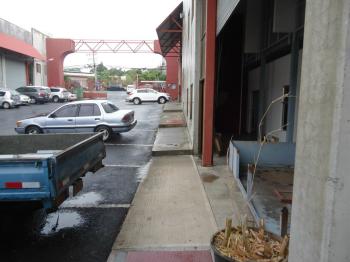 The photo was taken from the other side of the sidewalk, which shows the invisible steps
Winmovers
My next call was to Mr. Edwin Obando, one of the owners of Winmovers. This is a Costa Rica moving company, who I have known and done business with for about 30 years. Edwin was surprised to hear my story and agreed that the HOA doesn't have insurance for civil liability.
He even mentioned that it was good the accident didn't happen to a pregnant woman or an elderly person. He said that they would soon have an HOA meeting and look into the matter of getting insurance for the common areas.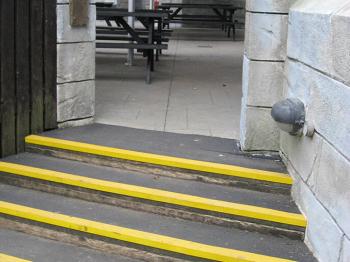 I suggest Jopco and neighbors in Complejo Attica install stair strips to prevent accidents
The reason for this blog
If I would have been in the United States when this happened, I probably would have been able to retire by suing Jopco Costa Rica artículos para Hoteles y Restaurantes, which is not my interest. In the end, I used my own INS health insurance to pay for the fixing of my finger.  The operation wasn't easy, and expensive. I only wanted them to reimburse the $725 deductible to get my finger repaired.
This blog was meant for those who are moving to Costa Rica. So, they understand the risk of buying at a business that feels they have no responsibility for the safety of the clients that visit. Even if they break a finger, or even worse than that. I am grateful not to have broken my neck.
Suing anybody in Costa Rica for $725 doesn't go anywhere, it would take years. It is much easier to blog about it. This way, so everybody knows where to purchase hotel and restaurant supplies if you want to run the risk of an accident and not being taken care of.
---
If you like this blog, subscribe to my newsletter by clicking the banner below.

I DO want to remind our readers that we appreciate any referrals you can send us. Also, remember GoDutch Realty when talking about your home in Costa Rica to friends and family. We appreciate it.