Estimated Reading Time: 6 Minutes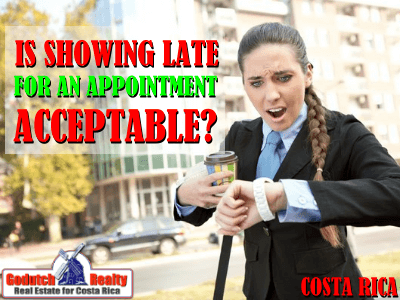 Even though we all wake up early, almost everyone comes late for an appointment in Costa Rica. Is it hard to adjust to that? Yes, it is, unless you make the rules.
Doctors, dentists, lawyers, and salespeople, few have respect for someone else's time. They are always late for an appointment. In my opinion, that happens because their patients and clients put up with it.
Even the Ticos call it Tico Time, it's a bad habit. Often, foreigners adapt quickly to it. In my opinion, it's a lack of education.
Jim reminded me how hard it can be to put up with someone who is late for an appointment in an email:
I bet you have waited for an hour+ more than once for a client to show or not.  For some reason, in CR it's so much worse than in the USA. Sometimes the client is more or less sightseeing. Realtors' or sellers' time is not valuable to the clients. As you might have guessed, I am waiting for a client I confirmed times with yesterday…
Jim is so right. Jim sells land near San Ramon, so he's been there, done that.  Years ago, I took a decision that was a fine solution. But let me first give you a better idea of what being late for an appointment is all about.
Doctors and dentists
My first wife (30 years ago) always wanted me to accompany her to the gynecologist. This guy is famous now, but at the time, he was kind of starting out. This doctor was the brother of my wife's best friend, so that's the one we need to go to.
This doctor had always at least 20 women sitting in his waiting room. I'd bring a book as it would take like 3 hours to be our turn. He was working at the Caja during the day and would attend privately after 5 pm.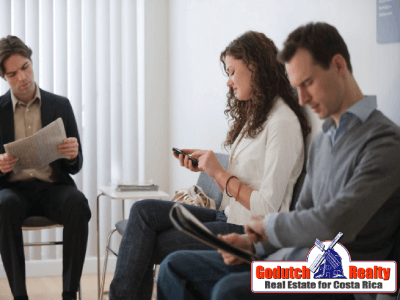 He would make the appointments for all 20 women between 5 – 5:30 pm. Not like one appointment every 20 minutes, of course not. I guess he loved watching a full waiting room. There were like 30 more doctors' offices in the same building and they all had people sitting in line. The national pastime – fill up waiting rooms. When I asked him if it couldn't be done differently, he'd shrug and play stupid.
My wife Dany likes me to accompany her to the gynecologist. His dad was a Dutchman and his mom Tica. Dany has been going to this gynecologist for like 25 years. He'd do the same thing as the first gynecologist: fill up his waiting room and make us wait. During the first visit, I told him that I thought he didn't have any respect for us and our agenda.
He was shocked. You're not supposed to tell a doctor he should have respect for you. Well, it worked. He is never late for an appointment with us anymore…
Other professionals
Dentist appointments function exactly the same way. You just need to tell the dentist that you don't care about his other patients. But that if he/she wants you as a patient, it is important for the dentist not to be late for the appointment he/she has with you. It might work…
I had a great otolaryngologist but got fed up with the long hours in the waiting room. Even though I would complain, it didn't change. I am now seeing another otolaryngologist just as good with no more than 10 minutes in the waiting room.
Large lawyer offices have that same problem. I stay away from large and famous lawyer offices. I prefer doing business with attorneys who appreciate the business we bring and go the extra mile for our clients.
Real estate appointments
People, like Jim, who often don't value a real estate agent's time.  Clients come late for an appointment with the agent all the time. The conversation kind of goes like this:
Me: "Aló, GoDutch Realty, may I help you"?
Customer: "Oh yes, I'd like to see this house in Los Eliseos, Bello Horizonte – Escazu."
Me: "Of course, with pleasure. When would you like to see it?"
Customer: "In 20 minutes, is that ok?"
I'm halfway down to the property when the customer calls: "can we make it another day? Something else came up".
Me: "I'm almost there, but yes, if you let me know well in advance, with pleasure."
Another try
Two days later the customer calls again: "Hi, it's me again; can we see that property in Los Eliseos in 10 minutes?"
Me: "I'm sorry, I'm with clients right now, but I can make it at 2:00 pm".
Customer: Ok, let's confirm at 1:00.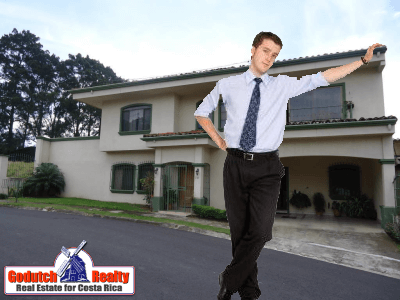 So I start calling the customer at 1:00 and left 7 messages, "please call me to confirm our appointment in Los Eliseos at 2:00 pm". I didn't hear a word or receive any calls.
My phone rings at 2:15: "Hi, it's me; I'm waiting for you in Los Eliseos".
Me: "I have been trying to call you for an hour to confirm and left you 7 messages. Now I'm at least 20 minutes away.
Client: "Ok, let's meet here at 4:00 pm then".
Finally?
I'm at the house ten to four, opening windows, cleaning up some leaves at the entrance, and turning all the lights on. I call the client, to make sure he's going to be here. Now he answers the phone and says: "I'm running late, I'll be there a 4:15.
Nobody shows at 4:15, so I call him again. The customer says he'll be there in 15 minutes. I waited for 20 and left. When I arrived back at the office, at 5:00, the customer calls saying he doesn't see me at the house.
I was very nice to him, too nice. I told him that I wasn't interested in selling him the house anymore. He hung up on me, I'm glad he did.
My recommendation
This shows what a typical day of a real estate agent stupid enough to play by the customer's rules looks like. I should have known better.
My general rule is to wait for 15 minutes and then leave. I am almost never late for an appointment, and when I am, I call. Cellphones are so easy to use.
My recommendation is to always confirm an appointment the day before. Then confirm the appointment again 1 hour before the appointment. If the other party is 15 minutes late for an appointment, leave. They won't do it again.
The days of waiting for hours in a doctor's waiting room are over. My parents grew up with too much respect for doctors and lawyers. In my book, they have to earn my respect. If you go to the CIMA hospital, you have a nice choice of doctors. Fed up waiting for your doctor? Just walk over to the next doctor's office; there are plenty of others who are punctual.
Don't let appointments ruin your life in Costa Rica. I promise, if you don't play by that rule, it will.
I wish you luck in adjusting to life in Costa Rica and keeping your appointments with our agents. Are you a punctual customer? We'll love you to death, contact us now.
---
If you like this blog, subscribe to my newsletter by clicking the banner below.

I DO want to remind our readers that we appreciate any referrals you can send us. Also, when talking about your home in Costa Rica, please remember the GoDutch Realty agents. We appreciate it.