Estimated Reading Time: 5 Minutes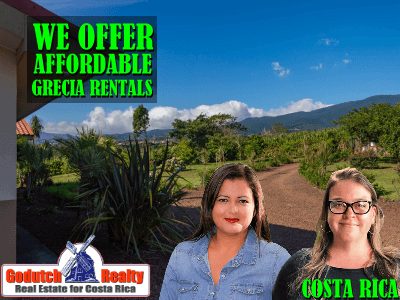 The word is out! Grecia home rentals are among the most affordable in the Central Valley. It seems like lots of US citizens are running from something.
YES, you can find Grecia home rentals for around $500 – $600/month already. Our agents don't make much money on it, but you might like living in Grecia. And end up buying…
You'll pay just over $1,000 for a large 3 bedroom home with a yard. Isn't that amazing?
Our website traffic is way up on Grecia home rentals, furnished and unfurnished. So have a look at these Grecia home rentals to get your feet wet before you buy.
Some will only rent until the situation in their home country is more favorable to their beliefs.
Others will only be here as a snowbird, but that's perfectly fine, everyone is welcome!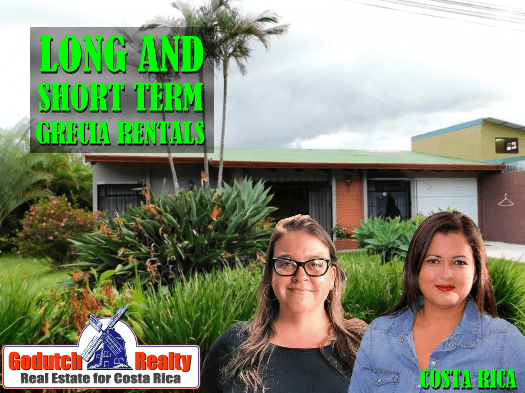 Eyes closed
But, before you rent a home with your eyes closed, you should know a few things first.
I have written quite a few blogs in the past about having to adapt to your new country. I usually find that those who rent, are not committed to adapting to a new lifestyle as those who purchase.
Therefore, there are a few things that you should know before you have a look at Grecia home rentals on our website.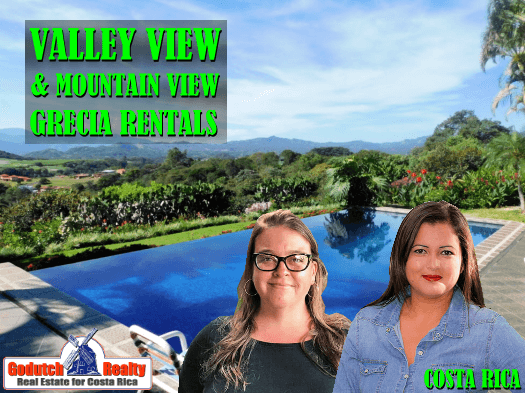 Budget
You'll have to adapt to what you can afford. Don't expect a palace for $500/month, utilities included. It's not going to happen. BUT, it's a fact that Grecia home rentals are among the most affordable in the Central Valley.
Amenities
There are a few amenities you might or might not find in Grecia home rentals that you should be aware of. This happens because these amenities are unnecessary for local residents. It's a mindset and those are a few of the things that you will need to adjust to.
Air conditioning
Hot water in the kitchen
Several bathrooms
Hot water shower (many have a suicide shower)
Covered parking
Check your requirements and read the lease agreement well before you rent.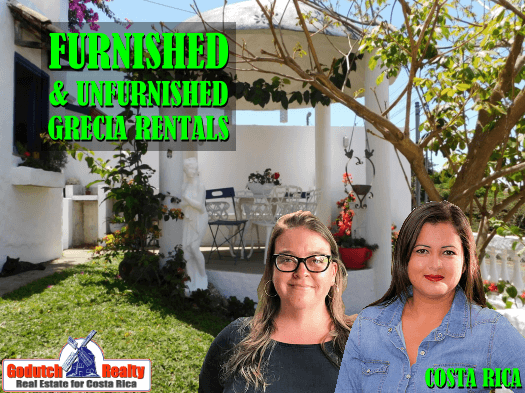 Far Away?
Yes, location, location, location seems to pop up again. I've heard some say Grecia is too far away. But, I ask, too far from where? Yes, it's quite far from Tokyo, Tbilisi, and even from Miami Beach.
A home is just a place where you live, a domicile, a living space. It all depends on what place you make home next, and start learning to use the amenities in your new home area. Grecia offers homes with extraordinary gardens, which are yours to enjoy if you decide to live there.
That's exactly what your agent for Grecia home rentals will assist you with. It's what we do at GoDutch Realty, we relocate. Unlike some other Grecia rental agents.
Meet the agents
Meet our agents that will assist in picking the best Grecia home rentals on our inventory: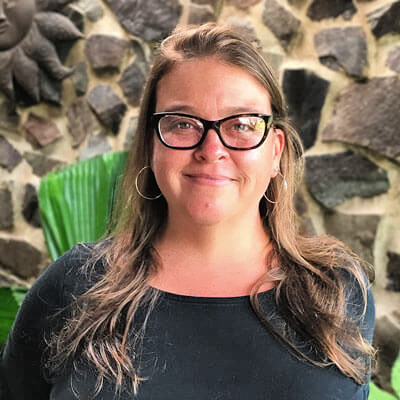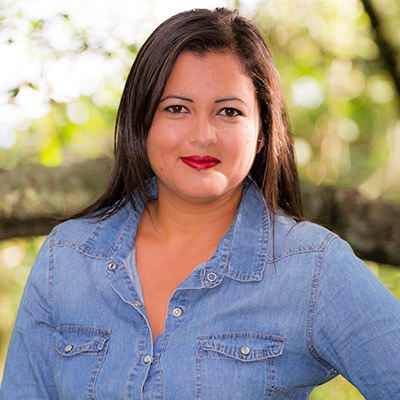 See what our clients think about us and our services in the testimonials.
We love taking care of you. Feel comfortable asking anything you want to know. Ask questions and read our blogs. They will help you feel at home pretty quickly; if you do your share of reading. For a showing appointment or questions, contact us now.
The grammar of the Spanish version of this blog was checked and corrected by Wagner Freer of Spanish School for Residents and Expats. We strongly recommend this language school as your best choice to learn Spanish, click here to contact them. 

---
If you like this blog, subscribe to my newsletter by clicking the banner below.

I DO want to remind our readers that we appreciate any referrals you can send us. Also, please remember the GoDutch Realty agents when you talk about your home in Costa Rica, we appreciate it.