Estimated Reading Time: 5 Minutes
Have you tried tamales made in Costa Rica yet? Unfortunately, we're not making any tamales for Christmas anymore; my wife is on a diet. And tamales make her fat, she says. So I guess I'll have to buy a couple of factory-made tamales in the grocery store.
For many years, during Christmas time, we'd make tamales. Making tamales is an event in almost every family in our beautiful country.
The tamal is a Costa Rican specialty that the locals eat for Christmas. It is typical Tico food, and my mother-in-law makes them well (I hope she reads this).
I eat about five tamales in two weeks, and by then, I've had enough. Ticos can consume between 5 – 10 a day, or even more. Ticos eat tamales for breakfast, lunch, and dinner. Like North Americans eat turkey for a week. So if you want to feel at home here, you need to try and eat tamales.
What is a tamal de cerdo
If you really want to learn about Tico food, read on…
If you plan to live in Costa Rica or you already do, you should try a tamal de cerdo.
The tamal is an important Christmas tradition for any Tico and even foreigners who have married one. A tamal de cerdo is a steamed corn cake made of corn dough, filled with cooked rice, pork meat (cerdo), peas and sometimes olives, raisins, carrots, and many other ingredients. The tamal's ingredients depend on how wealthy or poor the family is.
To make these tamales is arduous work, and usually, made in a team effort, the whole family will join in.
Many Latin American countries, like Venezuela, Mexico, and Columbia, also make tamales, but they all make them a little different. For example, in Nicaragua and Honduras, they are much larger and called Nacatamal.
Just shopping and getting the ingredients ready is a lot of work. It would help if you had someone organized in the family to make it all happen. For example, how do you calculate how much meat, carrots, pounds of raisins, etc.? AND it would be best if you had big pots and pans to cook them.
How to make a tamal
First, you start out buying the corn, and just taking them off the cob is a lot of work. Then you have to cook it and take it to the corn mill. Every small neighborhood has one, some cleaner than others. Most wash them out every time they have grounded a batch of corn for a client, but when the line of people gets longer…
Make sure you buy suitable plantain tree leaves (hojas de platano). AND enough leaves because you need to use those as a wrap. Then the fun starts. Put the corn, and the right amount of "stuffing" like you would fill a turkey. Fold the leaves in such a way that when you finish cooking them, the stuffing and the corn won't come out. They usually pack two tamales together with a string, which keeps the water out when cooking. It also obliges you to eat two of them. The Tico Times shows how they're made below.
How to eat a tamal
You can also buy the tamales in the grocery store, just like you'd do with a lot of Tico food, but they are in no way as good as my mom-in-law's tamales. Before you eat them, make sure you heat them. You can do so in a pan of water or the microwave, although they dry out quickly if you do the last. Make sure you buy a bottle of Lizano sauce, a typical Costarican sauce that you use for rice and beans and everything else the Ticos eat. It's like a Worcestershire sauce, and the Ticos swear by it. Please don't put too much sauce on it because you will mess it up. For those who like hot food like my wife, put some salsa picante on it.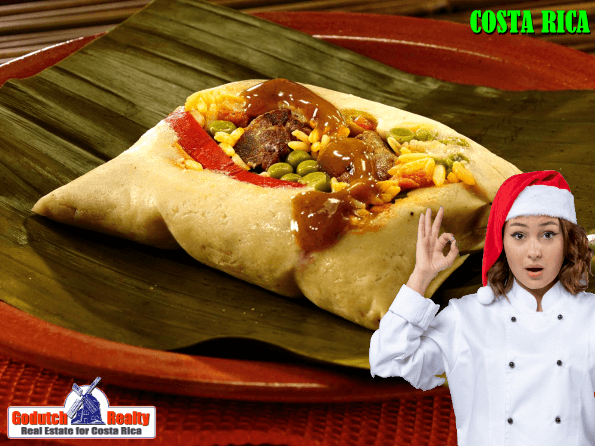 You do run the risk of getting a "tamal tonto," a "stupid tamal," which is a tamal made of the last corn when there is no stuffing left.
Don't eat the plantain leaves unless you're starving. The leaves are only used as a wrap. If you insist, please use a lot of salt and pepper and Lizano sauce.
It's one of those typical Costa Rican things that many foreigners never get to try because they either insist on their Virginia ham or don't know the right people to make them. Ask any Tico where to get some good ones, and knowing them, they will offer you some made by mom, aunt, or grandma. Even though eating tamales is a Christmas tradition, you can get tamales every day.
Please try them, with or without salsa Lizano. You can always go back to the Virginia ham if you don't like them next year.
Buen provecho y Feliz Navidad.
Food photo created by lookstudio – www.freepik.com and Image by KamranAydinov on Freepik