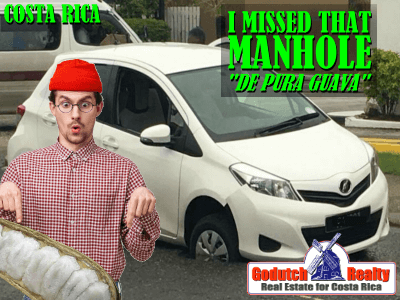 I feel I'm a lucky guy every day when I wake up. It's another day in Paradise. Of course, sometimes I do feel unlucky. But that only happens when my wife's car was hit by a taxi. Or when my internet connection doesn't work for 3 days.
There are also days that I'm just lucky. The other day, por pura guava, I didn't drive into a big sewer manhole without a cover. The driver behind me wasn't so lucky. I didn't see it, and I missed it por chiripa. Imagine!
I just explained, in two different ways, that I was lucky. This actually never happened to me, but I used it as an example. Nonetheless, you'll find sewer manholes without a cover in the Metropolitan area once in a while. Those cast steel covers pay well in the black market.
A Guava
A guava is also a fruit. Often people who wrote about fruits in their blogs made a mistake about the guava, the guayaba, and ca.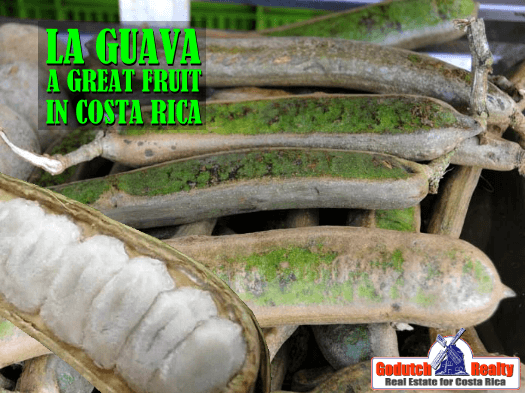 The guava is a long pod-like fruit that you open by twisting it. Inside, you'll find big seeds. The seeds have white meat that is a little sweet but delicious. My wife can spend an hour sucking on those seeds and enjoy them. In my opinion, it's way too much work for so little fruit.
La guayaba is called guava in English, which is where the mix-up is. If you have a palo de guayaba (guava tree) in your yard, you'll see that the birds usually get to the fruit faster than you. It's much easier to buy the guayaba jelly in the store. Try also the bite-sized guayabitas, you might like them. Do not confuse this word with a guayabera, which is a shirt.
El cas is also called guava in English and is a cousin of the guayaba. Cas is not sweet at all, it's quite the opposite. Cas is very sour and is mostly used for making a natural fruit drink (using lots of sugar).
Las guayabas are slang for eyes – "Pelá las guayabas, mae" – open your eyes, dude
Chiripa
The word chiripa is mostly used for by coincidence or by chance or accident. The word chiripa is often accompanied by the word pura, like in Pura Vida or in pura guava. This happened to me by pura chiripa.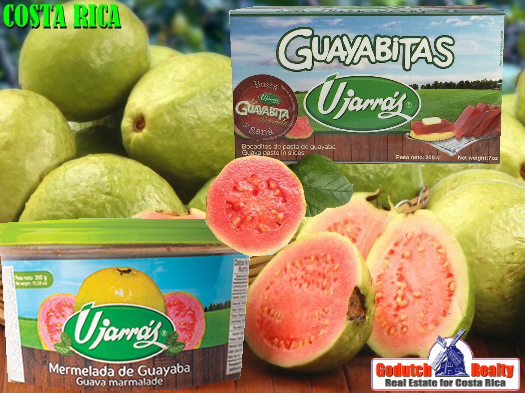 More lucky words
Just like in other languages, there are several ways to use luck or lucky. As you probably already know, a word ending with an "o" is masculine, and ending with an "a" is the feminine version of that word.
Suerte – Is the normal word for luck. I had la suerte to win the lottery.
Suertudo – The luck person who won the lottery is un (a) suertero (a), un (a) suertudo (a), or even un (a) suertucho (a).
Hope for good luck
You can also hope for good luck in the Spanish language. Or you can seek to prevent bad luck. Try these:
Tocar madera – Knock on wood or touch wood for the British
Cruzar los dedos – Cross one's fingers
Bad luck
Mala suerte – bad luck
Que sal me tengo hoy – I'm unlucky today (sal = salt)
Estoy salado – I'm having bad luck
Agúizote
Christopher Howard explains in his Costa Rica Spanish Guide: Agúizotes (ah-gee-so-tays) is a tradition in Costa Rica and many Latin American countries. They can be defined as superstitious beliefs. Some people use them to play the national lottery (la lotería) while others use to make their dreams come true for the New Year.
At home, we also use several agúizotes to bring more luck to us on New Year's Eve, such as
Eating twelve grapes out of your Champaign at midnight
Cleaning the house of bad vibes
Write 12 Wishes for the next year and keep it in your wallet
For more travel, next year, walk your suitcase around the block
Eat a spoonful of lentils (yes, it's hard to stay positive, I hate lentils)
Use yellow underwear during New Year's Eve
Carry a branch of Santa Lucia in your wallet
I do believe I'm a lucky guy. You should try too, moving to Costa Rica is a great start. Contact us now.
---
If you like this blog, subscribe to my newsletter by clicking the banner below.

I DO want to remind our readers that we appreciate any referrals you can send us. Also, please remember the GoDutch Realty agents when you talk about your home in Costa Rica, we appreciate it.