Yes, we have speed bumps in Costa Rica, lots. In Spanish, they call them "muertos". Un muerto is not only a dead person, but it is also a speed bump. Strange name for a speed bump, but originally they were called "policía muerto", a dead policeman.  Now the name makes sense, doesn't it?
The formal name of a speed bump in Spanish is reductor de velocidad.
The reason I am writing a blog about speed bumps in Costa Rica that they are everywhere. Mostly in places where you do not expect them to be. At one time, they were painted yellow. But the rains have washed the yellow paint off.
Often you won't know that you are driving over a muerto until your head hits the ceiling of your car because you can't see them.
See the photos in this blog, in some of them you will only notice there is a speed bump because the car is in the air.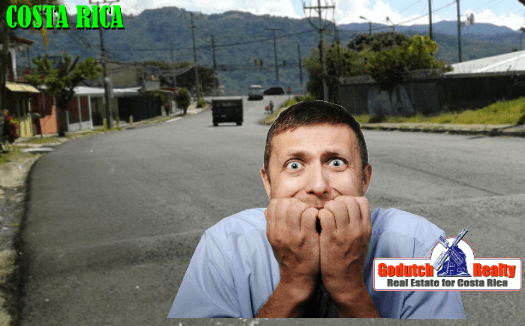 Accident
These muertos are not only bad for your shock absorbers. Braking for a muerto on the last possible moment is also not a good idea. Most drivers don't keep the regulated distance. So you might get hit when braking too fast, by someone texting his spouse.
I don't know if it is worse to get new shocks or going through the process of having an accident with the car behind you.
The Size
There is no regulated size for these muertos. Some of them are so high, you have to go over them very, very slowly if you don't want to lose your muffler or a couple of teeth.
In developed countries, you will find these road humps only in residential areas. In Costa Rica, you will find them everywhere, even in the craziest places. Except on the highways (not yet).
Everywhere
This year, the Escazu Municipality installed about 200 muertos throughout the county. They painted them nicely yellow, but the paint has already disappeared on of them. Who knows when they will paint them again? (Update: in 2020, even more speed bumps lost their paint)
Necessary?
The question is: are those speed bumps really necessary? Yes, they are very necessary. Ticos are always running late so they are always in a hurry when driving. As soon as they get a chance to speed, they will, no matter what the maximum speed is. Just before the Volvo dealer, coming from Multiplaza Escazu, there is a big speed bump that has a pole standing on the eastside, so the speed bump is in the shadow of that pole all morning. This speed bump is not painted (anymore), so it is impossible to see it. In Heredia, you will find muertos that are totally invisible and look more like a patched up hole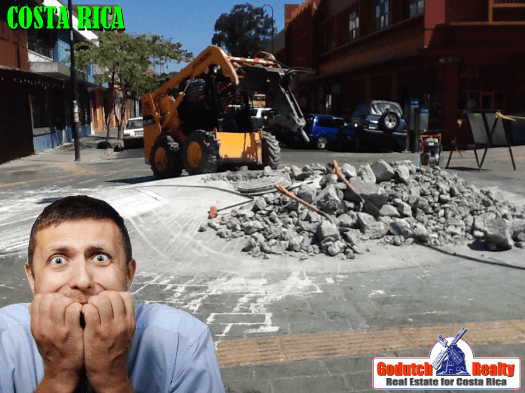 XL Speed Bump
You will always find speed bumps by schools, where you are supposed to slow down anyway.  In Chinatown, San Jose, the municipality built some incredible "dome-like" policies muertos. A year later they found out that they are dangerous and decided to get rid of them again.
At Multiplaza, between the highway and the Intercontinental hotel, there was an extra-large speed bump at the bus stop, to make it safe for the pedestrians. For security reasons, during President Obama's visit, they took it away and thank God everybody forgot about it. Poor pedestrians…
---
If you like this blog, subscribe to my newsletter by clicking the banner below.

I DO want to remind our readers that we appreciate any referrals you can send us. Also, please remember the GoDutch Realty agents when you talk about your home in Costa Rica, we appreciate it.