Estimated Reading Time: 6 Minutes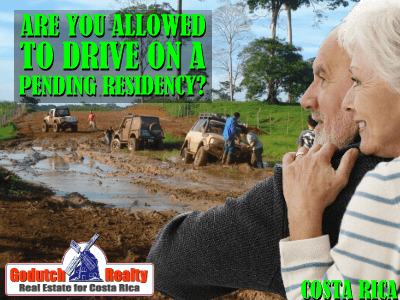 How can you legally drive when you have just moved to Costa Rica? Can you legally drive on a pending residency?
Have you decided to settle down and start living in Costa Rica? Maybe giving it an extended tryout? Then you're going to have to leave the country every 90 days for a bit of time.
I previously mentioned this a while ago: within any government, the left hand and the right hand don't always agree.
The Costa Rican immigration department says once your application for legal residency, so when you have a pending residency, it is your right to be living in Costa Rica without leaving until you receive your "cedula de residencia". That is the official legal residency card.
But with the other hand, the Costa Rican transit authority says that your visa stamp on your passport validates your driver's license. This in turn also keeps your Costa Rican automobile insurance valid. Costa Rican visa stamps are valid for only 90 days and should be renewed upon each re-entry into the country.
Therefore, you'll need to exit every 90 days. Travelers can only renew their visas by going through immigration. Only then can you legally drive and be insured.  Nonetheless, if you plan to walk or only take taxis and buses, you'll never have to leave once your residency application is in process.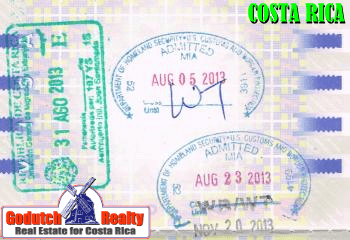 Insurance
There's one other little left-hand vs. right-hand governmental thing involved with legally driving when living in Costa Rica.
Costa Rica is a signatory to the international driver's license agreement recognizing the International Driver's License as a valid document. In theory, holding a valid international driver's license procured through the U.S. or Canadian automobile club office would exempt you from having to leave Costa Rica in order to renew your visa. This re-validates your right to drive using your country's or state's driver's license. So this will automatically continue to validate your Costa Rican automobile insurance.
However, the state-owned INS insurance agency will not recognize the International Driver's License.                                               
Renew
So, currently, there's no way to game the system when it comes to driving legally in Costa Rica if you have a pending residency. You're going to have to exit the country and re-enter every 90 days for that reason alone. This can get to be a bit inconvenient and downright expensive. Because that means getting on a plane for home or do a border run four times a year.
As an example, we submitted our residency application in early March of 2013. We received our pending residency last May and we still don't have our cedula de residencia, now in March 2014.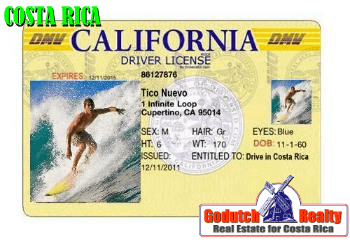 How long?
Now, you're probably saying, "wait a minute! Everything I've read says it will only take five to seven months to get my cedula. And that equates to only two, maybe even just one round trip exit."
Normally, that would be true. But Costa Rica enacted a "legal residency amnesty" for illegal aliens residing here in 2013 and about 100,000 Nicaraguans applied. Immigration gave priority to amnesty applicants over legal residency applicants. When I'm writing this blog, the immigration system is still severely backlogged.
Legal applicants are currently taking 12 months or longer to receive their cedula. Once you have your cedula, you can easily use the foreign driver's license to be granted a Costa Rican driver's license.
On our Birthday
A further complication happened to us last month. Both my wife's and my California driver's licenses expired on our birthdays. We previously renewed both our licenses twice by mail. We received letters that California State law requires that driver's licenses can only be renewed two consecutive times by mail.
On the next renewal, the driver must make an in-person renewal appearance to take an eye test, be photographed and fingerprinted. This would have forced us to make an expensive unscheduled trip to California.
Fortunately, we were able to use our internet phone to call the DMV. DMV, after some difficulty, and many busy signals, extended our licenses. We have since both received our extensions in the mail at our Costa Rican post office box.
Life is good once again.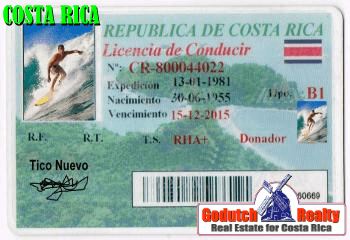 Flying
An alternative to a roundtrip flight to somewhere in North America or the Caribbean are trips alluded to earlier. National and international immigration and travel policies, as well as security rules, are subject to frequent change or revision.
I will alert you to the fact that recently we have heard of several American couples with Costa Rica residency applications in process. These couples flew to Panama to renew their visas and so they wouldn't get stopped at the border upon their return to Costa Rica.
Return ticket
The Panamanian customs authorities wanted to see their return tickets to the United States before they would allow them to re-enter Costa Rica.
The customs authorities forced these unfortunate folks into the expense of buying one-way, refundable airline tickets to the States before they were allowed to cross the border.
Another case in point, I remember what happened when we first moved to Costa Rica a year ago. The airline wouldn't allow us to board the flight to Aeropuerto Juan Santamaria without presenting them with a copy of our return flight to the States.
That policy is still in effect.
My advice, do your best to investigate current travel rules and policies in the countries you are touching. Expats should prepare if they like to live in Costa Rica without running into too much trouble.
The Author
The author of this blog, Ticonuevo, is a US expat. He and his wife moved to Costa Rica and used the services of GoDutch Realty to purchase a property in Costa Rica. Ticonuevo describes his own experiences of taking the step of moving to Costa Rica and getting a new life started.
---
If you like this blog, subscribe to my newsletter by clicking the banner below.

I DO want to remind our readers that we appreciate any referrals you can send us. Also, please remember the GoDutch Realty agents when you talk about your home in Costa Rica, we appreciate it.