Moving to paradise is not easy. It's even more difficult to figure it all out if you are looking for best temperatures and less rain.
But, what are the best temperatures for you? Eskimos probably think that the best temperatures are under zero.
On the other hand, residents of Atenas, Costa Rica believe their town has the best temperatures during the whole year. Actually, they are convinced, theirs is the world's best climate.
Often, future expats believe we can custom fit the climate to their request.
Irene
Recently, we received an email from Irene Z. in Connecticut:
Hello,

Could you give me some areas in Costa Rica that are less humid and do not have a lot of rainfall all the time and the best temperatures as in (not 90 degrees during the day)? Hopefully, that's not asking for too much-lol!

Thanks so much for any help you can assist me with.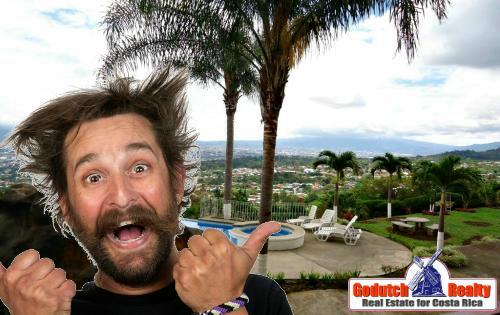 The Weatherman
I am not the weatherman, nor an expert in the best temperatures. I know quite a bit about Costa Rica real estate and relocation. In my personal opinion, the best temperatures are not higher than 80ºF.
My wife, a Tica, was born in Puntarenas but grew up in San José. She has a much thicker skin than I have as a Caucasian. She can put up with a lot more heat than I have. But her mother, who still lives in Puntarenas, thinks it's way too cold in Escazú, where we live. Between my mother in law's and my best temperatures are at least 10ºF
90 Degrees
Irene really did us a favor by telling us that anything over 90 degrees is not the best temperature in her opinion. I know quite a few people who think that a 90% humidity and anything over 90 degrees is the best temperature. They love the heat and it shows that we're all different.
Rain?
In Costa Rica, we have a lot of rainforests. It also rains a lot, I promise! Here you can read why. It is really difficult to find out where it rains more and where it rains less. Costa Rica Guide does have a pretty decent map that shows it more or less but if you go to the weather specialist during the rainy season, you can find out more about each location.
Be aware, that the temperatures don't change much when the rains start, anywhere in the country, but only the humidity.
Humidity factor
Before you go to all the wrong places, check the humidity factor first. You will find out quickly that the beach areas in Costa Rica not only have a higher humidity percentage than the Central Valley. Also, thermal sensation will be much higher. Learn more about relative humidity here. I also found an incredible humidity guide that will help you manage the humidity levels in your home.
The Central Valley
At GoDutch Realty, we do NOT rent or sell any beach property. That's what we have our affiliates on the Costa Rican MLS for. The GoDutch agents only cover the west-side of the Central Valley. That is because most expats prefer the west-side of the valley better. On the west-side, there is a good range of almost perfect temperatures to choose from. Let's check:
1. Cariari / Belen

2. Grecia / Naranjo / Sarchi

2a. San Ramon
San Ramon, in our network, is attended by our Grecia agent, and for this reason, I have called it 2a.

3. Atenas

4. Santa Ana

5. Escazu

The beach
Let me give you a good idea what temperatures you can expect to find in each beach area. I have used a weather specialist to show you the temps, humidity, how the weather feels like and other specifications.
It is now Easter week, the hottest time of the year, and also the driest. I have taken samples from weather.com in the middle of the day, to give our readers the best data possible about the temperatures.
GoDutch Realty doesn't cover any areas outside the Central Valley. If you're interested in trying out the best temperatures outside the Central Valley, feel free to connect on the #1 MLS of Costa Rica.
North Pacific

Central Pacific

South Pacific

Caribbean

Great tips
Is your hubby a happy camper in the heat and you're suffering when it's warmer than your thermal barrier?   Then try these tips on how to deal with high temperatures.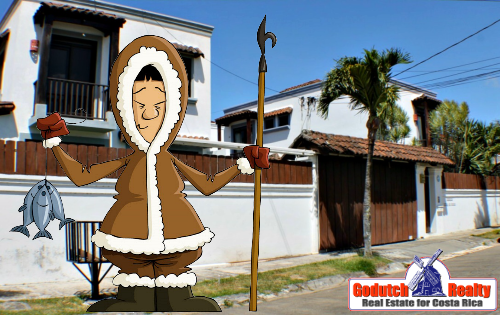 The perfect weather
I'm sure you will find the perfect weather that will suit you, it just takes some time and effort. Once you know where the best temperatures are in your opinion, contact us. We can assist in finding you the best property in Costa Rica.
Note: The weather specialist, just as any other weather website, is not totally accurate. We recommend you visit each spot to see if the temperature fits you.
The grammar of the Spanish version of this blog was checked and corrected by Wagner Freer of Spanish School for Residents and Expats. We strongly recommend this language school as your best choice to learn Spanish, click here to contact them.