Estimated Reading Time: 11 Minutes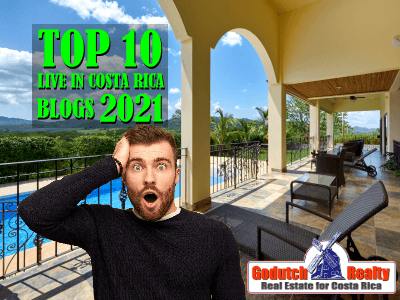 These are the most read live in Costa Rica blogs 2021, of a total of 615 published since 2010.
It all started when I realized how many questions our website visitors ask that I could respond to easier by writing a blog about it. The hard part of writing a blog is to keep it short and concise. And interesting at the same time. Writing is pretty easy, but if nobody reads your articles, why bother writing them?
The best part of these weekly publications is that it gives expats a chance to share their own experiences. These experiences are a great incentive for newcomers to dive into the topics that interest them most.  So besides offering a wealth of information, subscribers to our newsletter watch out for the weekly Sunday morning 6:00 am Ivo's blog to see what's new this week.
I know that some of our readers have long left Costa Rica again, and have moved on. I appreciate those people most, because they are still part of my life, bu sending comments now and then. Thank you, Kathy, Alf, Yonta, amongst many others for still following the blogs.
The blogs are for those who plan to live in Costa Ric one day, and for those who already do, a weekly update on important issues regarding their property in Costa Rica. You'll find articles about taxes, corporations, Covid updates, and other fun and fewer fun topics in Costa Rica blogs 2022.
One great addition we have experienced this year, thanks to technology, is that each blog will give the estimated reading time at the top. So it's easier to decide to read it now or leave it for later.
I hope you'll enjoy this year's blogs. If you have missed some Costa Rica blogs 2021, now is your chance to read them: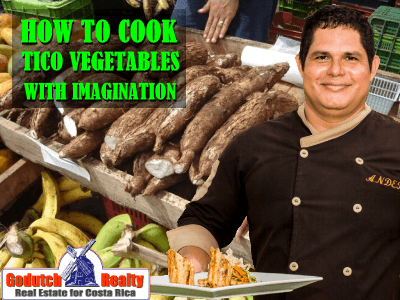 1. Discover how to cook the different Tico vegetables with imagination
When living in Costa Rica, you should not forget what burgers and pizza taste like, but you should give the local Tico food a shot. Most vegetables are grown on the slopes of the volcanoes on the north and northeast sides of the Central Valley. For that reason, Tico vegetables grow not only faster than they do elsewhere; they are usually a lot tastier than elsewhere.
Take advantage of living in Costa Rica and cook some dishes using the Tico vegetables. I found some fabulous recipes online, and of course, they're in Spanish. Use Google translate to figure out what to do; Google translates pretty well from Spanish to English.


2. Christmas traditions in Costa Rica
Adjusting to another culture is one of the most challenging things to do when living in another country. Christmas traditions are usually family-oriented. Some of the events described below happen in San José. But some provincial towns and cities have their event.  Other cities like Alajuela, Cartago, Heredia, Grecia, and Atenas have their own Christmas activities. The province of Guanacaste, for example, has a varied program for the Christmas holidays


3. Where To Get a 24-hour Covid 19 Test In Costa Rica
We receive questions about a 24-hour Covid 19 Test from clients every day. Visitors from the U.S. are not confident about flying to Costa Rica so because they don't know where to get the test before flying back into the United States.
At GoDutch Realty, we do all we can to offer you a safe and easy life during and after covid. We also have great options of rural hideaways where to stay safe.
Update 2/28/2021: Over 100 locations offer the antigen test for travelers now.


4. Best Seafood to Try in Costa Rica
When straddling both the Pacific Ocean and the Caribbean Sea, Costa Rica enjoys a lively seafood industry. The country has two large gulfs, and numerous bays, and two coasts. It's not surprising that fishing in Costa Rica rakes in at least 13 thousand tons of fish (worth $49 million) each year. The waters off of the subtropical country yield different types of seafood including tuna, crustaceans, and even exotic skates and rays. And you can bet that the dishes are just as diverse.
The next time you're out for a round of delectable seafood, make sure to catch these:


5. Aguinaldo or Christmas bonus in Costa Rica is obligatory
In most countries around the world, employees do not receive a Christmas bonus – Aguinaldo in Spanish. You might not run a business, but you probably have a household employee. Even if you don't see that person as an employee: the housekeeper, cleaning lady, the gardener, or the handyman that comes in regularly for any amount of hours is an employee. Likewise, the caretaker, who lives on your property, is definitely an employee.
Who should receive aguinaldo, how much, and when?


6. All About Costa Rica vehicle restriction or tag day
For a realtor, before Covid started, vehicle restriction day or tag day was a problem. Back then, I'd have to tell the client, "I am sorry, sir if you want me to show you Costa Rica real estate on Friday. I cannot pick you up at your hotel. I can meet you anywhere outside the beltway; you will have to get a taxi out of San Jose. Friday is my tag day."
Things have now changed. But I'm sure that as soon as Covid is over, we'll go back to the tag day from before. Everyone has learned to have one car with an even license plate number and a second car with an uneven one if they can afford it. Learn all about tag day now.


7. 6 Lifestyle Changes that influenced Residential Construction in Costa Rica
Residential construction in Costa Rica has changed quite a bit in many ways over the last 25 years. This is due to changes in the way of living, the climate, and construction materials. A lack of knowledge can ruin those expectations. So if you don't do your homework first, it's your own fault for not being happy after the purchase.
And that's what this blog is all about: showing you what to look for.


8. International Money Transfer Companies option for real estate purchase
A money transfer is key to any international real estate transaction. It's no secret that traditional banks are dinosaurs in the modern economy. Although banks still have an important function in our society, tons of fintech start-ups have begun providing financial services. Although they provide these services in a more modern and efficient way.
When buying a property in Costa Rica when you have your funds in another country, a money transfer is vital. We do recommend wiring large sums for a real estate transaction to an escrow company, for easy handling of legal documents. Learn more now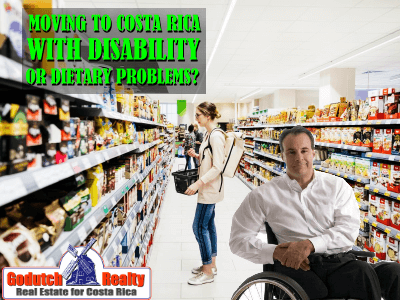 9. Is moving to Costa Rica with a dietary problem or a disability a good idea?
Costa Rica can be a perfectly delightful retirement destination for everyone but it depends a lot on the location you choose to move to.
Especially If you have a disability or a need for special food requirements. There are quite a few places in Costa Rica with few shopping and dining options for you. Therefore, it is important you find out where you can accommodate your needs.
In other words, you need to find out if Costa Rica fits or doesn't fit your picture. If you have any special needs or a dietary problem, you need to definitely check on what is available.


10. Is Vinyl Plank Flooring Right For Your Costa Rican Home?
For many homeowners in Costa Rica, going barefoot between spaces is the norm. Our climate allows for that and comfortable flooring that is soft to the touch and easy to clean is a great option.
Is vinyl planking instead of wood, marble, or other types of flooring an option? What are a few benefits of making this choice?

I'm sure you've been able to enjoy the top 10 of most read blogs living in Costa Rica blogs 2021. If you've missed the Top 10 from last year, you can check it now. We wish you a Happy new year and we hope to see you back in 2022!