Estimated Reading Time: 5 Minutes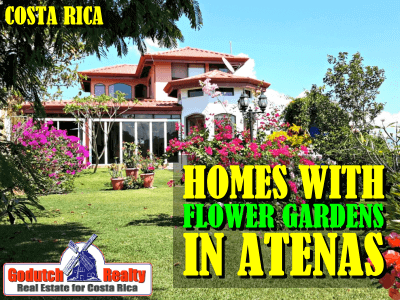 Have you ever thought of buying a home with a flower garden in Atenas? Well, you should! We have plenty of homes with a flower garden on our inventory. Don't worry; a home with a flower garden in Atenas doesn't cost more than one without a flower garden.
I grew up with this TV ad that promoted bringing flowers home. The ad sold the idea with the phrase "say it with flowers".
Holland is famous for tulips, exotic flowers from Costa Rica are as attractive for every occasion. And you can grow exotic flowers in your garden. And it's cheap to do so.
In Costa Rica, we say "stick it in the ground and it grows", and that is a fact. Especially during the rainy season, you stick it in the ground and in no time you'll have a flower garden.
Mood elevators
A Rutgers University study found that flowers are potent mood elevators. Having flowers in your home increased happiness reduces depression and anxiety and actually can increase emotional contact with friends and family.
Topography in Atenas
In Atenas, the topography is quite mountainous. The advantage of a mountainous area is that you won't see any areas that flood and generally have good drainage.
Properties located on mountain ridges have a smaller flat area; therefore it is cheaper and much easier to start and maintain a flower garden in Atenas. On the other hand, if you like to walk a large and flat flower garden, it is recommended to look for property in the flatter areas.
Some areas in Atenas have a distinct topography and I've tried to make it easier for you to locate them. Nonetheless, ask our agent for more recommendations.
Flatter areas
1.       Barrio Mercedes
2.       El Plancillo
3.       Barrio Jesus
4.       Sabana Larga
5.       Morazán
6.       Downtown Atenas
Mountain ridges
1.       Roca Verde (gated community)
2.       Lomas del Paraíso (gated community)
3.       Hacienda Atenas (gated community)
4.       Pica Flora (gated community)
5.       Estanquillos
6.       Altos del Monte
7.       Vista Atenas
8.       San Isidro de Atenas
Water issues
I do need to tell you that it is important to ask our Atenas agent Marian Veltman, about any possible water issues in the area you'd like to purchase. Some areas have serious water shortages or you might not be allowed to water your flower garden with community well water.
Grows fast
Atenas is well known as a place that offers panoramic views. To maintain a clear view, many homeowners in Atenas do not plant much in their gardens. Due to the fertile soils and the rainfall, a garden grows real fast and can turn into a jungle before you know it. To have flowers is a great solution to that.
Although there are good gardeners in Atenas, you will need to tell them to keep the flowers and plants down as you can lose the panoramic views in no time.
Birds & butterflies
Not only is a flower garden in Atenas beautiful to look at, but the flowers will also attract a large variety of birds. Attractive plants that will attract birds and butterflies are Bougainvillea, Tropical Hibiscus, Heliconias, Lantana, and Passion Flower.
Much less work is to plant Bougainvillea or Veranera, but this is typically a plant that will destroy your panoramic views totally in a very short time.
If you or any of your friends are looking to purchase a home with a flower garden in Atenas (or without), we appreciate your business. You can contact us at any time.
Feel free to leave your comments on this blog and share this article on your social media.
---
If you like this blog, subscribe to my newsletter by clicking the banner below.

I DO want to remind our readers that we appreciate any referrals you can send us. Please remember the GoDutch Realty agents when you talk about your home in Costa Rica, we appreciate it.