Estimated Reading Time: 6 Minutes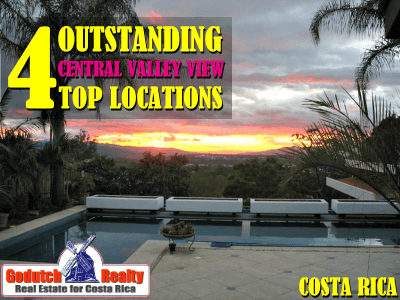 There are 4 amazing top locations where you can buy or build a home with outstanding Central Valley views.
Mind you, there are plenty of other locations too, but you'll be ready to hang yourself when you try to sell again.
Living on a property with a great valley view is a lifestyle. Others might prefer an ocean view, a mountain view, or no view at all.
Aserrí is well known by the local population for the chicharrónes. AND for the views. The slopes of the Aserrí hills offer some outstanding Central Valley views that you will want every day. BUT, there is one problem.
To get there, you have to drive through Desamparados. I suggest that, before you buy a house in Aserrí, you buy yourself a great Tico dinner at Ram Luna restaurant. I'm sure you'll enjoy dinner and the outstanding Central Valley views as you can see in the image below.
The area of Desamparados – Aserrí is not covered by any formal real estate agencies. And there is, of course, a reason for that. Nonetheless, you will find quite a few great properties with incredible Central Valley views advertised on Facebook by taxi drivers, waiters, and pole dancers. Your neighbors will be hardworking Ticos that are on a much different social level than you are.
Unless you want to go totally native, you probably want to socialize with people that you like. AND you'll be looking for certain amenities in the community. What about being able to purchase important gringo groceries without having to drive for miles? Believe me, we have relocated gringos for over 20 years and know what to recommend.
When searching to purchase a home with an outstanding Central Valley view, you want to know where to get started. That's why you connected with us!
The best place to search is on our inventory of Central Valley view here.
1. Grecia
Learn more about living in Grecia before you take any decisions. The temperatures you are be looking for, depending on the altitude and the direction of the wind. For a property with outstanding Central Valley views in Grecia, we recommend you stick to the following ridges: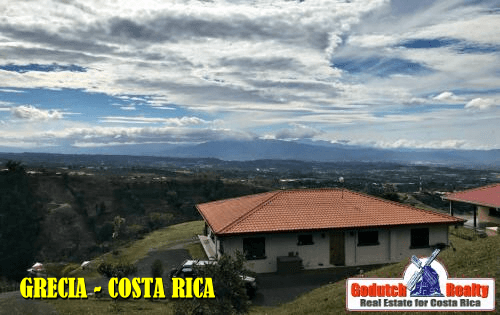 2. Atenas
Learn more about living in Atenas before you buy or rent. For a property with outstanding Central Valley views, stick to the following areas: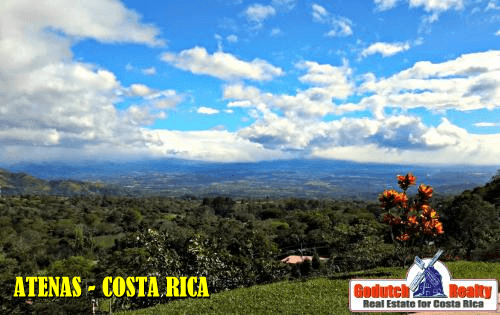 3. Santa Ana
Only the southern mountain range of Santa Ana, the Cerro Tapezco, offers outstanding Central Valley views. Living in Santa Ana is quite interesting and you will find central Valley views in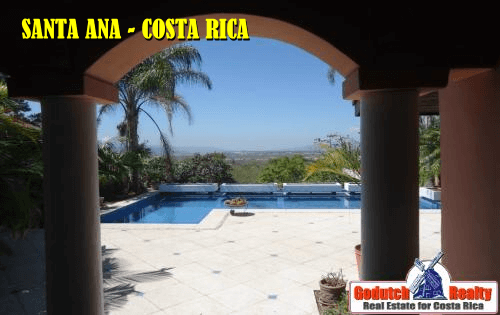 4. Escazu
If you want to live surrounded by restaurants, malls, a hospital, and other amenities, living in Escazú might be a great choice for you.
For Escazu property with outstanding Central Valley views, you have a choice of single-family homes on the Southern mountain range. You also have a great option for valley views in many of the condominium buildings in Escazu. Therefore, I recommend you ask the attending agent or check our inventory.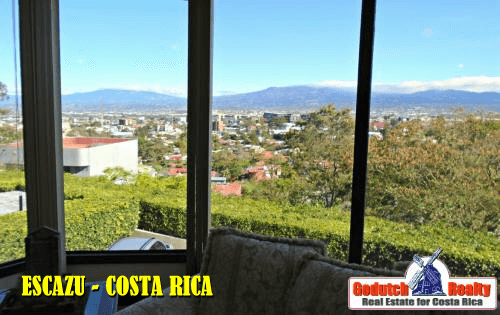 Be aware
Besides the location, there are other issues that can seriously damage a view. You want to be aware of the following:
Trees
Will you be in control of trimming the trees that are between your future home and the views? Trees grow and you'll be surprised how fast those can damage a view in Costa Rica.
Buildings
Maybe there are no buildings between your future home and this outstanding Central Valley view now. Can someone build in your view?
In case there is no zoning plan in the municipality where you are buying, the maximum height of a building is usually 3 stories. There are a few Central Valley areas that allow many more stories. Even if the property you are buying has construction all around it, it's not safe to assume a loss of view will not happen to you.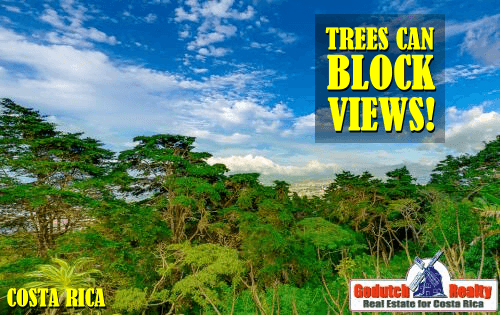 Landslides
To be able to get outstanding Central Valley views, you'll be in a mountainous area, unless you're buying in a vertical condominium. There are areas in the Central Valley that have landslides and might even be in a dangerous area or "zona de peligrosidad". More about that in other blogs.
My recommendation
No matter how beautiful everything looks to you at the time of purchase, do your homework.  Check out the neighborhood, get a good feel for the lay of the land. Request a zoning or "Uso de Suelo" for the property you're planning to purchase. That will also give you a good idea of what the neighbors will be allowed to do.
Do you need assistance in buying or renting a home with outstanding Central Valley views? Then contact the experts, we assist professionally.
---
If you like this blog, subscribe to my newsletter by clicking the banner below.

I DO want to remind our readers that we appreciate any referrals you can send us. Also, please remember the GoDutch Realty agents when you talk about your home in Costa Rica, we appreciate it.