Estimated Reading Time: 4 Minutes
A Country Bed & Breakfast in Town – Casas de las Tias is a perfect place for you to stay.
When you come to visit us in Costa Rica, no matter if you will be buying, renting Costa Rica real estate, or coming to spend your holidays, be sure to be a guest at La Casa de las Tias Boutique hotel in Escazu.
Even if you already live in Escazu, you will have guests and you do not have the space to have them stay with you, or you have other reasons to keep them out of your house, contact Pilar or Xavier phone +(506) 2289-5517.
You will be happy and love the special attention. Pilar, originally from Colombia, and Xavier, originally from New Mexico, as well as their small staff, are incredible hosts. And just last week, on January the 5th, it was their 20th anniversary and they are still going strong.
When I have new clients coming for property showings in Escazu, I usually ask them if they have already made hotel reservations. They might stay in the wrong places because they don't know. That is why I always recommend they stay at the Casa de las Tias Hotel in Escazu and stay out of San Jose. The first impression of your new home city is important to me, so you will have a good start.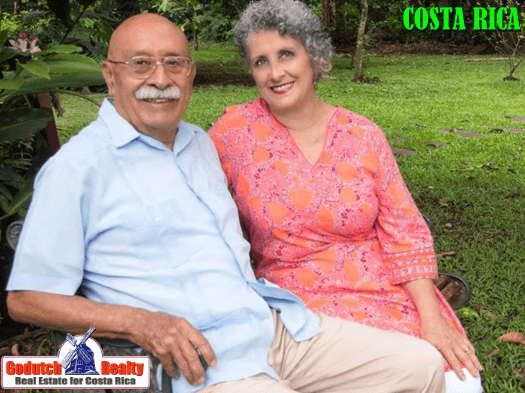 Why go to the city?
Why even run a chance of wasting a good client because the service in the hotel is terrible, right! Or have them stay in a horrible city like San Jose instead of a much nicer environment like Escazu?
I like my clients to be in a comfortable, affordable environment and central location. So when I am not around they can just walk to the stores and the restaurants. Now I am also being a bit selfish because picking up clients in San Jose and bringing them back is not only a waste of time. It means gas, sitting in traffic, having to put up with the honking, and most of the time during peak hours.
Adjusting to a new country is already difficult. If you get started in a city like San Jose, you might be up for a culture shock. I still remember my first day in San Jose. I asked myself, what the heck did I get myself into by moving to Costa Rica?
Staying in la Casa de las Tias will allow you to have a good look at what living in the Santa Ana and Escazu areas is all about.
Beautiful Victorian-style house
I have never had a client who did not like the attention at La Casa de las Tias. You will feel at home right away. Your stay in this sprawling Victorian-style house on over ½ an acre of beautifully landscaped lush gardens will be a treat. Their beautiful rooms are well decorated with original art from different Latin American countries. Each room has a private bathroom and a ceiling fan.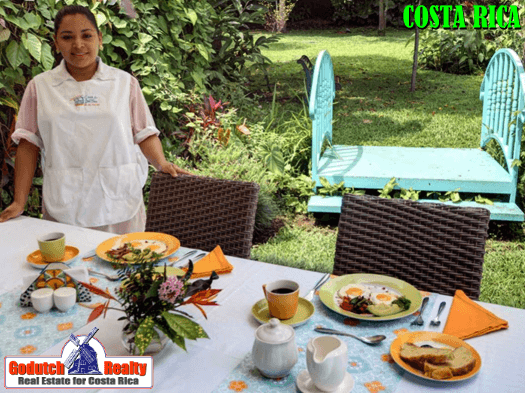 A Royal breakfast
Everybody loves breakfast at Casa de las Tias, it's made for royalty. If it rains, you will have breakfast in the dining room. But when it does not rain, you can enjoy their outstanding breakfast outside.
My clients can count on it that on the first day I will join you for breakfast.
Pilar and Xavier call it a Country Bed & Breakfast, or you can call it a Boutique hotel, a B & B, or a bed and breakfast. I personally think that the service and love provided by Pilar and Xavier are special and well worth recommending.
Looking to purchase property, then contact me now.