Estimated Reading Time: 6 Minutes
How did I end up having my neck adjusted by the best chiropractor in Costa Rica? It took me years to find Dr. James D. McLellan in Santa Ana.
Now I visit Dr. Jim (506) 2282-3998 / 8702 -0172 just for maintenance, once in a while. When I don't forget.
As a kid, I had a pretty bad car accident. Some stupid gene also gave me a long neck at birth. When I'd watch TV, for example, I'd have to watch it straight ahead. If the TV was located higher than my head or at an angle it would take me only 5 minutes to get a stiff neck. That stiff neck would turn into headaches and neck problems. I'd have the same problems using hotel pillows when traveling.
For years, I had been going to several different chiropractors in Costa Rica. Some would adjust one side of my neck and tell me to come back for the other side the next day. Others would tell me to lie down in a relaxed position for 30 minutes before I was attended to by the doctor. The adjustment would take 10 seconds and I'd get a nice bill.
Dr. Jim
Then, I think it was in 2005, I found Dr. James D. McLellan. We call him Dr. Jim. He changed my life. Why is that?
Dr. Jim doesn't only adjust your neck or back (or anything else that needs adjustment). He explains why you have a problem. His treatment room walls are full of charts. He uses those charts to explain what bad habits you have, how to get a better posture, and the exercises you can do.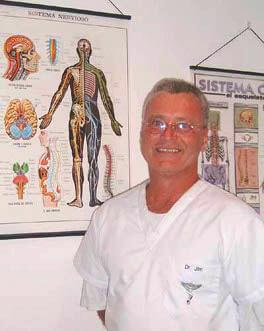 Meet Dr. Jim
That is what sets Dr. Jim apart from any other chiropractor in Costa Rica who has treated me in 40 years. He has shown me which exercises to do, so I don't have to visit him every week as I did for quite a while. Until I got it corrected. Now, I just forget to go, until I make a bad movement in the gym or use a hotel pillow.
What does a chiropractor do for you?
The difference between a conventional doctor and a chiropractor has nothing to do with the level of training. It is the method they choose to treat patients. A conventional doctor is trained in the use of medications (chemicals that affect inner biochemistry) and operations. So, if you have a problem of a chemical nature, such as an infection or diabetes, a conventional doctor can be of great help.
If your problem is a misaligned spine, a chemical medication cannot solve that problem. A chiropractor provides physical solutions – corrections (stretching) exercises and muscle therapy. Chiropractic manipulation helps to restore the body from physical problems, such as back pain, muscle cramps, headaches, and poor posture.
I am not always a fan of alternative medicine. But when I can get away with natural medicine so I don't need to take any chemicals, I will do so. I did an article on medicinal herbs in 2014.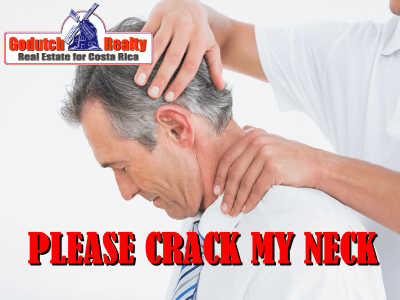 A computer
I'm one of those who spends 12 hours a day behind a computer or behind the steering wheel of a car. Of course, I never sit correctly and have a hunched position all the time. I sit like that all day and I sleep like that all night. So my spine gets a bit contracted.
Years ago, Dr. Jim told me to buy an adjustable pull-up bar in the door opening of my office and hang on it once in a while. It worked perfectly well. I had no more neck pains from sitting in the wrong body position behind my desk until I broke a finger a few years ago. Now, I am not able to hang from the pull-up bar as I did before, so I asked Andres to pose for the photo. But I do other exercises in the gym and my neck problems are gone.
Relax
In today's rat race, we don't know how to relax anymore. The chiropractor needs you to relax to make a neck adjustment. My wife Dany is one of those who are scared to death to have a chiropractor work on her body. I do feel totally comfortable with Dr. Jim adjusting my neck.  You should try it yourself. Call Dr. Jim, and you'll feel so much better.
Chiropractor's goals and principles
Chiropractors place an emphasis on the direct connection between the spine and the nervous system. The fundamental principles behind chiropractic care include:
The spine's structural and biomechanical derangement can have a direct effect on one's nervous system
In many types of illnesses or conditions, chiropractic care can actually repair the spine's structural integrity. It will lessen the pressure that may exist within the neurological tissue and therefore enhance an individual's health.
What can be treated?
You will be surprised by how many ailments can be treated with chiropractic care, in both children and adults:
Children
Asthma
Tonsillitis
Fever
Ear infections
Allergies
Growing pains
Immune System
Adults
Ankle pain
Arm and wrist pain
Carpal tunnel
Chest pain
Disc problems
Shoulder pain
Hip pain
Knee pain
Colitis
Gastritis
Hiatal hernia
High blood pressure
Liver Gall Bladder
Migraines
Headache
Anxiety
Effects of stress
Menstrual cramps
Constipation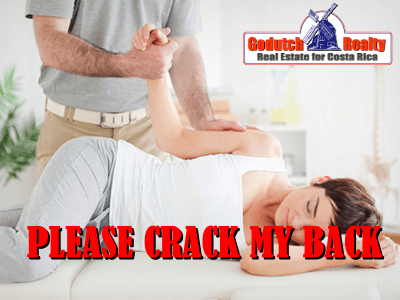 How to contact Dr. Jim
Dr. Jim is fully bilingual in English – Spanish, so you can recommend him also to your Tico friends and neighbors. He is accredited from Palmer College of Chiropractic in the U.S.A and the University of Costa Rica. You can contact Dr. James D. McLellan in Santa Ana by calling (506) 2282-3998 / 8702 -0172 during office hours.
The Sana Vida Quiropráctica address is Santa Ana Centro, de Musmanni, 400 mts Oeste y 50 Norte – casa con bandera amarilla. From Musmanni Bakery in downtown Santa Ana, 400 west and 50 north (look for the yellow flag). Phones: 2282-3998 / 8702 -0172.
---
If you like this blog, subscribe to my newsletter by clicking the banner below.

I DO want to remind our readers that we appreciate any referrals you can send us. Also, when talking about your home in Costa Rica, please remember the GoDutch Realty agents. We appreciate it.