Estimated Reading Time: 6 Minutes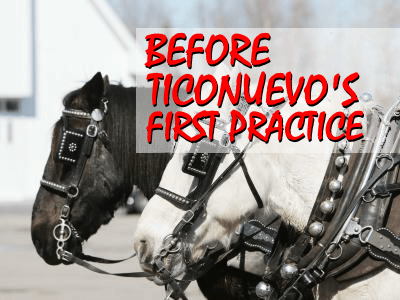 TicoNuevo starts practicing for his first tope, a whole new experience.
One more neighborly communication came through our shared caña India fence. I was reminded of my first horseback riding "lesson", I needed practicing for my first tope or horse parade. This was going to happen on the first Tuesday after Christmas.
"Be there at 11 AM," I was told. The first Tuesday after Christmas arrived, my first date for practicing for my tope. I made my way to the stable next door, arriving promptly at 11 for my first "lesson." I was given a refresher course in currying, hoof cleaning, and saddling horses.
The two biggest differences from the horse experience of my youth were that Costa Rican saddles have no horn. As a kid, I used the horn as the tenderfoot's grab bar when necessary. And, my neighbor's horses all performed the high-stepping show- and parade-style "Spanish Gate". This is a much more demanding riding style than the "Western Saddle" that I had learned.
My neighbor (a lawyer by trade with his office on the premises) ventured out to greet me. While I'm practicing for my first tope, he and his secretary are watching, with a video camera in hand. They were joined by two of my neighbor's brothers, plus the horse trainer, his assistant, and several ranch employees. In the stable, I was asked each of these questions at least once:
"Are you nervous?",
"how old are you?",
"how long has it been since you were on a horse?",
"after seeing their spirit, do you still want to ride?",
and "you're not frightened are you?"
All of these questions did little to bolster my confidence.
Bronco
There was only one exercise saddle and blanket and a pecking order for each of the five horses to turn in the exercise arena. Bronco, my horse, had his turn last. Now, Bronco is twenty, the father of two of the other horses on the team and grandfather of another.
Bronco is also the only gelding. To avoid offending the ladies, "gelding" is to horses what "neutering" is to dogs. Fortunately for me and for any hope of my success, Bronco was the "most subdued" and most experienced horse on the team.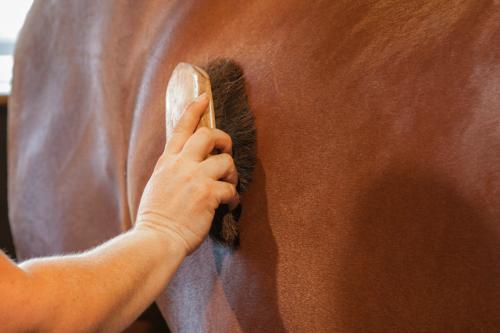 Stable duties
I finished my first day of practicing with stable duties. Then I went to observe the trainer, Lorenzo, in the nearby arena take each of the horses through their paces. All of the horses are beautiful, spirited animals and well-schooled in their exercise routine. It was pretty intimidating for me to see them perform their fairly intricate steps with gusto. Finally, it was my turn to saddle up Bronco, and we headed for the arena.
That first morning of practicing was nothing approaching private instruction. I was followed by all of the persons mentioned previously. I learned later that even my wife was watching between the leaves of our living fence. There's nothing more comforting to an old guy mounted on a horse for the first time in fifty years than an audience and a camera. I realized with the large assemblage of observers and video camera, that this was actually my audition for a spot on the team.
I didn't fall off
Well, I drew on my most-recent horseback riding memories, old John Wayne movies, and did my best impression aboard Bronco. After a couple of "that's not how we do it here" and a brief re-education on riding without a saddle horn in the team's Spanish Gate style, I proceeded to complete my turn in the arena on Bronco; finishing my ride in what I would describe as a resounding success: I didn't fall off and I was ready for my first horse parade.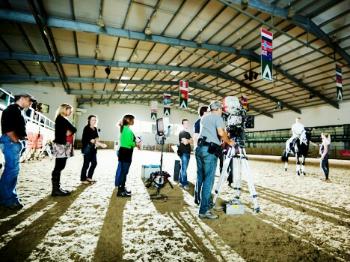 Passing grade
My audition must have received a provisional passing grade. Because I was asked to return three times a week; every Tuesday, Thursday, and Saturday until the week of the tope for more stable duties and riding practice.
On Thursday I arrived for my second "lesson." I headed to the arena as Lorenzo was already in the middle of taking the other horses through their training and exercise routines.  I tried to watch him closely as the commands given to a horse are mostly subtle pressures and movements with the legs and the reins.
I returned to the stable and removed Bronco from his stall to begin the grooming process. Lorenzo looked over my shoulder during my horse grooming and saddling routine and sent me up to the arena alone. I had been practicing on my own for half an hour when Lorenzo signaled from the stable for me to stop and return to the stable.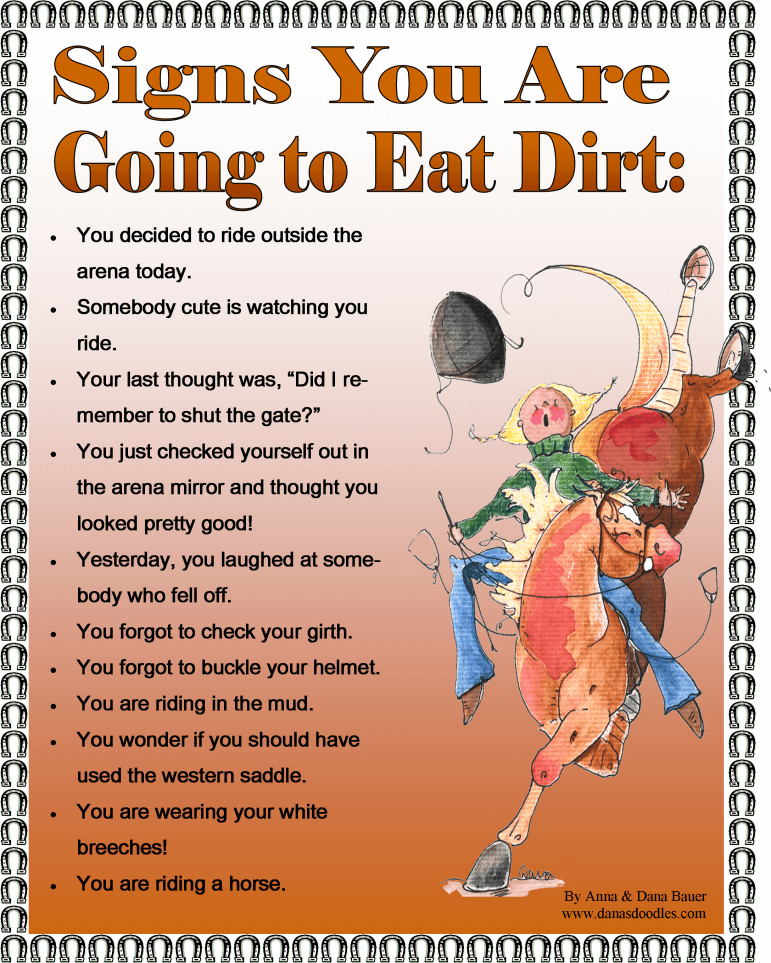 After my ride, I did what would become part of my riding routine: removed saddle and bridle and hosed and squeegeed Bronco before returning him to his stall. Giving a horse a bath is a bit like washing and drying your car except for a few relevant points: you start at the bottom and work up (in order not to cool them down too fast); instead of tires at rest you need to watch out for hoofs that can be anything but stationary; and unlike cars, horses have private parts that also need to be cleaned.
In my next blog, my training continued and the day of the tope arrives. I'll give you the perspective from my vantage point in a saddle.
The Author
The author of this blog, Ticonuevo, is a US expat who moved to Costa Rica and used the services of GoDutch Realty to purchase a property in Costa Rica. In his blogs, Ticonuevo describes his own experiences of taking the step of moving to Costa Rica and getting a new life started.
---
If you like this blog, subscribe to my newsletter by clicking the banner below.

I DO want to remind our readers that we appreciate any referrals you can send us. Also, remember GoDutch Realty when talking about your home in Costa Rica to friends and family. We appreciate it.