Estimated Reading Time: 6 Minutes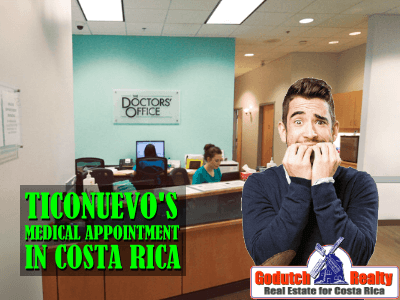 I couldn't connect with a recommended English-speaking specialist for a medical appointment.  You'll see, I've learned to have patience.
I was having a troubling medical situation. So now my Plan B is to attempt to see a GP in the town next to mine.
I called and the receptionist connected me with an English-speaking associate GP. He told me to come right over.
When I got there, he ushered me into his office right away. We had a brief discussion about my condition. I thought he would, at least, perform a lab test or two. I had read that would be a necessary part of arriving at a diagnosis of my condition.
Surprise
The doctor refused to treat me (or charge me for that matter).  He said I should go to a specialist right away and recommended one about a kilometer from his office.
When I got to the specialist's office just before noon, they were closed. The sign on the window said their hours were 2 PM – 6 PM. I wrote down the office phone and drove back home to have some lunch.  At 2:00 PM I called for an appointment. The phone number painted on the office window had been disconnected.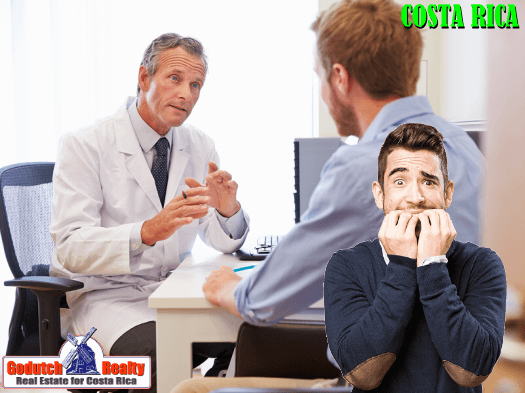 Back to the Doctor
So at 2:15, I hopped in the car for a drive back to, hopefully, see the doctor. When I arrived, the office door was open. I went in only to be told by the receptionist that the doctor would not be in today. My Spanish wasn't good enough to determine whether this doctor would be in at all that week. Be aware that some things move more slowly here.
Before leaving, I grabbed one of the doctor's business cards, just in case. Now I noted that the only number listed on his card was the disconnected number.
Plan A again
Okay, so now I'm back to Plan A. That means another attempt to connect with the specialist at CIMA hospital for a medical appointment. I called his office number. The receptionist said he would be back in the office at 4 PM.
At 4:10, I called again only to be told that the doctor wouldn't be in until tomorrow morning.
Trying to get an Appointment
I had the commitment to drop my wife at the bus depot for a trip with friends into San Jose that next morning. So I  sent the doctor another email informing him that I would be in his office that next morning at 9:30. Later that evening the doctor replied to my email telling me he couldn't see me at 9:30. I needed to call his office and make a medical appointment for the morning of the following day.
At this point, I'm getting a little dizzy from all of the dead ends and 180 degree turns.  Nonetheless, I called the doctor's office on Tuesday and made an appointment for Wednesday at 9:00.
With my Tuesday freed up, I decided to join my wife and friends on the bus to San Jose for a little culture. While on the bus, I received a call from the doctor's office. The receptionist told me to reschedule my medical appointment from 9 to 10. Sure, why not. Pura Vida.
Medical Appointment
Wednesday morning 10:00 AM arrives and I'm at the doctor's office at CIMA, Escazu. My 10:00 medical appointment starts at 10:40, which is not so different from the States.
The doctor is nice, and the exam a little uncomfortable due to the territory explored. The doctor prescribes two lab tests. One prescription in case the symptoms return, and one ultrasound. This can be performed in the CIMA radiology department.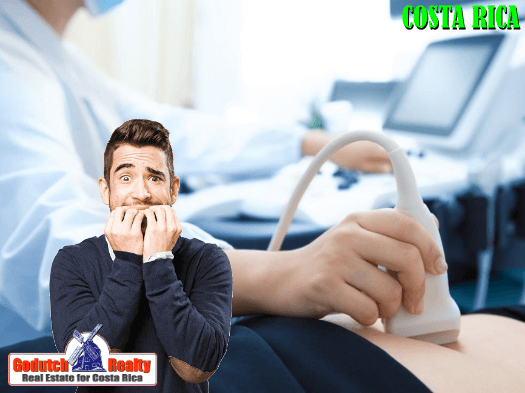 The Ultrasound
We head to the radiology lab and we can get an exam scheduled for 12:30 the same afternoon. There is just enough time to race to PriceSmart for a couple of slices of combo pizza and two diet colas.
Oh, by the way, the ultrasound exam also requires a small pre-exam procedure ten minutes prior. My mother was an ultrasound tech in her career, so I'm more than a little familiar with the routine. The self-performed pre-exam procedure was a bit of a surprise. It's something that would probably be carried out by a nurse or lab tech in the U.S.
However trooper that I am, I self-performed away knowing that it would help determine the cause of my medical issue.
I was then ushered into the exam room, disrobed, and put on a gown.
Then came another surprise: the ultrasound exam by Costa Rican law is performed by a doctor. My mom would not have had her 45-year career in Costa Rica.
This doctor was also nice, reasonably gentle and when she finished probing and poking said everything looked normal.
The Lab
All that was left was the trip home and finding a lab in town to perform the other lab tests. It turns out that draw blood in this country also has to be done by a doctor. The receptionist at our local lab said she was sorry, but the doctor would not be available with the holiday coming. The next day was Juan Santamaria Day, celebrating the hero of Costa Rican liberty.
I immediately remembered the doctor and the lab from my Plan B in our neighboring community. So I  called to make certain they would be able to do the work before the holiday. They could, and I made the drive to have the lab work done.
Summary
In summary, the cost so far without including gas and a return visit to my specialist at CIMA is a bit over $300. My guess is the cost is far less than half of the cost of similar services in the States. Even including the exam and procedure that were done at the more-expensive private CIMA facilities.
And another plus—everyone involved in performing my exams, procedures, and lab work was a doctor. Of course, with the exception of my self-performed, pre-exam procedure.
I have found that medicine is practiced at a highly professional level here. But is not without some of the same kinds of delays and frustrations you would encounter in the States.
The Author
The author of this blog, Ticonuevo, is a US expat who moved to Costa Rica. He and his wife used the services of GoDutch Realty to purchase a property in Costa Rica. In his blogs, Ticonuevo describes his own experiences of taking the step of moving to Costa Rica and getting a new life started.
---
If you like this blog, subscribe to my newsletter by clicking the banner below.

I DO want to remind our readers that we appreciate any referrals you can send us. Also, please remember the GoDutch Realty agents when you talk about your home in Costa Rica, we appreciate it.