Estimated Reading Time: 6 Minutes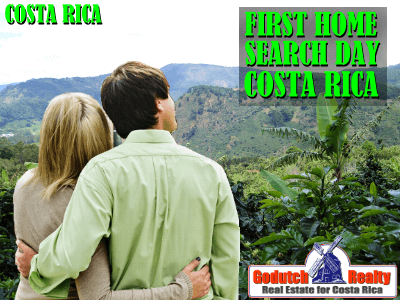 This was the first day of our home search as "potential Costa Rican homebuyers."
We loaded up with GoDutch realtor, Isabelle Jones, and headed out to meet the other GoDutch realtor, Brooke Bishop.
The plan was to start our home search with three homes that Brooke had arranged to view in the Grecia area.
We traversed over some very rough unpaved or should I say "once-paved-a-very-long-time-ago road". This was necessary to see a residence located within a resort.
It was a bit unique being a private residence in a resort. But the upside was that it came with access to many of the resort's amenities including clubhouse and pool. Our goal of running a small B & B still a high priority. The downside of this property was that it was fairly short on line items contained on our list of "must-haves". This included the most important, being able to accommodate more than one couple at a time.
Home #2
To reach the second option on our home search, we had to go over some fairly rough unpaved road again. This time it came with assurances that the road would soon be paved. It was a lovely older home in a quiet Tico neighborhood. It was well-maintained, but with an awkward layout for a B&B and it, too, ticked off very few of our "must-haves."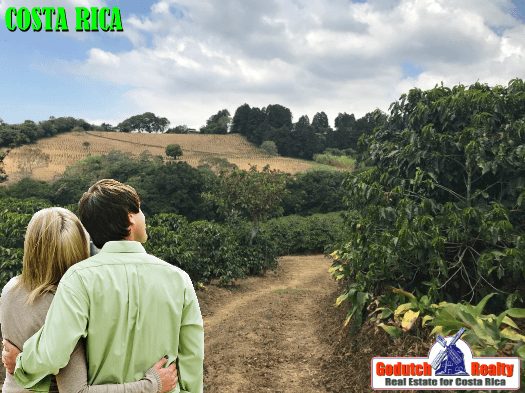 Home #3
The third option on our home search was on a paved road. Nonetheless, this one was not much better than either of the first two unpaved approaches. This was definitely our day for bumpy rides.
The third home was perhaps provided as a "toss in", to make certain we had three viewings lined up that first home search day.
The place had been on the market for over two years (always a red flag in the States). The home had some very visible blemishes and visibly required many repairs and upgrades. It truly looked as if it hadn't been occupied much since it was built in 2008. This, we later discovered was a fact.
However, the place ticked off several of our "must-haves" and had the potential to eventually tick off most of the rest. This home required an incredible amount of work. Just to bring it up to minimum standards was probably the reason it hadn't sold in two years.
The Results
We returned to our rented house. Then we began to mull over the results of the first day of our home search. we needed to find a solution for our permanent Costa Rican residence. Our timing with our rental home not renewing and a low suitable inventory did put more than a bit of pressure on us.
The spotty results also put on the pressure to get more serious about a home purchase more quickly than we had planned.
Our dilemma after our first home search tour of available homes for sale in our chosen area and price range was not positive. We had seen two homes not fitting our taste or needs.  The third one was in need of a great deal of creativity and elbow grease to become our "dream home".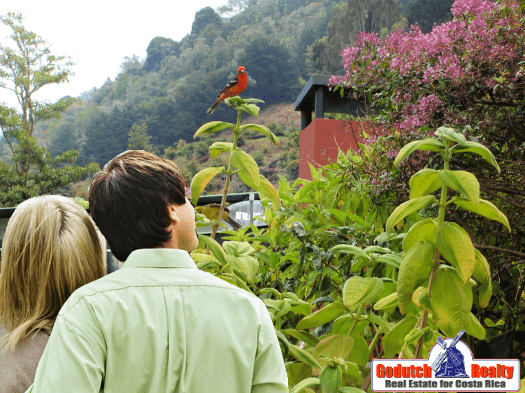 Sleep on it
True to our form, we sat down to discuss our feelings about what we had just seen and to lay out our options.
Usually, we are very much in synch about our likes and dislikes. We totally agreed to eliminate the first two homes from our list.
However, I was initially much more upbeat about the potential of "House Number 3" than my wife. I know the amount of work required. The uncertainties about potential structural issues made it difficult for her to visualize this house as a dream home.
We were pretty far apart on our opinions about House Number 3. So we decided to sleep on the results of our first home search day and talk about it the following morning.
Analyzing #3
The next day, I sat down and got very analytical about listing House Number 3's pros and cons.
Location & Altitude
Its location and altitude provided a near-perfect year-round climate for our tastes.
Property Size
The amount of land (an acre) and its privacy and security in a very small development were very big pluses for us.
Remodel
Our requirements were big negatives when purchasing a move-in-ready home. The fact that it didn't have a guesthouse, patio or as much square footage as we wanted.
However, if my wife could handle a last remodel, I was up for it if that would net us the "house of our dreams."
The location
There were our bullet points about the location:
This house was located in an area not rife with gringos. Nor was it filled with stores and businesses catering to North Americans.
It was not very near major routes
Nor was it in close proximity to many popular tourist attractions.
The property was almost five kilometers from downtown.
The approach to the property was up a steep bumpy road.
Access was through a couple of admittedly "socio-economically mixed" neighborhoods.
There were plenty of taxis available, but no bus routes pass by the property. This was a possible negative for visitors not equipped with their own transportation.
The fact that it was a bit off the beaten path and its distance from town could be viewed as positives or as negatives.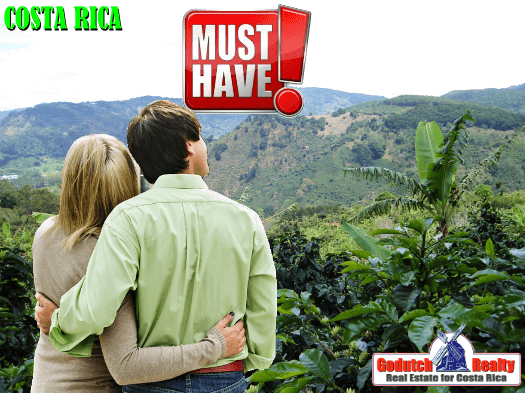 Great Potential
However, the property provided some ideal potential sites for a casita and a sizeable patio.
The property would afford some excellent views of the Central Valley and neighboring coffee plantations, once we removed a few large, but unnecessary trees.
Even before we first set foot on this property, our agents had told us that there were some major cracks in the walls both inside and out. This factor created the possibility of potential major structural problems. This threw up more red flags for both my wife and me.
The Author
The author of this blog, Ticonuevo, is a US expat who moved to Costa Rica. He and his wife used the services of GoDutch Realty to purchase a property in Costa Rica. In his blogs, Ticonuevo describes his own experiences of taking the step of moving to Costa Rica and getting a new life started.
---
If you like this blog, subscribe to my newsletter by clicking the banner below.

I DO want to remind our readers that we appreciate any referrals you can send us. Also, please remember the GoDutch Realty agents when you talk about your home in Costa Rica, we appreciate it.