Estimated Reading Time: 6 Minutes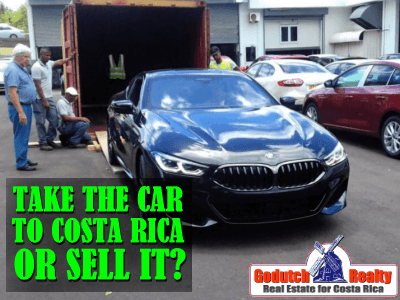 Everyone who moves to Costa Rica asks if they should take the car with them to Costa Rica or sell it. So how to plan to get your possessions moved to Costa Rica?
First, you need to focus on moving yourself and your loved ones south. But what about and figure out how you'll get around once you are in the country?
There are two schools of thought on this. I, frankly, no longer have a strong opinion. First, you can sell all of your cars but one. Then you can take the car to Costa Rica that you most like and ship it in your household container.
Here's the part where I have to tell you to forget about driving here from home. The roads are terrible in many places. The dangers to you and your loved ones on the journey down are not worth the benefit.
Getting here on the ground requires traversing some pretty nasty territory. And you'll still have to pay the duty on the car upon entry. So forget about it as an option. In my opinion, there is no upside unless you're in for an adventure.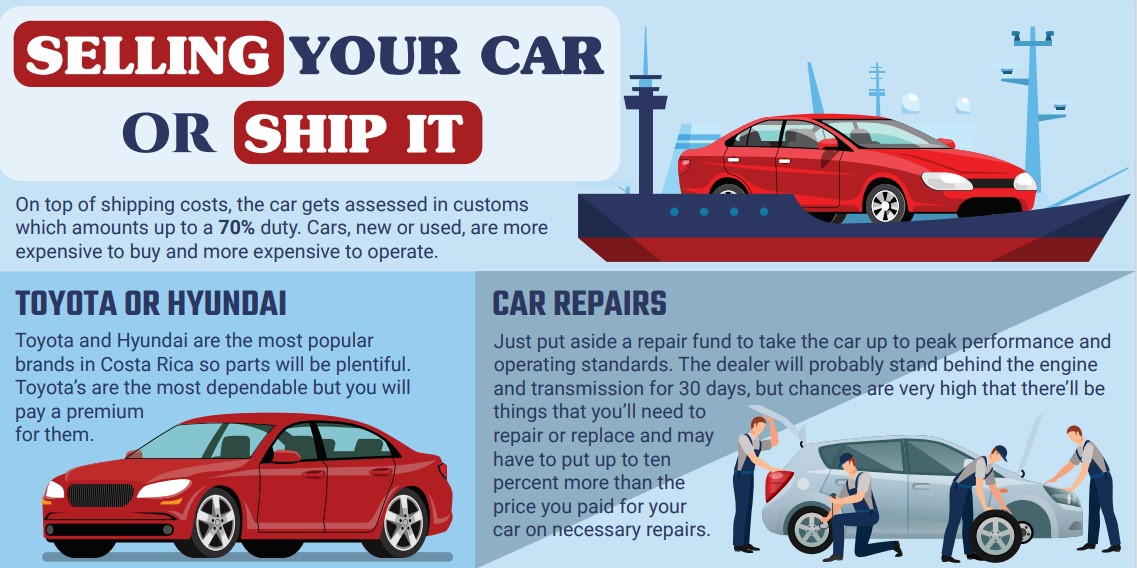 Selling your car or shipping it.
Selling your car(s) and not bringing them to Costa Rica will give you some cash to buy something used when you arrive in Costa Rica. But, first, when you ship the car to Costa Rica, you'll have to pay the shipping costs. Then, on top of that, the car gets assessed in customs which amounts to a 70% duty.
The upside of bringing a car to Costa Rica is that you'll be driving a familiar, dependable, and trustworthy vehicle. But, on the other hand, buying a new or even a used car here is expensive compared to what it would cost in the States. So, it's your call. Either way has its pluses and minuses.
Note that operating a car here is expensive compared to North America. Cars, new or used, are more costly to buy and more costly to operate. Labor is cheap, but good quality parts cost just as much or more than they do back home, and regular gas in Costa Rica is around $5.00 per gallon.
On top of this, the climate is brutal on cars. And there is also a rumor that Costa Rica does not get its share of first-quality replacement parts.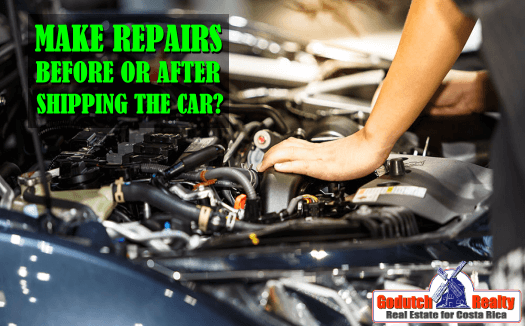 Toyota or Hyundai
There are lots of new and used cars to choose from. Toyotas are dependable but very popular, and you'll pay a bit of a premium for them. On the other hand, there are probably as many Hyundai vehicles here as any other single brand. So, parts for Hyundais are generally plentiful, it's a quality brand, and you'll pay no premium.
I have a theory on used cars that enter here from other countries. They wouldn't leave from the auction block for Costa Rican shores unless they have some significant, hard to diagnose or hard-to-repair difficulty. There are services here to help you sort through a maze of used car dealerships that lead you to the most reputable, but Costa Rica is a "buyer-beware economy." So my advice is if you buy a used car in Costa Rica with or without the help of a buying service, don't be frightened away from buying used.
Car repairs
There are some real automotive repair geniuses here. Just put aside a repair fund to take the car up to peak performance and operating standards. The dealer will probably stand behind the engine and transmission for 30 days. But chances are very high that there'll be things that you'll need to repair or replace and may have to put up to ten percent more than the price you paid for your car on necessary repairs. And if you go into your purchase with that attitude, you won't be upset to spend the additional cash.
Also, note that it's likely you won't be bringing in enough money in cash to purchase your vehicle outright. This is one of the instances where you have to use remote wire transfer capabilities.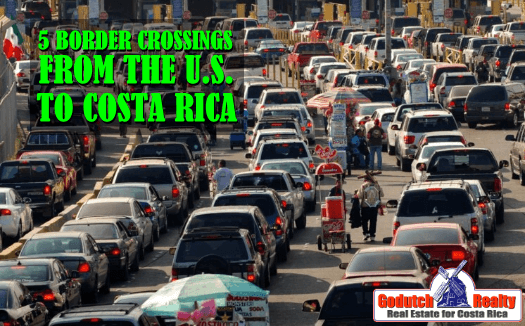 Here's something to remember. If you decide not to take your car to Costa Rica and sell it before you leave home, chances are you'll need to rent a car until your flight leaves for Costa Rica. So make a budget for it and plan on the necessity. Also, arrange to rent a car in Costa Rica when you arrive until your container arrives. Or you find a car to buy and budget for this, too.
Air transportation
You're all adults, and I'm not going to advise on how to book a flight. However, you have to face the strange fact of living in a foreign country: you will always be one half of a roundtrip ahead or behind, depending on your perspective. Here's the deal, U.S. airlines won't let you depart from a U.S. airport without proof of a ticket for a return flight within 90 days unless you're already a Costa Rican resident.
So, if you come here to live, you'll always have half a roundtrip return ticket to deal with. Of course, you can change your airline ticket to a later date. But when you return for a visit, or whatever reason, you'll also have to have another roundtrip ticket and use the first half to get back home to Costa Rica. And so, the cycle never ends, until you receive your residency cedula card.
Now you have all the necessary information you need to decide: take the car to Costa Rica or sell it.
The Author
The author of this blog, Ticonuevo, is a U.S. expat who moved to Costa Rica. He and his wife used the services of GoDutch Realty to purchase a property in Costa Rica. In his blogs, Ticonuevo describes his own experiences of taking the step of moving to Costa Rica and getting a new life started.