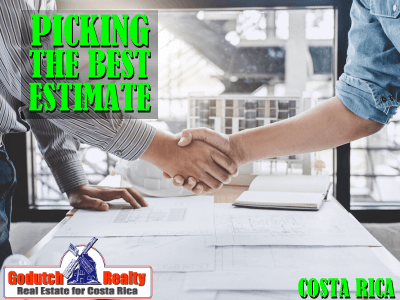 We have to pick the best contractor estimate. Selecting the contractor with the best quotation is never an easy task. But for us, it was a very simple process of selection by default.
I was always dubious regarding Builder #1's enthusiasm to quote for a second time despite his agreement to do so. So, I wasn't totally surprised or overly disappointed when none of our calls were returned.
Builder #2 made several promises to get us his contractor quotation, but it never materialized.
Now, we were down to Builder #3 from out of the area. Thank goodness he followed through and presented us with his contractor estimate. Perhaps, one positive came out of our attempt to get three competitive quotes. All three builders knew that it was a competitive bid situation. So, it may have influenced the pricing of the one quote we did receive.
However, I never did get a sense that Builder #3 was anything but fair. I was confident that we didn't get "gringoed".
In fact, Builder #3 matched almost exactly the contractor estimate I had penciled out. It was in the ballpark of where I thought Builder #1's original quote should have been. We had a large number of projects thrown into the mix. Considering that the estimate was near the top end of our budget, it seemed reasonable.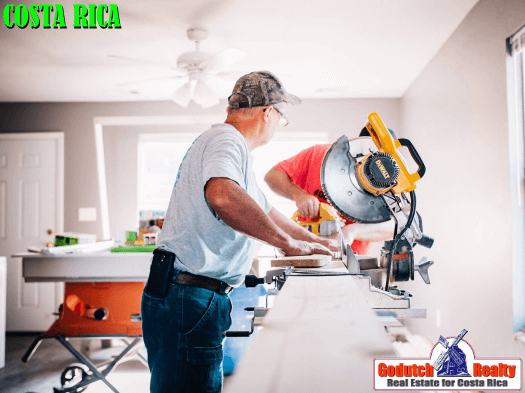 Changes
A few details in the contractor estimate line items needed to be addressed, adjusted, clarified, or eliminated to stay within budget. There were a couple of things that needed to be scaled back. I could save some expense on a couple by doing all or part of myself.  We would put off a few others until we saw whether we had enough money left to tackle them.
My wife and I had been down the renovation road previously. No matter how hard you try to stay within budget, things get added, upgraded, or changed. It always costs more than you've planned. So, I also made a 10% cost overrun reserve.
Contract
We were guided by Howard Jones to get every detail noted in writing. We asked our lawyer to draw up a formal contract in Spanish with a detailed description of each project and contractor estimate.
Our contract also defined how and when to pay our contractor:
40% at the commencement of each project
40% at the completion of each project.
20% would be held back and paid only when each project was completed to satisfaction.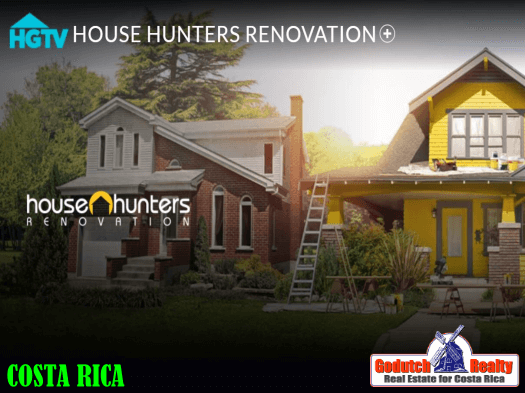 Lights, camera, action
Let me take a moment for a brief detour here. The producers of House Hunters International approached us right in the middle of finalizing the home improvement contractor estimate and schedule. They wanted us to be part of the inaugural season of House Hunters International Renovations. They were interested in foreign ex-pat home buyers to tackle major renovations for their TV programs.
Not to give anything away, but as a legal necessity, their TV format requires that candidates already own the home chosen and featured. Proof of ownership is required.
Sorry to burst your bubble, but the house selection process is staged. We qualified on all counts as prime candidates to be featured on an episode.
Red Tape
And so for about eight days, we were completely immersed in
Auditions
Legal releases
Filling out questionnaires and forms
Sending them photos of Costa Rica
Photos of our new house;
and discussing over the phone such things as our vision and our color palette.
Being featured on an episode sounded like fun. But the audition and interview process prior to being selected certainly was not. It was intensive and stressful and came at an already stressful time for us.
Deadline
Our contractor had to start the demolition portion of our project on a Monday date. We were certain we would lose him to another project if we would delay. That was a frightening prospect. Therefore, these major renovations required an immediate response and we had no one lined up to do the work.
So, we gave the HHI Renovations folks a deadline for that Monday. The opportunity fell through on the Friday afternoon before our deadline. HGTV execs couldn't get their pitch seen and approved by the producers. Or even get a cameraman to Costa Rica to start filming the "before" scenes.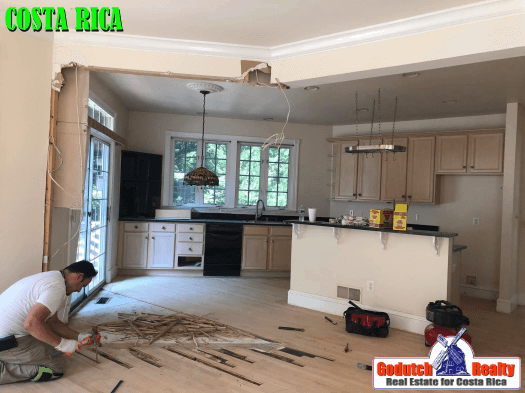 Work began
Upon reflection, it's probably for the best. A TV production crew's schedule would have impacted adversely our construction experience would have been impacted adversely. There would have been an inevitable intrusion on the construction workflow.
The contract got signed, a check for 40% of a series of initial projects was handed to our contractor. Work began, not on Monday, but on Tuesday (which is just about like being on time here).
The Author
The author of this blog, Ticonuevo, is a US expat who moved to Costa Rica. He and his wife used the services of GoDutch Realty to purchase a property in Costa Rica. In his blogs, Ticonuevo describes his own experiences of taking the step of moving to Costa Rica and getting a new life started.
---
If you like this blog, subscribe to my newsletter by clicking the banner below.

I DO want to remind our readers that we appreciate any referrals you can send us. Also, please remember the GoDutch Realty agents when you talk about your home in Costa Rica, we appreciate it.