Estimated Reading Time: 4 Minutes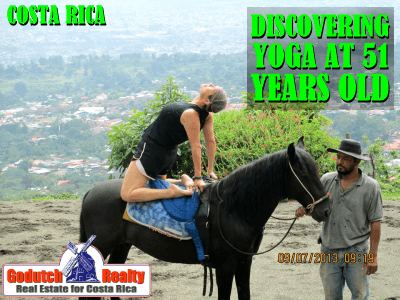 I found yoga when I turned 51 and I'd like to tell you a bit about it.
I am a fan of Ivo's blog and especially enjoyed the recent submission, some suggestions on what to do with your free time in Costa Rica by guest blogger, TicoNuevo.
Humbly, I would like to add to his many valuable recommendations and suggest using this extra free time to find, develop, and enhance a healthy lifestyle.
When I came to Costa Rica as a pensionado with 3 young children to raise 22 years ago, I did not speak a word of Spanish.  I actually did do pretty much all the actions suggested in TicoNuevo's blog.  I joined a Spanish-speaking group to learn the language, I volunteered my time with PANI, I volunteered in the school my children attended, and I joined a couple of women's groups that met weekly.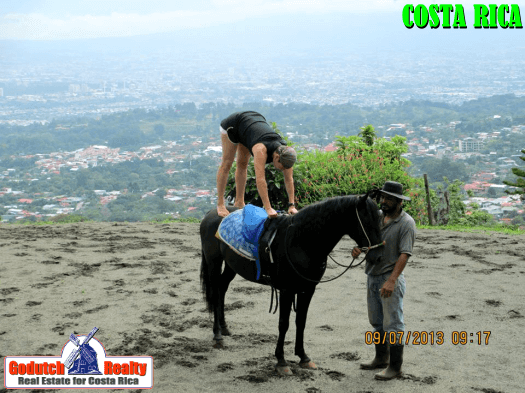 Most importantly I used some of my spare time to learn about and commit to a lifestyle change that focused on physical and emotional health.  Over the last 22 years, I have changed the type of exercise I do. But I have not wavered in my commitment to be as healthy as I can be in body and spirit.
Yoga
When I was 51 years old I found Yoga.  Up till then, I was a gym rat. You know those people who spend hours on the cardio machines, lift weights with a type of manic focus.  Ok, I admit I wasn't quite that obsessed, I rode horses and swam a lot too.
But, once I found Yoga I have not stepped in a gym or lifted a weight since.  And, I am so much healthier and happier for it.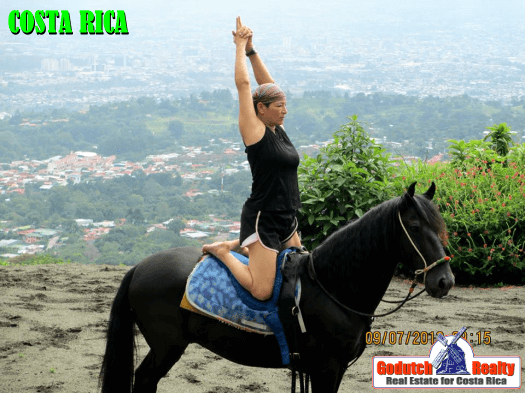 Yoga Instruction
Yoga is a philosophy and a practice; the two are inseparable and that is the beauty of having a yoga practice in your life.  As a yoga instructor myself I like to recommend 2 useful directory sites for yoga instructors and studios; Feel free to check YogaTrail and YogaFinder.
If you click on these sites and go to Costa Rica you will find listings, by city and region, for teachers and studios and even workshops and retreats, in Costa Rica.  Most gyms also offer yoga classes as part of the monthly fee. To stay up to date with my Yoga news, check out my Facebook page and let me know if you have any questions.
And if you have any time left over, check out my book Yoga Horse Connection: An Eight Path Guide To A More Meaningful Life on Amazon.
Author
Corinne Aulakh is certified through the Yoga Alliance as an E-500-RYT with Yoga Alliance, and as a yoga therapist with the International Association of Yoga Therapists.
She has studied at the Let It Go School in Santa Barbara, California and at the Asana Andiappan College of Yoga and Research Centre in Chennai, India, and at the Association for yoga and meditation in Rishikesh.
---
If you like this blog, subscribe to my newsletter by clicking the banner below.

I DO want to remind our readers that we appreciate any referrals you can send us. Also, remember GoDutch Realty when talking about your home in Costa Rica to friends and family. We appreciate it.