Estimated Driving Time: 6 Minutes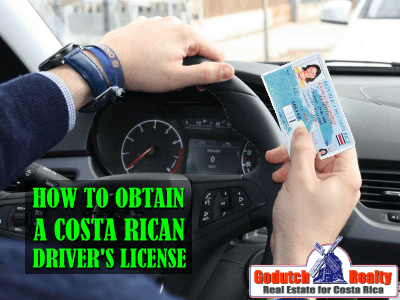 Did you know that you need a Costa Rican drivers license when you have been in the country for more than 3 months?
Nearly all obstacles to our residency in Costa Rica are in the rear-view mirror except for the matter of getting our Costa Rican drivers license. If you have a current/valid driver's license from your home state or province, this should be one of the easiest items to tick off your list, but Costa Rica's bureaucracy has one more little gotcha' in store.
It's probably another case of the left hand not knowing what the right is doing. The latest policy in effect at COSEVI, Costa Rica's department of motor vehicles, states that a Costa Rican drivers license cannot be issued until one has their Cedula de Residencia / DIMEX residency card and their 90-day entry visa has expired.
There is no logical reason, I can see, behind making you wait until, at least, the91st day before allowing you to obtain your license.
For first-time driver's license applicants, your initial Costa Rican driver's license must be obtained at COSEVI headquarters in the La Uruca district of San Jose. This is about three kilometers from the Migración offices and a reasonably long drive from many gringo bastions of habitation.
How to get there
If you follow the policy, then you will have to do one of three things:
1) Drive to the main COSEVI office on an expired driver's license (which also means driving with invalid automobile insurance because your visa validates your current home-country driver's license in Costa Rica and auto insurance);
2) Inconvenience a friend and have them drive you there; or
3) Take a cab or a bus to COSEVI and back from your residence.
This is a silly policy that ought to change, but "them's the rules," currently at least.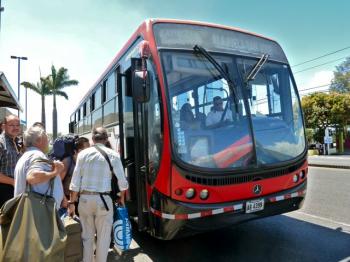 Those are your three choices if you decide to stick to the stated COSEVI policy. As an alternative, you can do what we did: take a chance and attempt to get licensed before your foreign driver's license expires.
In my experience, rules were meant to be broken and there's always an exception to the rule. We've heard of folks trying this ploy and being turned away at the door, but recently we read a Facebook entry about an acquaintance that ran the gauntlet and left with her Costa Rican drivers license. There is no guarantee of success, but we had the spare time and gave it a try. We figured the worst they could do was say, "no." No matter when you go (before or after the 90th day), there are some things you'll need to do to prepare.
Physical
First, a "physical" is required. This can be done at any physician's office. There are also physicians near COSEVI's HQ that will do it before you go in for your driver's license. The physical consists of making certain you are alive. They do this by checking your heartbeat and blood pressure and measuring your height and weight.
The physician asks a few other questions including about your blood type if you know it. Then they perform a simple eye chart exam. The cost varies but runs around 15- to 20-mil Colones per person (In 2014). The results are sent immediately into COSEVI's database and you'll be given a number after the exam that is used during the licensing process to view the results. (Important: you'll need to take this number with you to COSEVI).
Copies
Second, you'll need to make copies in duplicate (sometimes three copies may be requested—so, take three sets just to be safe) of:
1) The photo/info pages and current visa stamp page of your passport;
2) Front and back of your cedula de residencia;
3). Also, take your original documents with you as we discovered we needed them. (Note: if you have a separate renewal addendum card such as California sometimes issues to folks with expired driver's licenses living out of the country who can't get back to renew at a California DMV office; sorry, it won't be accepted at COSEVI and you'll need to go to the Embassy to have it apostilled before applying in La Uruca.)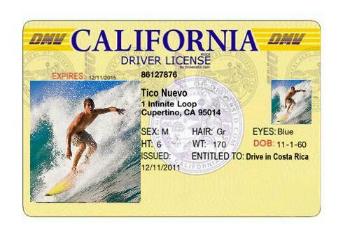 More advice
We did all of this and headed to COSEVI to try for our Costa Rican drivers licenses. We got a bit of valuable advice: go early when the lines are shortest and the processing time is shortest. I also believe that the clerks are in a better and more helpful frame of mind early in the day. The doors open M-F at 8:00 AM. Driver's licenses are issued from a building at the very rear of the COSEVI complex, so follow the signs and keep walking.
Here's where we got lucky. When we got to the licensing building, we were directed to a clerk who spoke some English. She also must have sympathized with the silly 91-day rule. She made copies of our previous 90-day visa entry stamp on her own copier. Then she substituted these copies for the ones we had supplied that were only about 60 days old. With this revised paperwork in hand, she led us upstairs.
There, a very official-looking gentleman looked up our physical reports in the database. He checked our paperwork closely, hesitated, and then affixed his signature and stamp to all copies. Immediately, he gave back one set of stamped copies and sent us back downstairs.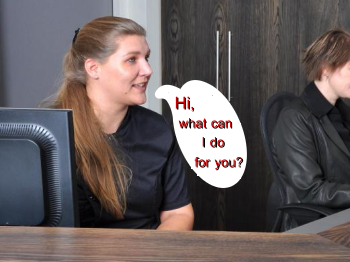 The bank
The next young gentleman checked everything again. He then sent us to the Banco Nacional next door to pay the 4-mil Colones licensing fee. We returned with our paid driver's license receipt to the same young man for a photo, fingerprint, and signature. We signed another log and with a whir, spit and a ca-chunk out popped our very own Costa Rican drivers licenses.
Total elapsed time for the two of us to get licensed: about 95 minutes. Good luck.
The Author
The author of this blog, Ticonuevo, is a US expat. He and his wife moved to Costa Rica and used the services of GoDutch Realty to purchase a property in Costa Rica. In his blogs, Ticonuevo describes his own experiences of getting a new life started in Costa Rica.
---
If you like this blog, subscribe to my newsletter by clicking the banner below.

I DO want to remind our readers that we appreciate any referrals you can send us. Also, please remember the GoDutch Realty agents when you talk about your home in Costa Rica, we appreciate it.