Estimated Reading Time: 6 Minutes
Inexpensive things are important if you want to keep your cost of living at an acceptable level. Here we go.
I've been spending a lot of time and ink in the last four blogs talking about and giving advice on expensive or hard-to-find articles in Costa Rica.  Therefore, I also want to orient you a bit on inexpensive things that you might need to make life easy.
Available housing suitable for gringo tastes in Costa Rica may not be abundant. Nonetheless, housing and buildable lot prices are quite affordable when compared to properties in North America. Building lots are plentiful.
If you are comfy with Tico housing or are willing to upgrade to gringo standards, they are plentiful.
Labor Cost
The primary reason that housing in Costa Rica is comparably inexpensive leads into my next affordable commodity—labor. All types of construction, repair, and service labor are, perhaps, 4 to 6 times cheaper than in the U.S.
Housekeeping services generally go in the $2.00 to $4.00/hour range. This mostly depends on the neighborhood and the provider's proficiency skills. Yard work and landscaping labor typically run just a bit more.
Surprisingly auto service, repair labor, semi-skilled and skilled construction, and repair service labor are at a rate just above that.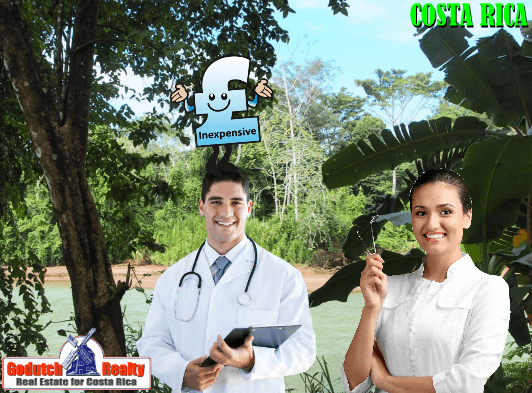 As an example, I had several professional pictures and painting framing done for a fraction of what it costs in the United States. Auto parts, frame moldings, and mats, the materials are about the same as in North America. But the labor is just so much less.
When it comes to professionals such as doctors, dentists, and lawyers; they are in the highest-paid category. They are still the category of inexpensive things and a major bargain when compared to the fees charged in the States. I got my teeth examined, cleaned, and fluoride-coated by my dentist, for $30. This included the better part of an hour discussing things dental and why the water isn't fluoride-treated in Costa Rica.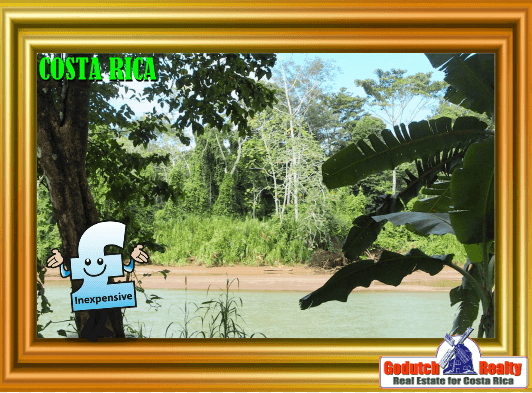 Utilities
Utility costs have been rising of late. Nonetheless, when compared to the States they are still fit in the category of inexpensive things in Costa Rica.
Electricity
The electricity is provided by the government-owned I.C.E. Electricity usage is charged on a tiered rate structure — the more you use, the higher the rate you pay.
One way to help control electricity costs is to divide your usage into multiple meters. If you have a house, a free-standing guest house, and an electric entry gate, you can have three electric meters instead of just one. This definitely helps to keep the total bill lower.
However, I think separate meters are only possible when initially adding the gate or guest house.
Propane Gas
To my knowledge, there is no natural gas available in Costa Rica. However, propane gas is abundant and much less expensive than in the U.S. or Canada. In most locales, large tanks can be home delivered by truck. I can exchange my smaller propane tanks at the supermarket.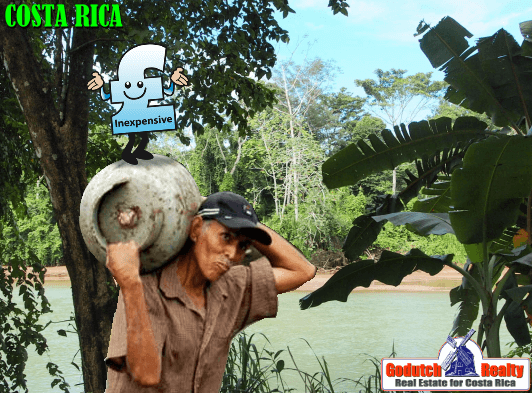 Note: it's a good idea to keep an extra tank or two locked away to replace empty tanks. You don't want to be running to the store or waiting for the delivery truck.
If you own your own tank for a BBQ or similar, you'll probably have to head to the filling facility. The only one of which I am aware is located in Coyol de Alajuela, near the RITEVE inspection station off the Pan-American Highway.
Zeta Gas is the largest gas company in Costa Rica. But Gas Express offers better options to fill your bbq gas tank in different locations. However, I have seen what appears to be a large propane tank for refilling at a nearby gas station. As soon as I find out, I will let you know about that one. In the meantime, I suggest keeping a full spare tank in case the flame goes out with your shrimp on the Barbee.
Internet & Cable TV
Prices for WiFi Internet and television cable services that provide U.S. channels are on par with U.S. services. There are some bargains in some geographic areas. You need to do a thorough investigation to find the best deal.
I have also become aware of some "private" TV services that do are in the category of inexpensive things. Just buyer beware. You may be able to receive U.S. programming from a company such as USTV now.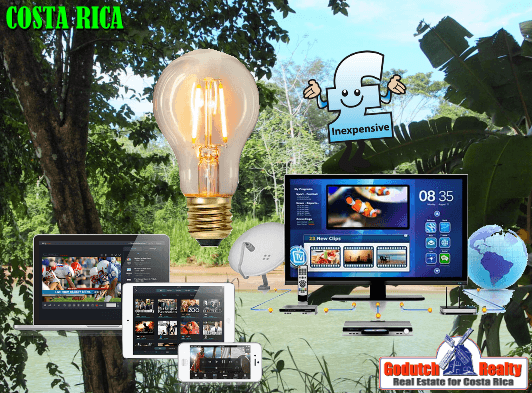 SlingBox
If you can arrange with a friend or relative in the U.S., you can get a U.S. cable or Satellite Company's full offering using a Slingbox and the Internet. (This latter option involves extra monthly cost on their end so be sure to offer to pony up the extra cost.)
Costa Rica opened up completion on cellular telephone services. In general, they are a comparable bargain to the States. Only unlocked phones are used here. So, you buy your phone and then pick the service:
Pay as you go rechargeable account or
One of several plans offering a certain number of monthly minutes and text and Internet services.
A wire landline to your home also falls into the category of inexpensive things. You can add on international calling through another provider for just a song.
The Author
The author of this blog, Ticonuevo, is a US expat who moved to Costa Rica. He and his wife used the services of GoDutch Realty to purchase a property in Costa Rica. In his blogs, Ticonuevo describes his own experiences of taking the step of moving to Costa Rica and getting a new life started.